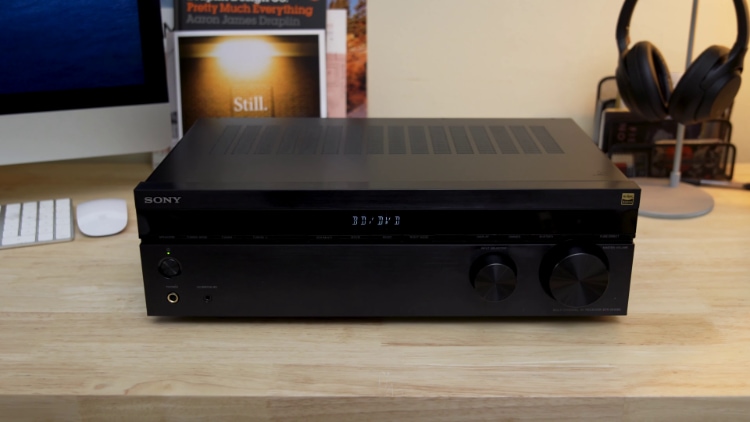 While every now and then most of us like to take out time to watch a movie at the cinema, how awesome would it be if you could bring the experience home? That is exactly how the concept of home theaters came to be.
However, what most people miss out on when it comes to a home theater is the audio aspect of the experience. They go all out for the huge screens and dark curtains and comfortable seating and soft lighting, but without the right kind of sound system to go with it, the television room just doesn't become a home theatre.
Even when you set out to transform your auditory experience, the variety of devices and solutions in the market can be mind-boggling. We are here to walk you through it with our research on one of the best products to help you achieve that.
Where to Buy?
What is the Sony STR DH590?
A product by the well-known Japan-based electronics multinational company, Sony, this home theater receiver is their solution to your quest for the perfect home theater or a necessary upgrade to your current one.
The Sony STR DH590 is an affordable option in Sony's range of multi-featured, high-quality surround sound systems. A device of many features, it comes with a dynamic setup, virtual front surround, smart connectivity, and superb audiovisual quality.
It brings to the table 4K and High Dynamic Range (HDR) video clarity, together with a 5.2 channel receiver. This combines the best of audio and visual capabilities to offer the most attractive package to home theater owners or prospective developers.
The 4K quality it comes with is far ahead of its alternatives, past, and current. Even if your device offers the 4K audiovisual quality, if you don't have a receiver that supports the standard, you would not be able to enjoy your device's visual features.
Complete with signal handling, multiple ports and inputs, and a host of other advanced features, this is one of the most attractive options in its category out there. A simple, value-oriented piece of technology that comes with the supremely convenient feature of Bluetooth connectivity, this is arguably Sony's best middle-range option for surround sound receivers.
Unboxing the Sony STR DH590
Modeled on the standard, minimalist pattern atypical of Sony, this surround sound receiver is small and light. It has no difficulty blending into the background. Its simplistic design makes sure it doesn't stand out like a sore thumb if you choose to keep it in the living room.
Made out of good-quality plastic, it has a natural, sturdy rectangular build without the distraction of a fancy design. In that respect, it is quite utilitarian. The device's front has two big dials along with various other controls in a narrow strip below a digital text display. The two noticeable knobs are to regulate the volume and input device.
A classic black exterior makes it all the more unobtrusive and adaptable to the theme of the space. Sleek and compact with a length of 17 inches, breadth of 11.75 inches, and a height of 5.25 inches, it is ideally designed to fit the top rack of the table below the television or space in a furniture unit.
It weighs about a quarter to 16 pounds. The receiver stands on four smooth disc-like feet, keeping it a tiny bit above the surface of the table. On the back of the device are several ports for outputs and external inputs. This includes ports for headphones and microphones as well.
The controls are displayed very systematically, keeping you from getting confused and taking time to figure the settings out over time. Unlike some other appliances that seem to be burgeoned with a slew of controls, dials, options, and buttons, this surround sound receiver offers a clearly comprehensible layout and ease of use.
It lets go of the chase for complexity and looking sophisticated in favor of the simplicity of appearance and operation.
Warranty
The Sony STR DH590 comes with a limited warranty of two years. This covers the hardware components packaged with the device. It excludes the separate accessories and technical assistance for hardware or software usage.
Features and Specs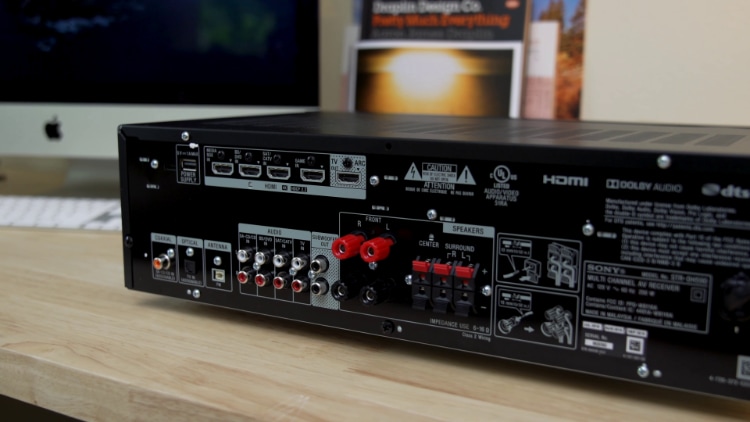 This is where the Sony STR DH590 shines. It stands out among the options available in its modest price range with some truly awesome features.
A 4K HDR pass-through, 5.2 multi-channel surround sound, Bluetooth connectivity, and Dolby Vision imaging technology are just some of its prime selling points. We take a comprehensive look at all this home theater receiver has to offer below.
1. Specifics
The receiver comes with a 5.2 channel surround sound operating at a total of 725 W, each channel at 145 watts, 6 ohms, 0.9% THD, and a frequency of 1kHz.
If you are someone who owns many streaming devices or video displays and needs the Surround Sound system to be compatible with all of them, the Sony Home Theater receiver has you covered.
This receiver supports a wide variety of the most used video formats, from HLG, HDR10, and 3D to Dolby Vision. It has 4 HDMI inputs and 1 output along with an audio return channel. More on the ports and sources later.
2. HDR Pass-Through
One of the major highlights of the receiver is the 4K and HDR pass-through. What it means is, with this receiver, you will actually be able to experience the High Dynamic Range video quality if you have HDR compliant streaming devices without any video distortion on account of constant adaptations.
This is a world of difference in the video quality enabled by this receiver with an HDR pass-through when compared with other receivers that don't come with this feature. The visual clarity and contrast are significantly pronounced, and the images are more vivid.
You will be sure to note a leap in terms of shadow definition and highlights, making the visual experience more appealing and immersive. This Sony Surround Sound receiver easily outshines its alternatives due to its overall HDR functioning and diverse compatibility.
3. Speaker Set-up
As we saw, this Sony receiver offers 5.2 multi-channel surround sound operating at a total of 725 watts. Considering the addition of a second subwoofer by this system, the bass's quality and depth reach a whole other level. This brings the home theater experience closer to a cinematic adventure than ever before.
Apart from this, the receiver is also made to support the 2.1 channel virtual sound surround system that uses the S-Force PRO front surround to be suitable for small spaces. This is an ideal feature for smaller rooms that need only two speakers while keeping the auditory quality intact.
4. Dynamic Setup
The variety of ports and inputs can be seen clearly arranged on the back of the device. When it comes to the video input, there is only one port for HDMI. Added to this are four HDMI 2.0a input ports along with HDCP 2.2. For output, there is a singular HDMI 2.0a option along with an Audio Return Channel.
The two HDMI sockets are designated as the BD/DVD and Media Box. The back controls include four stereo audio ins, one optical digital and one coaxial input, one FM antenna input, and two subwoofer pre-outs. One USB port is provided to allow you to connect and charge your phone.
There are small spring-clip connectors for three channels and two binding posts for the main two channels for connecting the speakers. You will find the receiver's setup procedure singularly simple, quick, and user-friendly.
After you have successfully connected the sources, speakers, and display and switched on the device, you will be asked to select your preferred language. Once you do that, you need to connect the microphone cable that comes with it to initiate the DCAC automatic setup.
5. Multi-functional Abilities
On the home menu, you will be greeted with a simple monochromatic on-screen display that shows you five options –
Watch where you need to pick an HDMI source for input
Listen to pick a source for audio
Easy Setup, to go through the setup process again
Sound Effects, to choose your preferred listening mode
Speaker Settings
Using the 'options' button on the remote that comes with the receiver for convenient operation, you can access the toolbar that allows you to make a few adjustments like Sound Field selection, Pure Direct selection, Dual Mono, AV Sync, and the Night Mode.
Though you will not find an on-screen menu for advanced AV settings, you can modify some controls through the LCD on the front of the device and the "Amp Menu" button on the controller.
Using these controls, you will be able to run DCAC directly, rename the HDMI inputs, adjust speaker size/level, and make HDMI adjustments.
6. Digital Cinema Auto Calibration (DCAC)
If you have some experience with speaker systems or have had to move your speaker around to different locations or just different rooms in the same house, you know how distinct the audio sounds in each place, even from the same source.
This is because everything in the immediate setting of the speaker system affects how it sounds, right from the walls, the material used for construction, how crowded the room is, along its dimensions.
This means you have to constantly recalibrate the speaker settings or optimize the speakers' placement around the space to achieve just the right output. This can be a tedious task. It no longer has to be one with the Sony STR-DH590's Digital Cinema Auto Calibration System (DCAC).
You will find this to be the most user-friendly and convenient way to optimize the sound and adapt it to the room's needs. This system automatically examines a space's acoustics and utilizes this information to calibrate and adjust various audio levels.
This results in the output seeming tailor-made for the specific room's needs as if installed and calibrated by a professional. This is one feature that makes this receiver as perfect as it is.
7. Smart Connectivity
Although you won't find in-built network functionality as in the higher-priced models, you would be able to connect the Sony STR-DH590 to devices like your laptop or even mobile phone so that you can use services like AirPlay, Spotify, and Chromecast, through the device.
Not only can you connect the receiver through Bluetooth, but with the thoughtfully incorporated Standby feature, you also have the option of switching on the Sony Surround Sound Home Theater receiver straight from the paired device for convenience.
8. Accompaniments
This receiver comes with a compact remote with a methodical, clean layout and pretty much all the controls you need to operate the speaker system. What you will also find in the box with the Home Theater receiver are foldable headphones, a charging cable, a carry case, and an audio cable for a wired connection.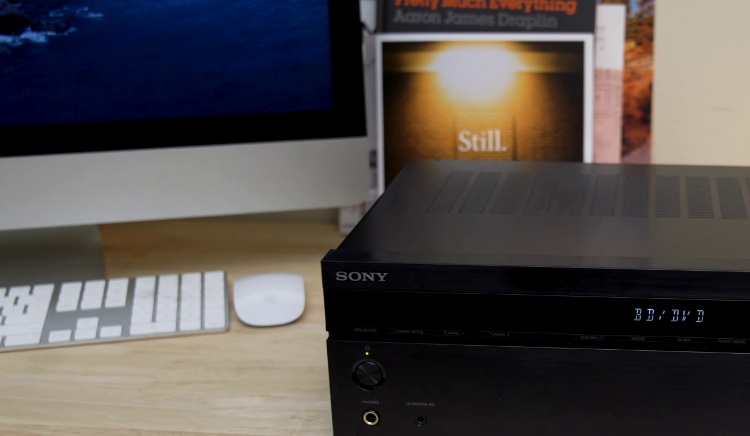 Pros and Cons
Pros
S-Force Pro for the surround sound effect
Superb sound calibration
Multi-functional and simple to use remote control
Compatible with 4K TVs
Enhanced HDR and Dolby vision
Cons
WiFi can't be used to stream music to the receiver
Speaker output is not cancelled upon headphone plug-in
Final Verdict
If you are still doubtful about going for the STR-DH590, let us quell any lingering concerns by stating it loud and clear: you won't find a more complete, better alternative to the Sony STR-DH590 receiver at the attractive price it offers.
A clearly versatile device, its combination of features and value make it undoubtedly one of the best and most practical audio equipment out there.