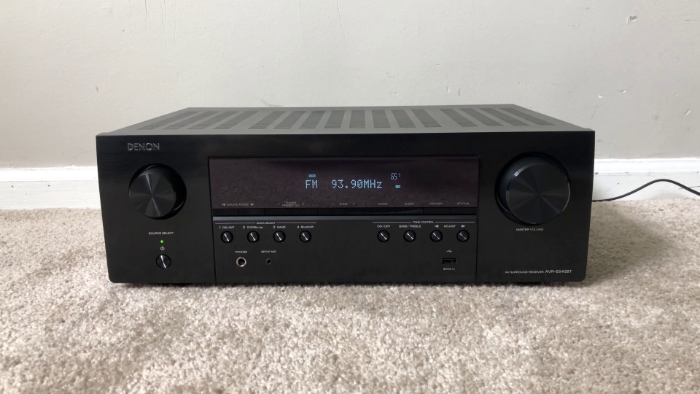 These days, getting an AVR receiver is almost a no-brainer since most TVs focus on providing clearer resolution and better fidelity but don't focus that much on sound.
What you usually get in even the best TVs is weak bass and audio quality that isn't exceptional. An AV receiver enhances the sound for your speakers and is a must-have for high-quality sound.
The AV receiver also does a whole lot of other things, such as allowing you to enhance the contrast and brightness of the content you're viewing, as well as allowing you to browse through all the different sources of entertainment connected to the receiver; with exceptional ease!
We have the Denon AVR-S540BT in for review, so let's see whether it's the best option for you or not!
Where to Buy?
What We're Going to Check
We're going to be seeing what the Denon AVR-S540BT offers in terms of accessibility, how easy it is to set up, the sound quality, and how easy it is to alternate between different video sources. The build quality and design of the device will also be evaluated, and we'll provide a final verdict for you to decide on. So, let's begin!
Design and Build
The Denon AVR-S540BT has a simple rectangular body with four individual feet, and the body has a black, metallic pattern. The device is quite sturdy and has a premium feel to it, and the interface is sleek, with easy-to-read buttons and functionality.
This wouldn't look out of place on a modern TV console, and the matching colors will complement the surround speaker system you have for your home theater.
The Interface
The front of the Denon AVR-S540BT has two large knobs on the left and right sides at the front. These knobs control the select source options and the master volume, respectively.
The on-screen display is also located on the front with large enough subtitles to read at a distance of at least 2-3 feet. The front buttons located beneath the display allow you to control the following features:
Sound mode
Tuner Preset Channels
Tune
Mode
 Sleep feature
Dimmer option for the display
Status display
There are eight more buttons beneath as well which control the following features:
Quick Select between
Cable/Satellite
DVD/Blu-Ray
Game
Bluetooth
Tone control features between
ON/OFF
Bass/Treble
Adjustment buttons for bass and treble
Aside from this, an extra audio jack and setup mic is also situated in the front, along with a USB port for streaming media and charging your devices as it has a 5V output.
Functionality-wise, this device offers a lot in terms of customization, with several buttons catering to each function. Now let's see what we have in the back.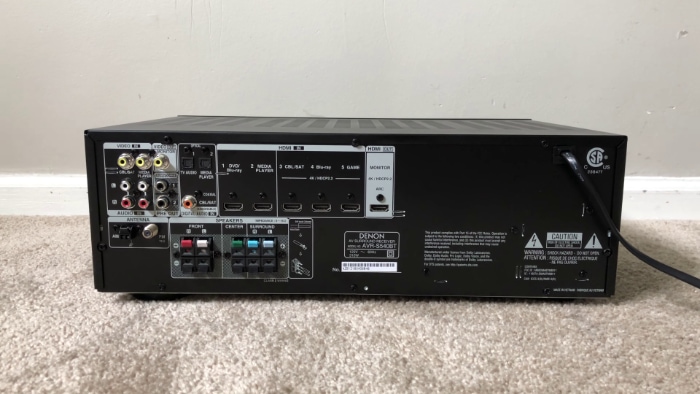 The back has different ports for all the inputs you can imagine. There are five different HDMI input ports for the DVD, a separate media player, cable, or a console. The Denon AVR-S540BT supports 4K/HDCP 2.2 formats, so that's a plus as well.
Aside from this, there are colored ports and an HDMI port for video output, as well as different cable input ports for your surround speaker system.
An extra that should be noted is the extra port for AM antennas and an FM port if you want to stream through radio channels.
All in all, this is a media powerhouse that is capable of being connected to a plethora of devices and input sources, which you can easily browse through using the device's interface or the remote control provided with the setup.
Setting up the Denon AVR-S540BT
Setting up the device is simple. The on-screen setup guide can easily guide you if you run into any problems, and the color-coded speaker connection help solve any speaker connectivity issues you might have.
The on-board calibration mechanism helps to better sound and output, which is a feature we don't see in other beginner-level AV receivers.
The Denon AVR-S540BT also comes with an included microphone, which will calibrate automatically once you place it and assign the correct settings to get the best results.
The Sound
The device delivers, and it delivers elegantly. The highs and lows were much more pronounced and clearer than other devices, and the clarity and precision of the dialogue in movies were amazing.
This is important when it comes to heavy dialogue content, and the Denon AVR-S540BT shines at it.
However, in music, it falls a little against more expensive devices. It sounds good, but not great. But still, for the price, it delivers amazingly well.
Streaming Music
Listening to music on the Denon AVR-S540BT is great. You get a ton of options since you can connect to different sources on the device. The front's USB port can connect to flash drives; the different audio formats supported are MP3, WMA, FLAC, and MPEG-4/AAC.
The on-board audio transmission system allows for Bluetooth connection. So you can easily connect your mobile phone or other devices and stream from a collection of apps like Spotify, Amazon Music, Pandora, etc. Denon's multi-room audio system helps to fill the room with great audio, and you won't be disappointed.
Pros and Cons
Pros
Great functionality offered
Tons of customization
Sleek and stylish build
4K output supported
Clarity and precision in dialogue-heavy content
Cons
A bit on the lower end in music
Final Verdict
In conclusion, the product is an excellent addition to your home entertainment system in the price it does. On the other hand, it fails to fill sound in large rooms but is ideal for mid-sized to smaller rooms.