Home Theater systems are an excellent way to bring the experience of watching a movie in a theater into your home. The surround sound, extra speakers, and extra sound magic that you get with a home theater experiment make watching a movie at home a memorable experience.
With all the home theater advancements, you don't need to burn a hole in your pocket to get one home. There are many budget options that come with a myriad of features that you get to try out.
One such great example is the Yamaha RX-V385.
Where to Buy?
What Is the Yamaha RX-V385?
Home theater systems don't always have to be huge investments. There are many entry-level options in home theater system lines that are easy to fit in your budget and do an excellent job. If you are trying to get home a good home theater system home at a good price, read on.
The Yamaha RX-V385 is an excellent budget option when it comes to choosing a home theater system. It continues to be a part of Yamaha's well-appreciated home theater systems. While it may not be the most packed with the latest features, it's a great system for an entry-level model.
The Yamaha RX-V385 first came into the market in 2019. It has become the entry model in Yamaha's long line of AV receivers. The RX-V385 is a 5.1 channel receiver that comes with a power of 70 Watts. It supports Dolby True HD, DTS-HD Master Audio, and an audio calibrating system known as YPAO.
A few more great features like Bluetooth, 4K support signal, Virtual Cinema DSP, HDMI upscaling, HDR passthrough, and Biamp capabilities. It's also very reasonably priced. You get all these features and more at a price of around $250.
Here are some of the main features of the Yamaha RX-V385:
Design and Build
The RX-V385 is designed exactly like the RX-V383, which served as its predecessor. This isn't much of a drawback since most AV receiver lines are very similar in looks, design, and build for most brands.
Most Yamaha products come with a black finish that's glossy on the top, while the lower half comes with a nice aluminum finish that's got a brushed look. This makes sure that even though this is an entry model, it's got the look of an expensive home theater system.
The main display comes on the upper half, which relays all the functions of the receiver. A small circle button on the right goes for Direct, while the left has the main power button. On the left side, there is the mic port for the YPAO feature.
Other controls like tuner, info, and memories can be found in a few small buttons that can be found right below the main display. Further left, there's a jack for headphones, a larger knob that takes care of the volume controls, along with an input for audio and USB port.
Since the RX-V385 comes in at the AV receiver line's entry level, it's not too big in size. This size makes it ideal for storing in all your TV cabinets and other storage areas. It weighs in at 17 pounds, so it isn't too much of a hassle to move around.
There is a remote that comes along with the receiver. There is nothing too out of the park with the remote. However, it can serve all functions. It's a normal plastic remote with grouped buttons all across. The only drawback could be that the grouping of the buttons could actually be a little better.
Quality of Audio
Since this is an entry-level model, it comes with more basic surround sound features. Since it is a 5.2 channel receiver, you will mostly have to settle with the basic setups. It doesn't come with DTS:X or Dolby Atmos. Most 5.1 receivers today do come with these features.
The RX-V385 comes with a receiver that isn't very powerful. However, with a 70 Watt power per channel, you can be assured it does pack a punch. If you're working with a smaller to medium-sized home theater room, the RX-V385 is more than powerful enough.
The AV receiver comes with the Cinema DSP feature, which is the same as Yamaha's other AV receivers. This is Yamaha's famous feature that can perfectly simulate any kind of environment via complicated algorithms.
There are also a couple of great virtual forms of technology that come with the receiver. One of them is Virtual Cinema DSP, which provides you with stunning surround sound even if you don't have the required speakers. Virtual Cinema FRONT and Silent Cinema are the other virtual sound features.
You can even use the USB port to stream music to the receiver. However, some restrictions come to the kind of files that can be played via the USB port. WAV, MP3, WMA, and MPEG-4 AAC are the supported formats. 48kHz/16 bit is the highest rate.
The RX-V385 is very efficient at keeping the overall sound balance at most average volumes and slightly above average volumes. Up to the middle range, all performances are good, with dynamic highs and lows. When volume levels are pushed to the extreme, performance starts to drop a little.
Various Ports and Kinds of Connectivity

As mentioned before, Yamaha doesn't make too many changes with its various models. There is consistency in the types of ports and connections that come with most AV receiver models. Among Yamaha's 2019 models, this is the entry-level so that you can expect too many heavy-duty choices.
So what do you get? A 3.5-millimeter analog input jack using which most external devices can be connected to the receiver. There is a mic port for the YPAO feature as well. There are 4 input ports for HDMI and one output port. There is a 5 speaker terminal system as well.
The normal FM and AM antennas are included, while you also get a few connectors that have been around for years now. 3 video inputs and an output, 2 inputs for the analog stereo, and 2 inputs for coaxial digital audio.
The speakers are all in binding post style, unlike the spring clip style seen in most budget AV receivers. There is no built-in Wi-Fi, while the only extra connectivity is Bluetooth. The Yamaha RX-V385 is equipped with the Bluetooth 2.1+EDR system.
Overall, there aren't too many differences from the years gone by. The total number of ports and the areas they are positioned in are mostly the same, while the number of ports is the same. The RX-V385 comes with a binding post style for all channels it plays.
All HDMI ports are HDCP 2.3, enabled with 4k and 60p. There is a 4:4:4 ratio, a 24 Hertz refresh rate, automatic lip-sync feature, HD Recording 10, Dolby Vision, and the latest in Bluetooth technology, which comes in the form of BT.2020.
Operating System, Applications, and Other Features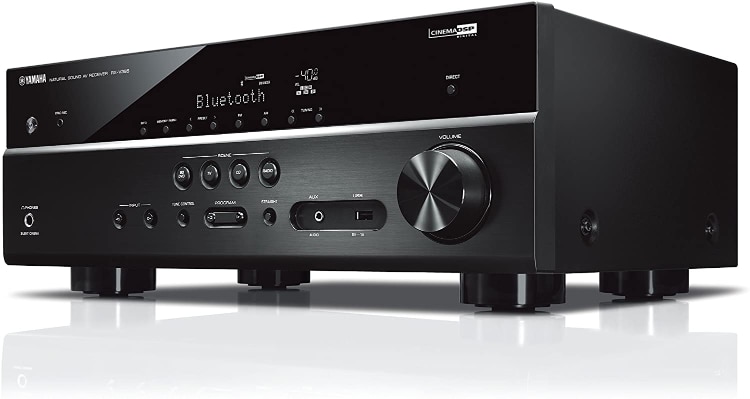 Although the RX-V385 might be slightly light on the features side, a few are really worth their weight in gold. Yamaha's YPAO system is the calibrated audio system that is included with the receiver. This is the basic form of the YPAO system, as it's been improved in newer systems.
This form of the YPAO can check what type of speakers are connected, how far away they are and adjust all their audio parameters to optimize your surround sound experience. Once you set up the Wizard for the YPAO, the steps to set it up are straightforward to follow.
Setting up the receiver is actually very easy to do. People with a minimal amount of knowledge when it comes to setting audio systems up can do it with ease. If the manual is a little difficult to understand, then there is the application known as Yamaha AV Receiver setup guide to help you out.
The application is compatible with Android and iOS systems, helping you through the whole setup process. It even comes with pictures that make it easier to follow the guide. It's free, so it makes it a lot easier for you if you struggle with such tasks.
Since the RX-V385 doesn't come with built-in Wi-Fi, you don't have the option for any of the streaming services that are available online. The only streaming you can do is Bluetooth, along with your Bluetooth devices. All Bluetooth connectivity has very clear and dynamic sound.
The Bi-amp features mean that the forward channels' higher and lower ranges can be driven as per necessity. This can really give an excellent audio feel, which fans of home theater systems will be huge fans of. Power use can be deducted by 20% by use of the ECO mode.
Pros and Cons
Pros
Great audio quality
Built very well
Virtual features and mixing technology included
Binding post style for connected speakers
Cons
Dolby Atmos and DTS:X are not included
Final Verdict
The best way to look at the system is to analyze Yamaha's intentions with the RX-V385 receiver. It was supposed to be packed with the best audio and efficient design without jacking up the price too much. The final product might be slightly light on features but is a good system.
Dolby Atmos and DTS:X aren't available, which you could find in most similar systems. The 70 Watt power maybe a little less if you've got a very large home theater room. Since the built-in Wi-Fi is missing, it eliminates all the online streaming capabilities.
The biggest strengths of the system are its power-packed performance at this lower price range. Dolby True HD, DTS HD Master Audio, Cinema DSP, and the YPAO feature are great inclusions for this price. The Bi-amp and Bluetooth features are also great additions to the system.
Overall, if you're looking for a good home theater system at a decent price range, the Yamaha RX-V385 is an excellent option. It also works for those who aren't looking for very particular features in their system and just need a good performance.
You're looking at a system that will work well, makes sure that all its basic capabilities are carried out efficiently, and is made by Yamaha. Yamaha is experienced at making home theater systems, so you can be assured that you're getting a great quality system for an excellent price.
Should you buy it?
If you're on a budget and don't require many modern features included but want decent performance from your system, YES. It's a great choice.
If you are willing to splash the cash on your new system and are looking for particular kinds of features, NO. It's better to look at higher-end options.
In Conclusion
This is a great starter option for your home theater. Just imagine being able to set up a really great-sounding system in your home without spending too much money on it. It's a great addition to your entertainment system and makes watching TV a really great experience.
Yamaha still makes the Yamaha RX-V385, so you can trust the brand implicitly. You won't have too many problems with the system, as it's made following the highest quality standards. If you're looking for a trustworthy brand, you can't fail with Yamaha.
At the end of the day, the choice lies with you. This was a breakdown of everything that the Yamaha RX-V385 can and can't do. It was to give you an idea of what it's like to own one. So now you have all the information you need to make your decision. We've broken it down for you.
So when are you looking to spruce up your home entertainment system?