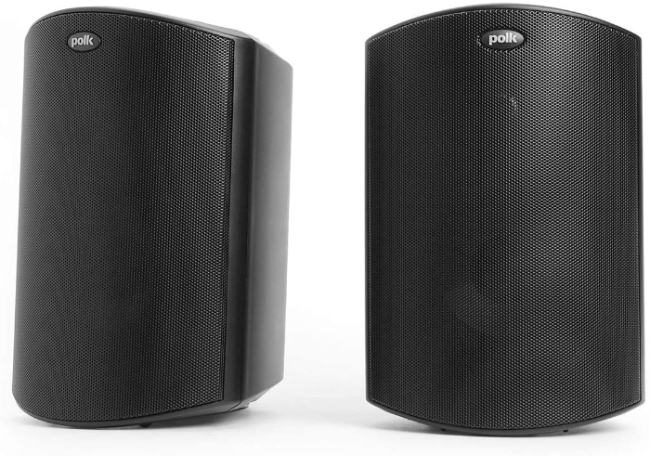 A good quality speaker system can elevate your audio experience exponentially. It enhances your musical or gaming experience and is a treat to your senses.
This is precisely what Polk Audio does. For years now, they have been producing great speakers at probably the best price in the market.
If you're looking to buy a good speaker system that works great both indoors and outdoors, the Polk Audio Atrium 4 might just be what you need.
Where to Buy?
What Is The Polk Audio Atrium 4?
In simple words, Polk Audio Atrium 4 is a small product that drums up a huge experience. These compact speakers can be very loud and produce good sound quality anywhere.
You can install them just about anywhere you wish, be it in your living room or by a swimming pool. These Polk speakers are an excellent choice for outdoor sound systems. They deliver great sound, even if placed a little far away.
The steeply-angled design of the Polk Audio Atrium 4 helps the music fill open spaces very well and with full-range sound. It is easily one of the best-looking speakers for the outdoors.
These speakers are very easy to install as they come with a one-click speed-lock mounting bracket. It makes the installation relatively simple without the fear of slippage. They can be installed vertically or horizontally, depending on your requirement.
The Polk Audio Atrium 4 outdoor speakers are fit for all weather conditions, owing to their rugged build. They are highly durable and have the ability to withstand extreme temperatures and heavy rainfall.
Design And Features
This sound system is a set of two speakers. Their size is very convenient as they are pretty compact.
Dimensions and Build
Each speaker's width is 5.75 inches, with a height of 8.5 inches and a depth of 6.75 inches. They are available in black and white variants.
The body of the speakers is made with polypropylene and comes with a limited warranty of two years. The speakers weigh about 4.31 kgs. These speakers are not as huge as other outdoor speakers.
The small size may lead you to wonder if the speakers are worth it and if they'll be able to produce enough sound. You do not need to worry about that as they produce high-quality music at an incredible volume despite their tiny size.
Speed-Lock Mounting System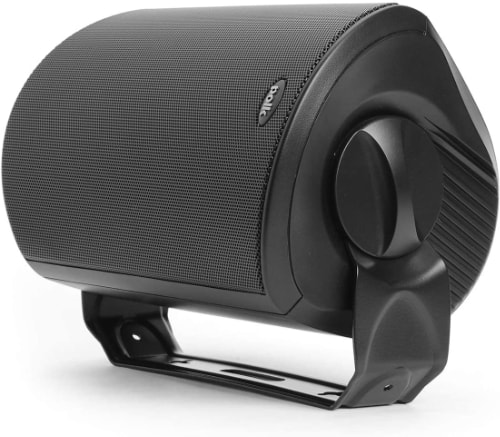 The speed lock mechanism is not just a stylish innovation, but it is also highly convenient. This mechanism comes in handy during installation.
To mount the speakers, all you have to do is install the rust-proof aluminum brackets and place the speakers. Once they click in, you are good to go. They can be tilted up to 180 degrees.
You can install these speakers vertically or horizontally, whichever way you need them, such that they provide the best sound experience. The brackets also allow you to mount the speakers at a downward angle of 45 degrees for nooks and corners.
Suppose you do not want to mount them and wish to place the speakers on a table or a shelf. In that case, you can remove the brackets. The speakers come with built-in feet for stability.
Enclosure Design
The design of these speakers is rugged and highly durable. The mineral-filled polypropylene cabinet with molded-in bracing helps endure extreme changes in the environment.
The Polk Audio Atrium 4 is rightly labeled as an all-weather speaker system. The enclosure is available in black and white finish variants. It is also paintable.
Woofers
Each device of the two-piece speaker set features a 4.5-inch long-throw cone driver. The cone drivers, too, consist of mineral-filled polypropylene. They give a clean mid-range and deep, accurate bass effect.
Each woofer uses a butyl rubber surround. This surround improves the durability of the speakers and helps to give a smoother response.
Tweeters
Each of the two speakers has a 19mm long anodized aluminum dome tweeter. These tweeters come with a rubber surround and neodymium magnet.
The design of the tweeters enables a smoother response and better power handling for the speakers.
Endurance
Despite coming at such a modest price, the Polk Audio Atrium 4 is built for endurance. This feature is essential for outdoor speakers.
These speakers are built up to industrial and military-grade standards to endure any change in the environment. Whether you live in rainy areas or regions that experience extreme temperatures, these speakers will not disappoint.
Performance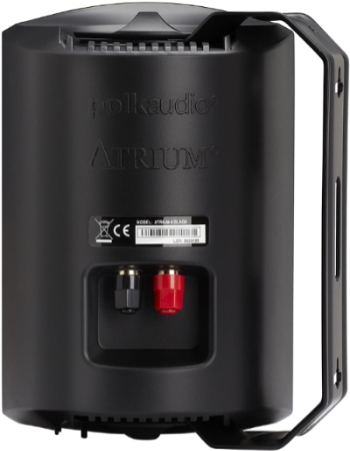 Based on appearance, these speakers may not stun you. The build is sturdy and not very stylish.
However, do not underestimate them. Even though they come at a very reasonable price, they deliver the highest quality audio experience.
For speakers of its dimensions, the sound produced by the Polk Audio Atrium 4 is impressively loud and clear. It is capable of producing sound from 12 kHz to 20 kHz. It is a good enough range because anything above 20 kHz is more or less inaudible to humans.
These speakers are good for when you're in a place with plenty of background noise. Music or voice, the Polk handles them both very well.
Guitar sounds come out ideally from these speakers, making it an excellent choice for unplugged jam sessions. The bass, however, may not be heavy enough for everyone.
Dynamic Balance
Polk has its own patented technology called Dynamic Balance. It eliminates unwanted distortion of sound. This technology uses improved material selection, geometry, and construction technique to avoid any distortion.
This is an excellent technique to do away with any elements that affect the speakers' performance negatively. It can tune out any unwanted resonance by analyzing the speaker's microscopic behavior with the laser interferometry.
Klippel Optimization
Polk uses a state-of-the-art Klippel Distortion Analyzer. The engineers have optimized the motor structure, suspension, and voice coil alignment of the woofer.
This technology brings you the best sound quality possible. No matter how high you take the volume, the sound will stay crisp even at extreme levels.
Dynamic Balance, coupled up with Klippel Motor Optimization, ensures the sound produced by the speakers is very realistic. The Polk Audio Atrium 4 is capable of delivering excellent sound quality at any volume.
Should You Buy The Polk Audio Atrium 4?
Affordability
The Polk Audio Atrium 4 is undoubtedly a steal. It presents you with an opportunity to buy good quality outdoor speakers at a great price. It will not break your bank.
All-Weather System
These speakers come in a waterproof casing and can easily survive rainy days. If you live in an area that experiences extreme temperatures, the Polk Audio Atrium 4 will not disappoint you. These speakers exceed industrial and military specifications for enduring the environment.
Installation
The Polk Audio Atrium 4 is relatively easy to install. It can be mounted anywhere, from lawns to patios. The speed-lock mechanism makes it easy to mount at any place. You can even tilt the speakers up to 180 degrees. This range of motion gives you the freedom to make the speakers face your audience.
Sound
For speakers their size, the Polk Audio Atrium 4 produces epic quality music. The sound is audible even when there is some background noise. Polk has paid good attention to the product, ensuring their users are always satisfied. The sound produced by these speakers is impressively crisp and loud.
Size
These speakers are pretty compact. You can fit them at any nook or corner of the house. However, that does not imply that they are easily portable. Once you mount them, moving them around will not be very smooth.
Pros and Cons
Pros
High-quality sound system
All-weather endurance
Affordable
Cons
Final Verdict
If you're looking for good outdoor speakers, the Polk Audio Atrium 4 should definitely be on your list. They are highly impressive for speakers of their size and do not burn a hole in your pocket.
No matter the surroundings you live in, they are built to withstand all sorts of environmental changes, such as snow, rain, or even extreme heat.
The ease of installing these speakers comes as an advantage. This is not something you will find in other speakers within this price bracket. Not just are they easy to install, they can even be mounted at different angles.
All said and done; the Polk Audio Atrium 4 is a pretty impressive set of speakers. Anybody looking to invest in speakers should at least consider these.