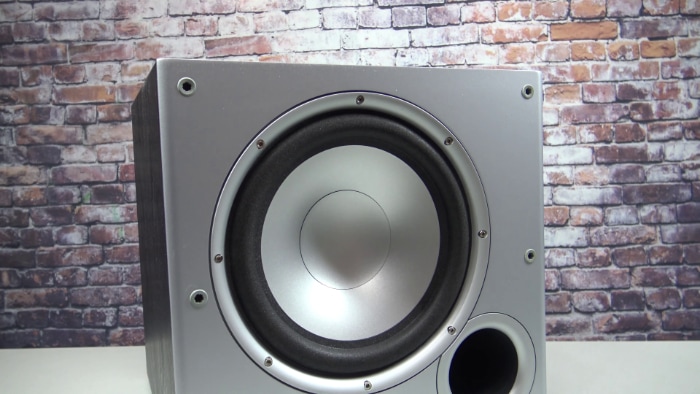 Are you a crazy music lover? Or maybe a gamer? If you're a music enthusiast or enjoy playing games like any other pro gamer, you're clearly here to know more about the Polk Audio PSW10. This subwoofer has currently taken over the market.
Although all subwoofers look almost similar, the differences may be visible in their sizes, shapes, or some sort of boxes. But not all of them sound the same. The true identity of a good subwoofer is its sound quality.
While you opt for a home theatre-like experience at the expense of your budget, you look for subwoofers with similar qualities. Polk Audio PSW10 has been found to top that in all respect at just $129.
Where to Buy?
About Polk Audio PSW10
The Polk Audio PSW10 adds an incredible low-frequency impact to your regular movies and music. This subwoofer is a perfect example of the most accurate bass backed by its 50-watt RMS amp and 10-inch woofer.
Made of non-resonant MDF, the subwoofer cabinet is supported with internal bracings that offer super bass clarity. You get a reliable home theatre system in the form of a subwoofer along with the PSW10 that adds depth to your music system.
Polk has made it easy to blend the new PSW10 with your existing music stereo by hooking up the subwoofer through-line or speaker-level connections. The dynamic low-pass crossover tailors the sound matching the PSW10 with the other speakers.
About Polk Audio
In 1972, Mathew Polk, Sandy Gross, and George Klopfer founded Polk Audio, an audio products manufacturing company dealing with automobiles and home speakers.
It also curates an array of audio products such as FM tuners and amplifiers. The company is based in San Diego, California, and in 2006 and Directed Electronics took it over.
Polk Audio is leading in the audio spheres and has emerged as a strong competitor over the years, offering great service and excellent sound quality at a valuable price. Most of their products are reasonably valued, and PSW10 is one of them.
What's In The Box
Black powered subwoofer
Grille
Owner's Manual
Online registration card
Appearance, Design, and Performance
Appearance
The PSW10, with its normal box-type form, appears almost similar to any other subwoofer among its competitors. It is compact and has 14.4 inches of height, 14 inches of width, and 16.1 inches in depth. It is 26 lbs heavy.
It is available in two variant options: cherry-colored vinyl and black oak vinyl. Both have classy finishes that make them highly suited to modern home theatres or sound systems color schemes.
Design
PSW10 subwoofer has a thick baffled enclosure, with the traditional wooden block having a titanium baffled look. It has a braced enclosure, damped, eliminating standing waves, and distortions, etc.
An exit port directed and fine-tuned for producing maximum bass is one of its highlights. PSW10 has a detachable front grille which reveals a 10" driver along with a high-roll foam surrounding it.
This enclosure's super functional and unique design prevents any movement of the subwoofer even with the highest volume.
Performance
The PSW10 features a 10-inch driver made of durable, resonance-free Dynamic Balance polymer composite material. This ensures high performance in deep and low frequencies.
The sub is equipped with a 50W RMS amplifier with the ability to output 100W Dynamic power for deep bass. It uses the Klippel distortion analyzer and optimizes the associated aspects to produce a clean bass at all levels. Its frequency response ranges from 40 to 160Hz.
Value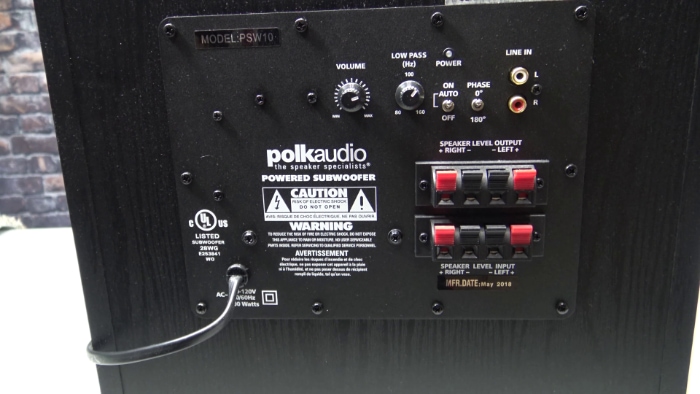 Polk Audio PSW10 is a valuable addition to your existing home stereo with its in-built 100W dynamic power and 50W RMS amplifier. The sub is of the perfect size for a small or medium-sized room.
It has a Volume control, filter adjuster which is low pass, a phase toggle switch, and a three-way power switch. The sub is designed with two RCA line inputs that are gold-plated with inputs or outputs of the speaker's levels.
Sound Quality
The sound quality is the primary element that decides the greatness of a subwoofer. After all, you're purchasing the subwoofer for its sound.
The Polk Audio PSW10 has crossed the milestones of acing its design and functions. Now, it's about its performance in sound quality. The makers have engineered and mastered its superb performance.
It uses speaker dynamics and surrounding design to complement the whole sound together. The unique settlement presents an authentic, clear sound. It eliminates any distortion even in low frequencies.
The bracing of the interior of the enclosure reduces the internal wavelength. The materials of the driver are free of resonance. Such an arrangement works behind this superior music system that offers deep, musical, and thrilling LFE, all at the same time.
The Klippel Distortion measurement technology helps reduce sound distortions while offering a deep and clear sound. Most of the Polk Audio speakers and subs are capable of producing extremely high-frequency sounds without compromising their quality. And the PSW10 is not different at all.
The PSW10 offers a strong bass claim along with a powerful impact. Even percussion instruments are distinctly loud and clear. The brass is interestingly distinct, rigid, and precise. This subwoofer sounds great in tiny to standard-sized rooms but struggles a bit in a larger room.
Also, the 50W RMS amplifier featured in the PSW10 supports the great sound quality of the sub. The amplifier and the firing drivers maintain the bass even at lower levels of the sound. Such a system also consumes less power.
Additionally, you can also control the volume controls, phase switch, and the low-pass crossover equipped in the amplifier of the PSW10.
Pros and Cons
Pros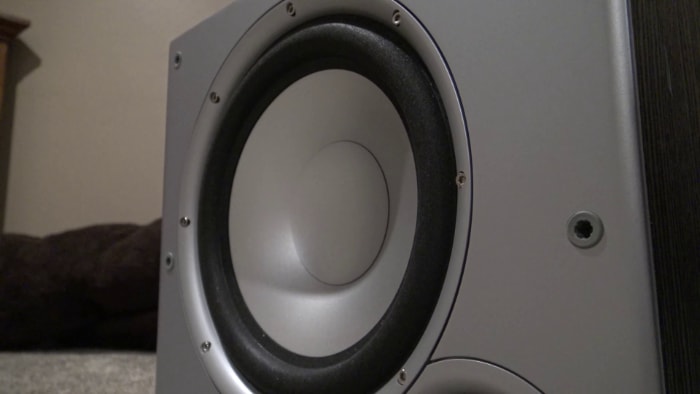 The Polk Audio PSW10 has a reasonable price and is a value for money.
The audio output of the sub is impressive, with the deep and enhanced bass with a clear sound.
It is the perfect size for tiny to medium-sized rooms.
The theater inputs are conveniently accessible, easily connectable, and blends most other sound systems. More so, for Polk Audio speakers.
With smart and superior sensors, you get an optimum audio experience.
With an extended warranty period by Polk Audio, the PSW10 becomes even more desirable for the company's quality service.
Cons
Although the PSW10 can easily connect with most other systems, it lacks a straightforward Low-Frequency Effects input connection.
Besides the efficient bass output, the PSW10 struggles to offer a robust bass for bigger rooms.
Final Verdict
Polk Audio's PSW10 is a valuable product and, more conveniently, a bang for every buck spent. Also, it is a great addition to your existing sound system or home theatre.
PSW10 has all the excellent and most impressive features at its value, let alone its clean and neat sound. This is how you achieve great sound quality from the subwoofer of Polk Audio PSW10.
If you already owned a music system, among the wide variety of options, PSW10 is the ultimate upgrade to your home sound system. It performs best in small to medium-sized rooms. Nevertheless, you cannot expect too much from the subwoofer if you purchase it for a long way.
Soon hit the market and research for your required features, and then take a turn to Polk Audio PSW10. The sub offers not only excellent sound effects but also has absolute bass effects with enhanced sounds. Thanks to the 50W RMS amp and the 10-inch driver that backs up the entire system. This is what makes the ultimate sound quality the Polk Audio PSW10 is popular for.
Also, the enclosure with the wooden block and the classy finish make it the most stylish subwoofer besides being functional, practical, and affordable!
The sail to a dreamy world of sound waves is not too far with this PSW10 by Polk Audio.