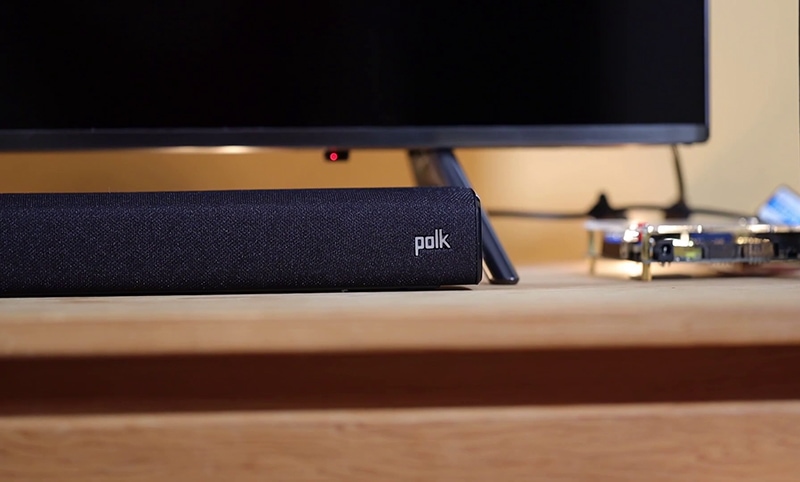 All the current sleek flat TVs may reign supreme in looks, but they have one issue in common that always disappoints: audio quality level. These slender designs do not leave much room for creators to employ any audio structure that can offer amazing audio, so they go with mediocre audio.
Lacking sound quality can kill the whole atmosphere, no matter how stunning the display. This is where a soundbar comes in, and the S2 is here to solve all your bad audio quality woes with its many features.
Polk, a reputable brand of audio devices, and they include premium features without being too merciless on the wallet. The S2 is a classic example of Polk's exceptional products and is their new release from the Signa collection. We will be breaking down everything about this soundbar to bring you every detail.
Where to Buy?
Polk Audio Signa S2-At a Glance
The Signa S2 is a small soundbar that arrives with its wireless subwoofer that vows to emerge as an excellent audio system. Those who are not ready to invest in a costly system yet wish for something superior to what the current system offers will love this device.
While your TV offers a jaw-dropping and clear display, if the sound does not add to the whole experience, then it leaves a huge void. With a vast range of affordable soundbars currently available, the S2 still accomplishes its mark and has become a favorite of many with all it entails.
Specifications
Its dimensions are 3.22 x 35.43 x 2.15 inches and it weighs 3.9 pounds
Remote included
Compatible with 4k and HD TVs
Mounting holes are pre-drilled
It has a full black design
2.1 Channel soundbar
Frequency range: 25Hz to 20KHz
Crosstalk Error: 2.45 dB
Design and Setup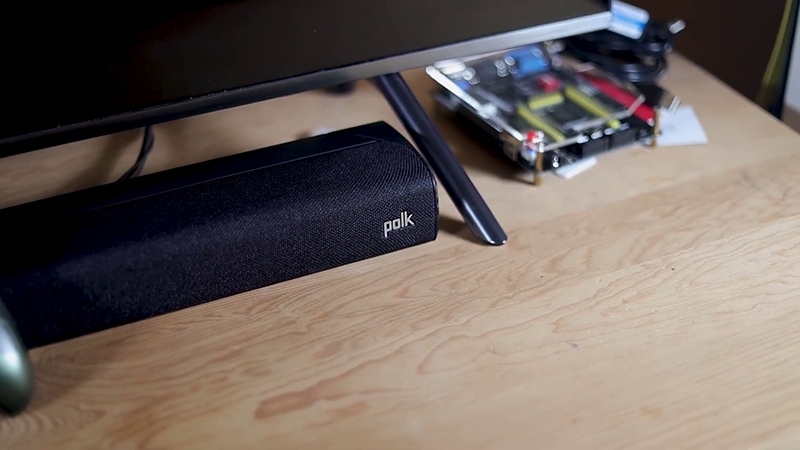 The package essentially includes the basic soundbar and a subwoofer. The central unit is portable and lightweight, which makes its placement stress-free even if you suffer from very limited space. The included subwoofer has a rather small size measuring 6.72″x13.4″ x 12.2″ and weighing eleven pounds. You can effortlessly find a little spot for these on your floor without any fuss.
The subwoofer has a modest design with soft curves and is made of plastic material. The S2 is the type of device that looks simple yet elegant. Its front area is coated fully with a black grille that expands to the head of the device casing it as well. At the top, five circular buttons are procuring the most fundamental functions.
Most soundbars offer some level of visual demonstration to give some visual acknowledgment of their commands; however, Polk utilizes some LED lights in the middle of the device's front to indicate certain actions: what input is in use, if Bluetooth is on, or the user is modifying the audio.
On the back is a small number of connectors and some unique slot spaces to mount it, and its smart construction makes handling this device very manageable. Its lightweight aspect allows for quick carrying and mounting. Behind the grille are two elliptical drivers set in both directions, with a handful of one-inch tweeters in the middle.
The subwoofer uses a 5.25″ driver coated with a non-detachable grille. The product has a clear-cut design to make things as uncomplicated for you as possible.
The product is quick to set up and ready to go right out of the box. There are no demanding requirements or connections necessary. Once you connect it to your TV and via the HDMI port, the soundbar and subwoofer are pre-paired from the factory for instant connectivity.
Still, if you encounter a connection problem, a press of the button on the back of the subwoofer while also pressing the Bluetooth and VOL + simultaneously on the remote will assure the two will pair again. After that, turn on the device, and you are ready to go. That is all there is to it!
Connectivity
Polk Audio manages to bring some improvements compared to the previous models by putting in an HDMI port with ARC functionality. HDMI is the common generally utilized port in current home theatre devices, and it was missing from the previous models, so this makes for quite a development. Then comes a standard 3.5mm slot.
Another mini-jack is situated on the side and contains the power cable. There is also a USB slot on the lowermost area of the soundbar. The S2 also features a Bluetooth connectivity option.
Control Options

With a reasonably priced device like this, it offers minimal and fundamental control options, making this product very simple. The controls on the topmost area of the body allow a swift way of getting the most basic options, and the buttons have the conventional rubber feeling to them.
They are solid and do require some hard pressing. At the uppermost area comes the power button along with mute keys, while below them are three buttons for choosing an input option.
Two big buttons below these are to control the audio and bass. Next, come the buttons dedicated to the multiple modes users can choose depending on what you wish to put on, like music or movies, and night mode is enabled when you do not want to be a nuisance for other family members. Its remote is relatively small, you can hold it easily, and you can press every button with a single handgrip since its design is fundamental.
There are not many options on the device, so the amount of buttons required on the remote is very limited. The S2 is HDMI-CEC enabled, which means that when you connect it to your TV through the HDMI port, you can opt for the TV remote to control the soundbar.
Features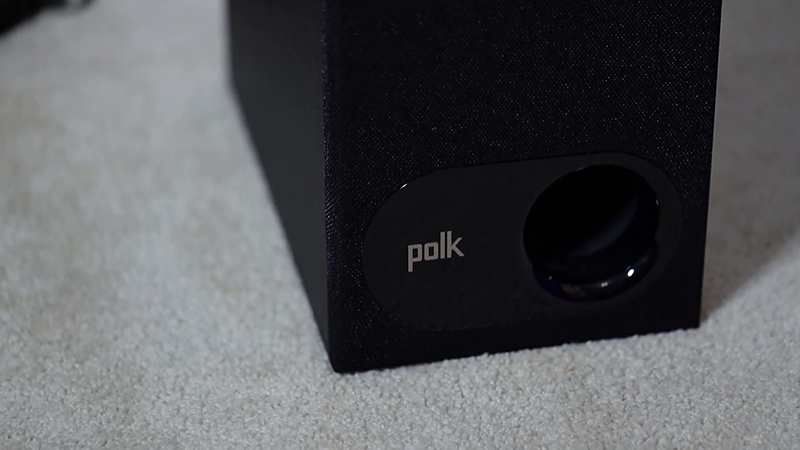 Features wise, the S2 is a rather straightforward device, making it perfect for those who do not want to be stuck with too many audio components.
Wireless Bluetooth Streaming
First off, it offers wireless Bluetooth streaming that lets you play audio from any device that has Bluetooth. The procedure is quick as device pairing happens without any trouble, and the connection stays very stable.
While soundbars can offer complicated and excessive modes, The Signa S2 gives you two general modes to pick from: movies and music. Each remote button modifies the Equalizer settings of this device to deliver a fulfilling acoustic outcome in every situation.
Night Mode
The device features a Night Mode, and it works wonders in lowering the bass as it improves the dialogue, and you do not need to alter the main volume. This lets you enjoy your movie late at night, keeping you from disturbing those who sleep, and it also enables clearer hearing of dialogues and sounds.
Bass Adjustment
As we are on the topic of dialogue delivery, Polk uses voice adjustment with the S2 by offering three distinct points of modification. It all depends on what you prefer among the low range, mid-range, or high range options.
Another adjustment is of the bass; as with the remote, users can adjust the level of bass they prefer to have simply with the pressing of one button. The original setting can be moderate; however, you can switch it up a few notches to get your desired result.
Audio Performance
Now we come down to the real deal: the sound quality of this soundbar. When you want to listen to music or wish to watch a movie, there are three buttons you need to press. Select the audio mode relying on the content, select one of the three voice adjustment settings, and calibrate the bass volume accordingly.
While there will always be users who do prefer extra selections in their settings to adjust the sound quality as much as possible, this soundbar allows enough adjustments to get things going. Its objective is to deliver an improved audio experience minus the requirement to fuss over any detailed tweaks at all.
As a 2.1 channel setup, its surround sound can be somewhat limited; however, it does not deter this audio device from performing well. When it comes to movies with 4K UHD versions, the essential Dolby tracks sound precisely how you would need it to be. Pushing the soundbar to its very best limits.
For a compact soundbar, this device can deliver some intense sound quality leaving you fully satisfied. While the device does not have the essential hardware to work for bigger spaces, it does give you a show that can pleasantly surprise you for a moderate space area.
For the more action-packed movies, it captured every little sound with clarity, and the subwoofers provide enough shaking bass to enhance the experience tenfold. For low-frequency movies, the subwoofer works amazingly in capturing the true essence. It gives crisp and clear dialogue, and the movie effects do not overlap or distort with the vocals. The movie explosions feel potent while bullets and falling debris sound alive and well replicated.
If you decide to utilize this device for watching movies, you are in for a ride. If you want to improve your TV system's audio quality, you will end up delighted with what this soundbar brings to the table.
As for music performance, the sound quality of this audio tab is incredible. It plays all genres, complete with every sound detail. Musical instruments are reproduced with adequate clarity; the vocals have a loud tone, and the subwoofer executes tremendous bass.
No matter what category of music you go with, you will get excellent performance with closed mid-range, beautiful peaks, and some satisfying low notes. It will capture all the metallic guitars and deep cellos, giving you a refined audio experience. If you adore music, then this will be your perfect pick in making your music time an absolute joy.
Pros and Cons
Pros
Amazing front soundstage
Strong bass performance
User friendly
Great price
Elegant look
Cons
Limited audio adjustments
Verdict
So what is the verdict? Should you opt for Polk Audio Signa S2? With a reasonable price tag and ample features to satisfy your essential needs, being a device that features its own subwoofer, a product like this is the ultimate pick.
It delivers fantastic sound quality and will make you a very happy user. The worth of this device gets even higher when you contemplate its elegancy and easy usage it offers and its plug-and-play that will have you going in no time.
While this soundbar does cut back a tad to suit its price tag, it does not compromise on the sound and bass quality. It still offers a great sound result as its core objective. The build and layout of this device are very solid, giving it a device that does the job clearly and satisfactorily.
Final Words
Simplicity is the aim of the S2, and it seems like Polk wanted this device to be as straightforward as possible to be easy for anyone to use. The features and options certainly help with that, and even if this is your first audio equipment, it will not take you much time to have it up and running.
If you seek a compact product that can deliver well without breaking the bank, then the Polk Audio Signa S2 seems to be the perfect option. Polk knows their audience very well, and with its soundbar, they aim for creating a brilliant audio device.