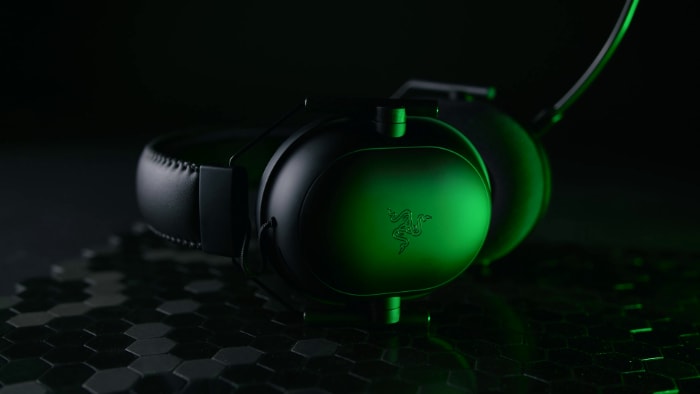 Having an amazing gaming experience needs several accessories such as a keyboard, chair, etc. A gaming headset is one of the most important accessories that you will need. It helps you relieve the complete gaming experience and sends you to a different world.
Gaming headsets come in a variable price range. However, the ones that fall in the lower range often lack some essential features that enrich your gaming experience.
The Razer BlackShark V2 Pro comes in a moderate price range of $179.99. This is an upgrade from the Razer BlackShark V2 model.
Is the upgraded version worth it? Does it have new features that could help in enhancing your experience much more than before?
Where to Buy?
Why Are People Loving the Razer Blackshark V2 Pro?
The Razer BlackShark V2 Pro came into existence a few months after its predecessor Razer BlackShark V2. This gaming headset comes at an affordable price range and gives you amazing sound quality.
The earlier Razer BlackShark V2 received immense love from the market. Hence, it is of no shock that the Razer BlackShark V2 Pro also received the same welcome.
A major difference between the two models is that Razer BlackShark V2 Pro is a wireless headset. Its predecessor was a wired model, which led to many restrictions in functionality. The wireless version does not restrict movement, which is why most people love this model.
Gamers are willing to pay an extra amount for the freedom this headset provides.
This headset features a built-in battery, Bluetooth connectivity, and a USB dongle to connect the headset. The battery life, build caliber, and sound quality is major points for the gaming headset.
Design, Features, and Build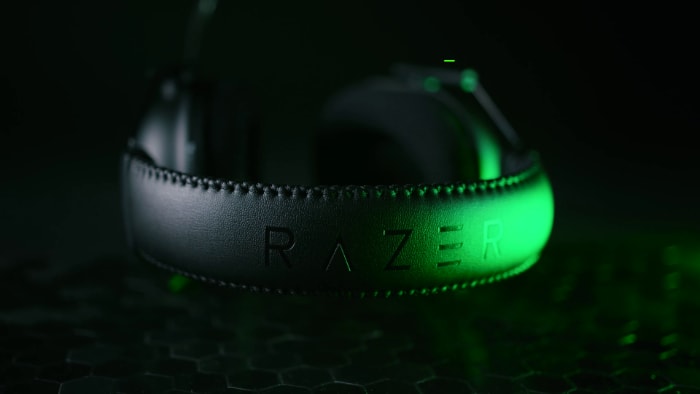 The Razer BlackShark V2 Pro is a praise-worthy wireless headset that offers premium features at a premium price.
The most attractive feature of the headset is the THX Spatula Audio that enhances your audio experience.
Razer BlackShark V2 Pro is not just a gaming headset; you can use it for non-gaming purposes as well.
Lightweight Design
The first thing that you will see in any gear is the design and look. Razer BlackShark V2 Pro exceeds expectations in this aspect with a matte black color that looks high-quality. Since this is mainly a gaming headset, it is slightly large and bulky. However, this is not always a bad thing for certain users.
The headband is connected to the earcups with struts that are Y-shaped. These struts are made from stiff wire and have cylindrical mounts on them. You can adjust the fit of the headset by moving the mounts up and down.
The memory foam earpads are breathable, and this ensures that your ears do not sweat even after prolonged use.
Despite being large, the headset is surprisingly lightweight. Using this, you will not feel weighted even if you play long gaming sessions.
The Razer logo is of glossy black color and is located on the earcups' backside.
Amazing Features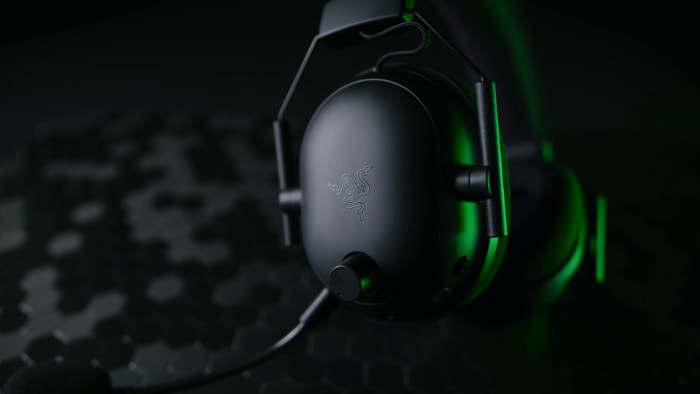 Even though many of the features are similar to the earlier model, Razer BlackShark V2 Pro has some upgraded versions of the same features. There is a volume knob placed at the back of the left earcup.
The left earcup is also home to other controls, which are placed at the bottom. These are a 3.5 mm detachable boom microphone jack, a 3.5 mm jack for a headset cable, power button, USB charging port, and microphone mute button.
When you switch on the headset, you will see a small LED indicator placed above the USB charging port.
Performance
Razer BlackShark V2 Pro goes beyond user expectations when it comes to performance. This headset may come at a premium price, but its performance is proof of its price range.
Battery Performance
Since Razer BlackShark V2 Pro is a wireless headset, you will need to charge it for optimum use. The brand claims about 24 hours of use on one charge. Moreover, the audio output does not reduce even when the charge is near the end.
If you use the headset at a low volume, it will give you more battery life. There is also a sleep mode that switches off the headset if it is inactive for a certain time. For a gaming headset, having 24 hours of battery life is a great performance range.
Audio Performance
Gaming headsets are known for their clear and crisp audio. Moreover, the volume should be high enough for you to get the optimum gaming experience.
The headset gives you an accurate and consistent audio output at the mid-range. Moreover, the bass response is to a maximum of 200Hz. This means the frequency response is amazing for a gaming headset.
If you want to use the headset for music, the low-end emphasis would be great for bass-heavy music. The same goes for games that use bass-heavy audio since this will take you to a different world.
Games that have gunfire or explosions will sound loud and clear. However, this will not overpower the other sounds due to the emphasis. You can experience different sound layers of the game.
Microphone Performance
The Razer BlackShark V2 Pro has a highly improved microphone as compared to the previous model. This microphone is amazing and gives an accurate output in the vocal range.
Synapse gives a good spread of different microphone options. There are custom EQ settings and EQ presets. You will also get options for volume normalizing, vocal clarity, and reducing ambient noise.
Selling Points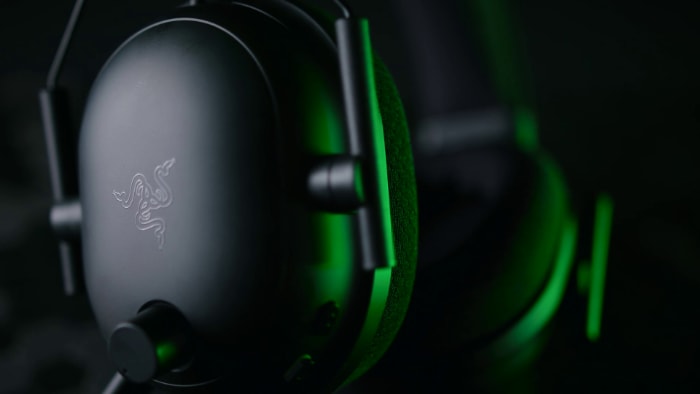 Comfortable
One thing a user looks for in a gaming headset is comfort. Some users might use the headset for long hours, and a heavy headset will create discomfort. Moreover, the earcups and headband also determine the comfort level of the headset.
When it comes to comfort, Razer BlackShark V2 Pro did an amazing job. You can wear the headset for hours and not feel pain in your ears, neck, or head. If you are a part of marathon gaming sessions, this would be the right wireless headset for you.
Easy To Use
Many wireless headsets come with numerous controls, which might get confusing. The Razer BlackShark V2 Pro is straightforward to use because it comes with just the required controls.
There are controls for volume, mic mute, and the power switch. These are the basic controls that are present in all headsets. Moreover, these controls are placed in a very convenient position.
The volume knob protrudes out of the earcup, but it is not inconvenient in any manner. You will find the mute mic button on the left earcup, and it is detachable. However, the charging cable is 5' and may be short for people who do not have a high place to rest the headset while charging.
Value for Money
Wireless headsets are costlier than wired headsets, and the Razer BlackShark V2 Pro is no different. It is priced higher than the previous wired model. That being said, the price range of the Razer BlackShark V2 Pro falls at a very moderate range.
If you are an avid gamer but do not wish to empty your bank for a headset, this model could be a great choice. Razer BlackShark V2 Pro comes with all the necessary features you may want from a gaming headset but at a good price.
Pros and Cons
Pros
Comfortable to use
Audio quality is exceptional
Microphone is amazing
Consistent sound emission
Custom audio allowed with the Razer's THX Spatial audio app
Good battery life
It can be used as a non-gaming headset
Cons
Does not work well on the console
Noise isolation is not good
Final Verdict
The Razer BlackShark V2 Pro is a costlier and wireless version of the wired Razer BlackShark V2. However, there are many upgrades present in the headset. One of the primary changes is the wireless feature that gives you the freedom to move around.
Another thing you will love about this wireless headset is the microphone performance. You will find the headset very comfortable, which you can use for hours on end without any issue.
Razer BlackShark V2 Pro ensures that the battery performance of the headset is up to the market. With 24 hours of runtime on a single charge, there is nothing more that you could ask at such a price range.
If you have been looking for a wireless headset at a good price, the Razer BlackShark V2 Pro could be the perfect choice for you.