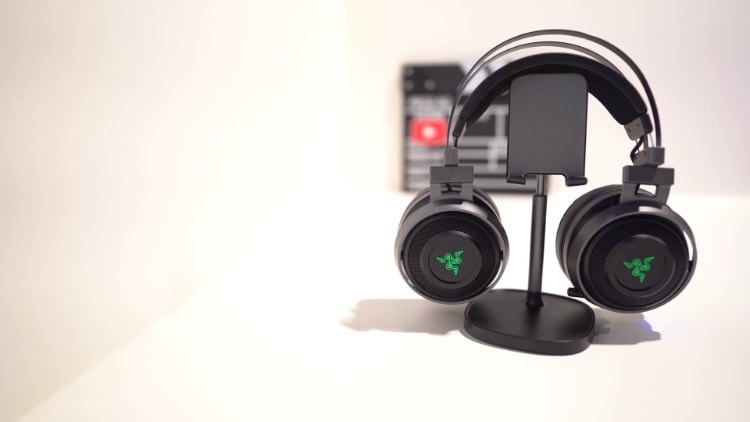 Technology has improved dramatically over time, especially when it comes to wireless technology. Among the various uses of a headset, gamers can use it all over the world during gaming. You can now even choose a headset with low latency to not experience a delay while playing.
When you play multiplayer games, a good gaming headset ensures that your friends can hear you well. But there are so many headsets in the market that can get you confused. For this reason, we have put together an extensive review of one of the best wireless gaming headsets- the Razer Nari ultimate.
Where to Buy?
What Is The Razer Nari Ultimate?
The Razer Nari Ultimate is a good over-ear wireless gaming headset from Razer. These headsets are comfortable to wear and built well. However, they can be a little bulky and lack stability. The Razer Nari Ultimate headset looks pretty cool and has pros and cons like any other product in the market.
This product was released back in September in the year 2018. If you are looking for a unique gaming headset that you can use for gaming and listening to music, this headset is a pretty attractive option.
Razer is well aware of their customer base and the requirements they need for gaming. They know about the importance of good quality audio in gaming. This headset can also be used by people working from home, who would use a retractable mic built-in, majorly for conference calls.
Design, Features, And Build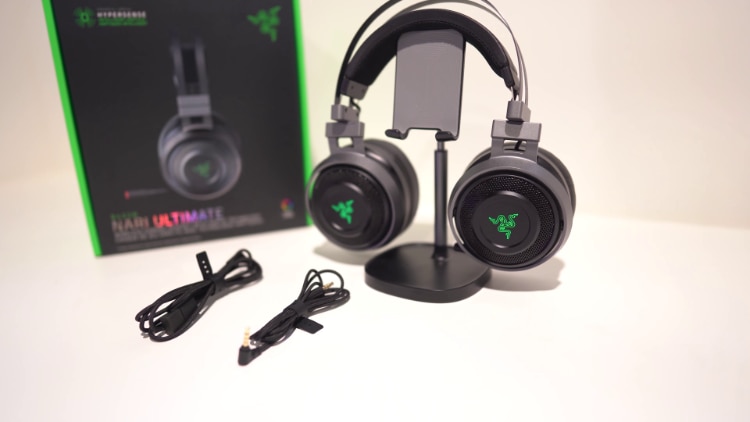 The features, design, and build of the headset are important factors to consider before buying them. There are many features that these headsets have and many features that they don't have.
Design And Features
All of the Nari headsets look similar regardless of the price. A metal headband is given, along with one padded suspension band that is present below it. The earcups are present at one position, but they can swivel so that they lay down flat on your chest when they are hanging down from the neck.
There are cooling gel memory foam one-inch-thick earcup pads that help you feel comfortable for long periods even if you wear glasses. There is a mute mic button behind the left earcup, one game chat scroll wheel, one button for the power, a charging port for micro-USB, a 3.5mm headset jack, and a retractable boom mic.
Toward the right side, there are fewer design features, with a volume scroll wheel and one holding slot that is spring-loaded made for the 2.5 GHz wireless USB dongle.
The headset design is pretty minimal and monochromatic. When you turn the headset on, the RBG Razer logo over the earcups gets turned on.
The only drawback with the design is the earcup mounts. They are made from plastic and are flimsy. The frame can bend with just a little bit of force. Although they don't look too cheap, they can turn with some power.
Performance
There are many aspects of the performance of a headset as performance is a broad term. Let's now look at the various aspects of this headset's performance.
Connection strength
The connection strength with this headset is not too bad. You will have to connect a USB adapter to your computer or the console for using these wireless headsets. You can pop the USB adapter in and out of the storage spot on the bottom area of the right ear cup.
However, you will not be able to utilize these with your smartphone. It can only be connected to devices that use a standard USB. So you need to include the 3.5 mm audio cable for using it.
When you are gaming, you can utilize a small wheel for mixing the chat audio and game. You can switch between the two. The power button shows you how the battery is at any particular point in time.
Battery life
These headsets lasted for 8 hours, 22 minutes. This was after they were tested by continuously streaming music from the computer. The headsets gave out an output of 75dB, which is the recommended noise level if you want to prevent any noise-induced hearing loss. An output that is higher than this can cause severe damage to one's ears and cause irreversible problems.
Noise quality
This headset de-emphasizes the highs and mids. When it comes to just gaming, the sound quality is good. But when it comes to listening to music, the haptics is too overpowering. The headsets feel like they are constantly shaking.
The mid clarity is not good. These headsets begin de-emphasizing the sound at approximately 300 Hz, which affects the highs and mids. Considering this is mainly a gaming headset, it can be a problem with some games. Subtle sounds such as footsteps, non-explosion sounds, and speech can often go lost amid booming sounds.
As there is a lack of emphasis on all the highs, musical instruments' noise can get distorted.
Noise cancellation
The Razer Nari Ultimate is decent with noise cancellation. It is not as great as an ANC sporting device. However, You can keep out the typical household noises while you game. It will keep the traffic sounds and your roommate talking out of your way.
Should You Buy The Razer Nari Ultimate?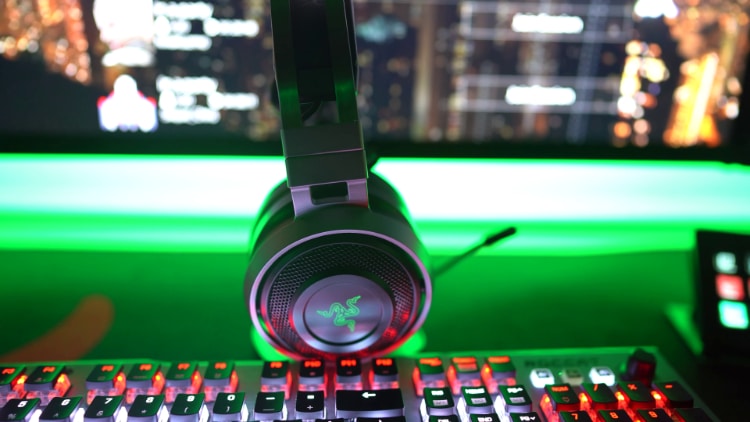 The Razer Nazi Ultimate is an excellent headset for gaming. However, the build quality is not unique. But at USD 199, it has sufficient positive traits that are supportive of purchasing it.
They are fun to use for gaming and listening to music, although they are made for gaming.
Additional features
Razer Nari Ultimate Hypersense
This is a unique feature in that it is a haptic feedback system. It helps in sending vibrations and rumbles over to the user. This feature will assist you while you play for sure, but it can get tiring after some time.
The haptic technology allows the gamer to experience the battle. It works by picking up frequencies and audio cues for creating dynamic vibrations that bring to life effects that are in the game. The effects we are talking about are those of gunfire and explosions.
However, this headset's wireless latency is pretty low when you use it along with a small USB receiver.
Soft cloth cushion
There is a soft cloth cushion along with cooling gel that lowers the building up of heat, comfort, and sound-canceling features.
Compatibility with devices
It is compatible with a PC when used with a USB port. It is also compatible with the PlayStation 4, Windows 7, Windows 8, and Windows 10. There is also compatibility that is wired through a 3.5 mm cable with the PC, Xbox One, PS4, mobile devices, and Nintendo switch.
Razer chroma personalization
There is a gaming immersion with Razer Chroma that includes 16.8 million combinations of colors.
THX Spatial Audio
This allows you to experience lifelike and immersive sound, and the game/chat balance lets you enjoy the perfect balance of the game/chat volume.
Software
The Razer Nari Ultimate uses the Synapse 3 software, which is used for adjustment of the headset EQ, changing the color, and tweaking of the display of the earcup's LEDs. It is also used for tweaking the brightness and also setting of the audio presets.
The design of the application is intuitive and clean. There are many settings that you can adjust. However, the Haptics intensity slider is one of the best settings to play with. You can even disable the haptics option itself if you want to stop feeling the shaking of your head.
Pros and Cons
Pros
Haptic feedback is a lot of fun and is pretty exciting for the user
Great microphone quality
Comfortable to use
Strong wireless connectivity
Cons
The sound quality is not excellent
Final Verdict
The Razer Nari Ultimate headset is a decent buy for wireless gaming. They are compatible with the PS4 and PC wirelessly when used with the USB receiver that is included. These headsets have reduced latency, and one can wear them comfortably without having to undergo fatigue.
You can make many customizations through the Razer Synapse application. This headset includes a decent microphone. The fit is pretty unstable, and it needs to be adjusted repeatedly.
However, since there are so many advantages, such as haptic feedback, it offers you amazing immersion. It is also lightweight and contains an auto adjustment headband. This is an amazing buy even after considering its drawbacks!