TV streaming is the new black as there are many services nowadays like Netflix, Hulu, HBO Max, and more. However, enjoying these services requires impeccable streaming and amazing sound quality. These aspects are a nuisance for TV owners as one, or the other is always lacking. Enter Roku Smart Soundbar, a device that will give your streaming all the life it needs. It solves all issues of the streaming with its premium features.
Where to Buy?
Roku Smart Soundbar at a Glance
The Smart Soundbar is an attempt by Roku to rectify two of the biggest dilemmas that have long afflicted TV owners: terrible audio and outdated interfaces. It upgrades both your audio and streaming by simply adding it to any TV. Its sound quality is great for a subwoofer-less bar, and the streaming works smoothly. Roku also proposes two elective add-ons: a wireless subwoofer that boosts up the bass and wireless back speakers that provide extra zest.
As a media streamer, the Roku Smart Soundbar gives a similar interface and wide app support as Roku's standalone players. Better yet, Roku delivers fast and effective access to audio settings that can increase the bass, limit noisy sounds, and improve the volume of speech. Other soundbars may not always propose those choices.
Specifications
Wi-Fi connectivity
One remote with an easy interface
It weighs 5.5 pounds
Its dimensions are 3.9 x 32.2 x 2.8 inches
It comes with batteries included
The soundbar is in rich black color
Bluetooth connectivity
HDMI ports both front and back
Design & Setup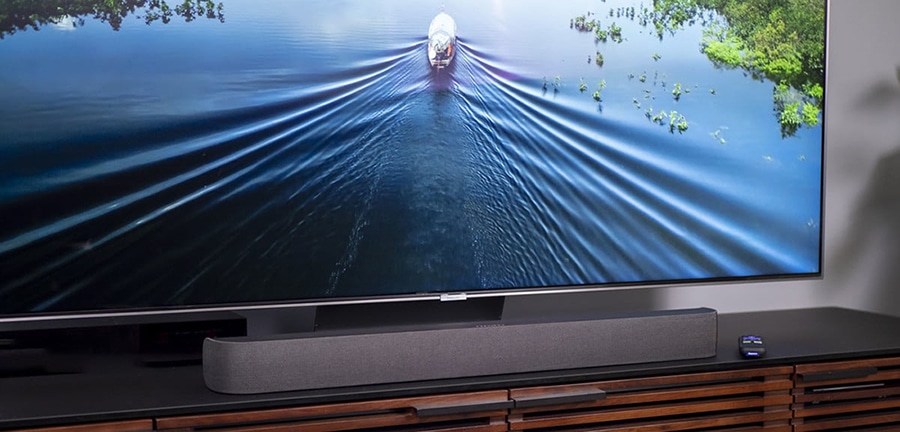 The speaker is rather compact, and it encompasses a cloth-wrapped front with a sole action LED light. Behind this, the unit integrates four 2.5-inch full-range drivers. There are no power buttons as the remote handles everything. At the rear of the soundbar are an HDMI port, an optical port, and a USB port for playing media records.
There are also some pre-drilled wall-mounting screw holes. The Roku contains Bluetooth and compatibility with music streaming apps like Spotify. Its set up is effortless, simply plug it with an HDMI that connects to your TV, get the remote and voila! You are good to go. It frees you of any unnecessary button hassle by making its remote the sole wand to work this magic.
Features
Offers flawless 4k streaming
The remote also takes voice commands
It features built-in amplifiers with the power of 60W
Can simulate low frequencies down to 40Hz
The soundbar has four levels of bass, speech clarity, and sound leveling mode
One-click auto-tuning
Comes with Roku's mobile application
Audio Performance
The soundbar has no problems with getting loud and filling little or medium size rooms, and the volume certainly does not crack or warp at any point. It is much regulated all the way through. However, you will need to spend some time adjusting the sounds with its many setting options so you can experience it at its best. It is the height of a narrow soundstage for it reproduces low frequencies very well.
The amount of bass delivered by the soundbar without any add on is rather commendable, although it can be more of a droning bass. However, you can tweak and polish it, too, to make it sound accurate. These settings are easily accessible through the star button on the remote. Those with toddlers or light sleepers in the house will admire the sound bar's sound-leveling option and night mode. The leveling specifically works amazingly well if you wish to flat line dynamics completely. Besides, you will like the fact that the soundbar automatically modifies when integrating the wireless sub.
Smooth Streaming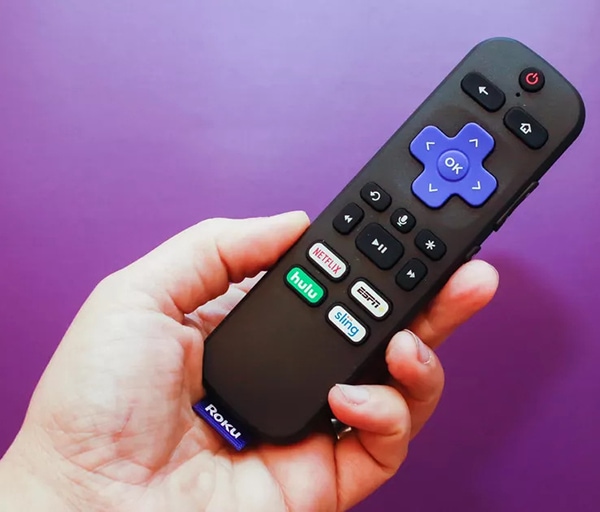 The real charm of the Roku Smart Soundbar lies in being more than just a regular soundbar. Also, it acts as an entire Roku 4K HDR streaming player and works on the same input for the HDMI audio connection. It proposes a quick interface for accessing streaming applications. You can also go with the Roku Mobile application to replace the voice features in the remote. This app makes it even easier to type in your login, and you can always use your Air Pods or earphones, too.
It is a pleasant way to enjoy your shows late at night without causing a disturbance. These apps load and buffer with impressive speed and run smoothly. Almost every major streaming site service you could think of is accessible through this streamer. Roku also comes up with many free movies and shows via its "Featured Free" section on the home screen, and it gives more free content through its official Roku Channel, which is not available on any other streaming players.
Pros and Cons
Pros
Quick set up
User friendly in-built software
Great sounding speakers
Amazing streaming quality
Range of volume controls
Cons
Verdict
If you want a good and solid soundbar that can cater to all your essential streaming needs, then the Smart Soundbar is for you. It has all the superior features that can amp up your TV experience and provides you with the best streaming services. Its 4k streaming allows it to play sharp and vivid videos, and its audio options have many modes.
There is something for everyone in this product, and it is compatible with all streaming services, it lends a wealth of content and satisfying sound quality to older TVs. Although you could always go for your soundbar and streaming box individually, you would surely be lacking on the nicety of the dialogue upgrading and other audio enhancements that the Smart Soundbar can offer.
Final words
Roku is a big name in the streaming and audio industry, and its soundbar has made its way to the houses of many TV owners. While the product can improve in a few aspects, it contains all the prerequisites of a quality soundbar that has made many customers happy. If you enjoy streaming TV, then The Roku Smart Soundbar will be your last purchase.