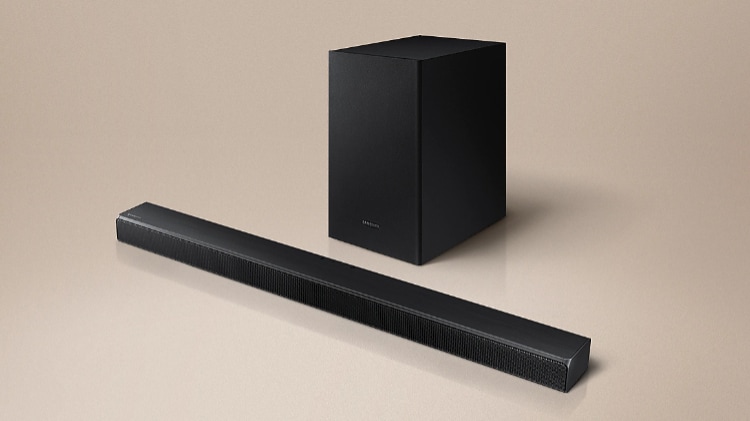 A fully-equipped television without a soundbar to match is like getting great visuals with mediocre audio. This Samsung Samsung Soundbar can add life to a television set with in-built speakers that may be sub-standard.
With the Samsung HW-T550 2.1ch Soundbar, you will have excellent connectivity options. From loud shrieks to silent whispers, you can hear all of this crisp and clear. In addition to this, a soundbar is a great option for anyone who loves versatile listening.
It is a soundbar that also brings you some exciting features at an affordable price.
Where to Buy?
The Samsung HW-T550 2.1ch Soundbar
This is an excellent option if you are looking for a good quality soundbar to give you powerful bass. The audio is deep and enhanced by the 2.1 speaker configuration. There is also a wireless subwoofer, which is responsible for the excellent bass.
It does not look as sleek and premium as the older models. It has been designed to replace the older 2019 model of Samsung HW-R550. However, it has an unparalleled look that is sure to stand out.
There are a 7-Band EQ and other features designed for sound enhancement. If you are on a budget and need an upgrade to your television, this is the perfect option for you.
Features
There are some interesting features on this Samsung HW-T550 2.1ch Soundbar that make it worth considering.
Style: This bar comes in a smooth black body. It doesn't have any angled edges like the models before it did. It looks high-end and luxurious and is sure to catch everyone's eye. There is a metal grille that covers the front of the bar. The remaining is plastic.
Dimensions: The Samsung HW-T550 Soundbar has a width of 33.9 inches. It comes at a height of 2.2 inches and a depth of 3.4 inches. It is shorter than the older models in this line. You may want to place it under your television sets of 55 inches.
Subwoofer Style: This soundbar comes with a subwoofer that looks very similar to Samsung's previous model. It has a fabric panel that is situated at the front of the soundbar. The remaining body of the soundbar is made of pressed wood.
Subwoofer Dimensions: The width of this subwoofer is 7.9 inches. It has a height of 13.8 inches and a depth of 11.4 inches. The size of the Samsung subwoofer is similar to that of a regular desktop computer. It will connect wirelessly to your bar.
Mounting on the Bar: The back of the Samsung HW-T550 Soundbar only has a power cable and various outputs. Go ahead and mount your soundbar on the wall. There is also a universal hole under the bar. The brackets come with the box.
Enclosure: The subwoofer's back is very simple. There is a port at the top. There is also a power cable located at the bottom. Hence, cable management is effortless with this simple arrangement.
Materials: This soundbar has an excellent build and is made of good-quality plastic. The speakers have a metal grille that keeps them safe. The subwoofer, however, can gather dust and get dirty quickly. Make sure to maintain it in the best condition.
Stereo Frequency Response: The stereo frequency response on the Samsung HW-T550 soundbar is good. You will hear some deep and powerful bass from its subwoofer. With a focus on the bass, it offers a well-balanced sound profile.
Loudness: The stereo dynamics on this soundbar are good, and you can bring it to a high volume. It will be heard even across a large room when you are throwing a party. You will be able to achieve maximum volume with no audible compression.
Stereo Soundstage: The bar covers a slightly wider soundstage than its length. It ties the sound to a precise location. Hence, sounds don't have a general feel like they are emerging from anywhere. The stereo soundstage could have been better.
Smart Preset: There are four presets that come with this Samsung HW-T550 Soundbar. You can opt between Game, Smart, Surround Sound, and DTS Virtual. Dynamic Range Compression or DRC is used to enhance the dialogues on screen.
Audio Format: This Samsung HW-T550 Soundbar has a full HDMI port. It is a great option for external devices to get connected. It also supports DTS as well as Dolby Digital. It can also play lossless PCM 2.0 stereo formats.
Wireless Features: You can use Bluetooth connectivity to connect your devices to the Samsung HW-T550 2.1ch Soundbar. You can also pair multiple devices to the soundbar at a time. Simply pause one playlist to get the other one as you choose good music.
Interface: There is a small screen that is positioned at the center of the screen. This is the interface of the Samsung HW-T550 2.1ch soundbar. It will display all of the settings you are changing and picking.
Why should you opt for the Samsung HW-T550 2.1ch Soundbar?

There are a few reasons that make the Samsung HW-T550 2.1ch a good option to enhance the sound from your television.
Connectivity
There are three ways in which you can connect your Soundbar to your television. It makes it easy to get the job done in any of the ways you prefer. You can use either Bluetooth, optical cable, or HDMI to get your Soundbar and TV connected.
Just plug the soundbar and subwoofer in different power sockets. You can then switch the main unit on. The subwoofer will connect to the bar wirelessly. It is one of the best setups where the power cable happens to be the only wired cable present.
You can use Bluetooth connectivity to get the soundbar connected to other devices. It can include a tablet, smartphone, or laptop as well. Connecting two devices simultaneously is also easy with this soundbar.
Sound
You can use the HDMI cable to connect your television to the soundbar. You can instead use the optical cable if you prefer. Whichever option you pick, the sound experience will be similar and of good quality as well.
The dialogues will be very clear, and the soundbar enhances the sound quality during action sequences. You are sure to listen at the edge of your seat. You can turn the volume up to about 90 percent of the maximum volume.
Even at these high levels, you will notice that there is no distortion. The subwoofer is good for the background score on your television and will bring any bass notes to life. The sound is very powerful as well. One of the best parts is that it also enhances whispers to make them clear, distinct, and louder.
The music on the Samsung HW-T550 2.1ch soundbar is very soothing as well. The sound profile is consistent. However, you cannot expect explosive sound output from this soundbar. The DTS feature also recreates sound to bring you 3D output.
Design
This is a sleek and short soundbar that you can easily push under your television. Hence, it will aesthetically adorn your living room space without creating a fuss. It looks minimal and elegant and has the features to accompany it.
It comes in a broad design. Its shortness is appreciated as it will not cover your television even if you go ahead and place it just under it. The bar is made of good quality plastic that is sure to stand the test of time. The plastic does not add a cheap look and takes away from the soundbar.
There are controls present at the top of the bar and a tiny display on the front. All of these make using the soundbar very convenient and hassle-free.
Remote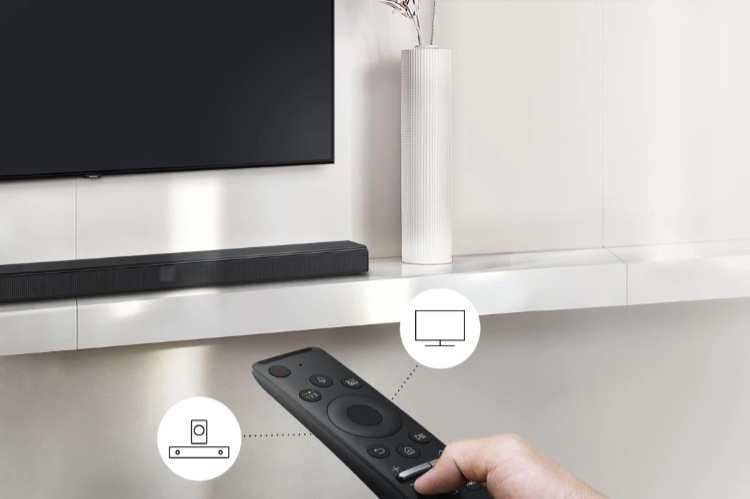 This is not a universal remote. However, it is an excellent addition that will let you control each set of soundbar from afar. It is perfect for those lazy days when you just can't get yourself to leave your sofa and approach the soundbar.
You can also go ahead and get some customizations in place using the remote. It is a great option to get your soundbar to connect to various apps.
Power Saving Mode
It is important to have a soundbar that is also energy efficient. In addition to the excellent sound on this Samsung HW-T550 2.1ch Soundbar, you will also be introduced to energy-saving features. A notable one is the Standby or power-saving mode.
If you leave the soundbar idle, it will remain in this state for 20 minutes. Following this time period, it goes into power-saving mode. Hence, you won't have to worry about switching the soundbar off during short bathroom breaks or other chores you attend to.
Affordable Price
This soundbar is one of the most affordable options in the market. It offers great value for money and looks like a high-end soundbar. It is also made of good quality plastic that is the right material for the amount you spend on this Samsung HW-T550 2.1ch Soundbar.
What can be better in this Soundbar?
We have discussed the features of the Samsung HW-T550 2.1ch Soundbar that make it a good pick for your home. However, there are a few things that can be improved. Pay attention to these so that you can make the best choice regarding the purchase.
Surround Sound
While the audio quality of the Samsung HW-T550 2.1ch Soundbar is excellent, the same cannot be said of its surround sound. This is because the Soundbar has to play the surround sound only once it downmixes it.
Only the right and the left drivers are used when the sound is playing. Hence, when using surround sound, you will not be able to identify the sound source. It lacks precision in this aspect and gives you a very linear sound.
If you are sitting before the soundbar, you will not be able to enjoy the feel of the audio embracing you from all around. Instead, it will sound a lot like the audio is only coming in from the area directly in front of you.
When you play stereo content, the output level is also shallow. Hence, this is a feature that can be improved upon.
Harmonic Distortion
There could be a slight improvement in this feature of the Samsung HW-T550 2.1ch Soundbar. While it does handle high volumes very well, you won't find any noticeable disruptions in the normal volumes either. When you take the bar to its upper limits, you will notice a jump in the audio.
It is not a very pleasant experience. However, any distortion at lower levels is situated within the treble. It is not very audible to most people. Hence, unless you are a very sensitive listener, this won't bother you too much as you pair it with visuals.
Pros and Cons
Pros
Deep and powerful bass
Handles loud volumes very well
This leads to an immersive television viewing experience
Sleek and stylish
Good value for money
Can connect two devices simultaneously
Excellent control with remote
Good cable management system
Powerful subwoofer
Cons
It does not come with a dedicated center speaker
Is not Wi-fi enabled
Final Verdict
The Samsung HW-T550 2.1ch Soundbar is the perfect addition to your home. It is affordable and offers excellent audio quality. It keeps its focus on the bass. Hence, it is perfect for all your fast-moving action flicks.
The surround sound on this soundbar could have been better. Further, many audiophiles may not prefer this soundbar. However, it is not meant to serve as a precise soundbar but to enhance your television's audio from the comfort of your home.