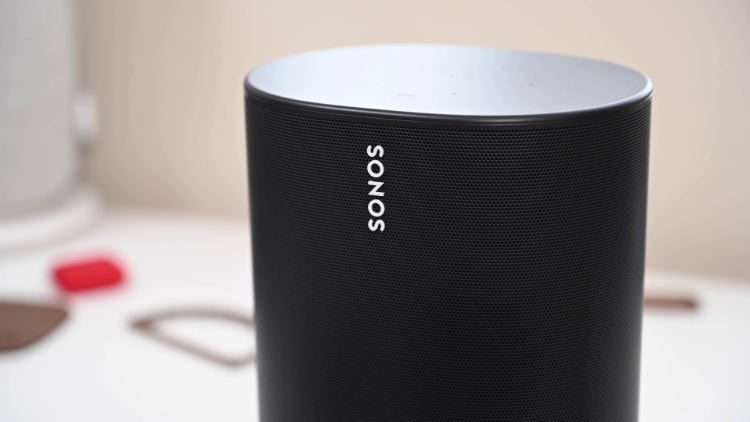 You can now get home system-like sound even outside the house, with the all-new portable Sonos Move, the truly-wireless, rechargeable battery-powered, Wi-Fi and Bluetooth enabled smart speaker. The setup only takes a few minutes with its step-by-step user guide.
It can easily be controlled with the Sonos app, AirPlay 2, Bluetooth, and your voice. It comes with built-in Amazon Alexa and Google Assistant, which can be used over Wi-Fi to search the web, plays music, listens to news updates, set alarms, and much more, using the command of your voice.
The Sonos Move is a smart, quality-sounding speaker that comes with a wireless, portable experience. It is the same Sonos One experience, with enhanced volume and portability. With its durable case, weather resistance, and loud, clear sound, you could take this portable soundbox practically anywhere.
Where to Buy?
Easy to use
Being Wi-Fi enabled, you can easily link the Sonos system at home. Moreover, it is Bluetooth-supported when you're outside and offline. It is the perfect all-purpose indoor-outdoor speaker. You can pair it with another Sonos Move to create your very own stereo.
With a battery life of 11 hours of high-quality music, it can be conveniently charged on the base ring or using a USB-C charger.
Experience a wide soundscape, deep bass, and perfectly equalized sound with its automatic Trueplay tuning. It helps balance the sound for the place where you are present and the type you are listening to.
Design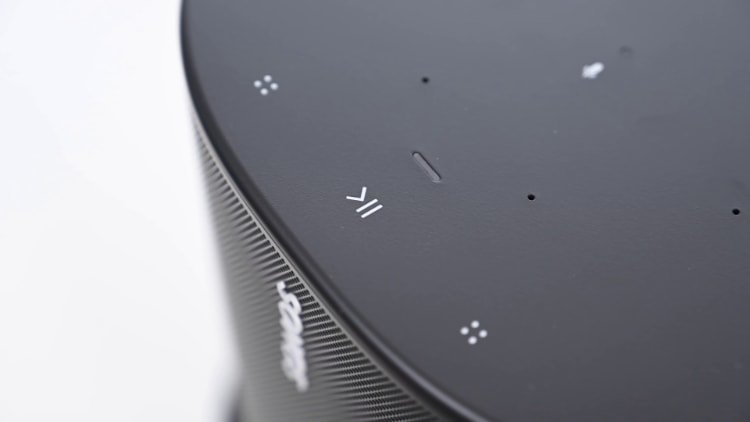 Measuring 9.5 by 6.3 by 5.0 inches, the slightly round, Move has an oval-like shape in black or white. The top panel has the mic range, status light, mute, touch-sensitive volume, play/pause, and next/previous buttons. It comes with a metal front grille.
In the rear is a cavity to carry the speaker, and a power (on/off), Wi-Fi/Bluetooth switch, and joint button are used for its set up. It also houses a USB-C port for charging.
The bottom rubberized base holds a replaceable 2,500mAh battery, which can go on for 11 hours of uninterrupted playback, 120 hours when inactive, and takes about 3 hours to charge. It can last up to 900 cycles, following which you can easily replace the battery. You can charge it by dropping the entire thing into its charging ring or simply connecting it to a USB-C socket.
At 6.6 pounds, the Move is comparatively heavy for a portable speaker and is bigger than Sonos One. Its drivers (one woofer and one tweeter) aren't much larger or more powerful than the One's and deliver an experience somewhat similar to the One.
The recessed area at the back acts as a handle but lacks a rubber grip for better hold. It is portable when moving it from one room to another or indoors to outdoors, but it's not fit for long walks or hikes. After a point, it needs to be set down, owing to its weight.
The charging ring stand compensates for the absence of a charging cable with a hardwired adapter with a long cable. It comes with a complimentary drawstring protective pouch. The Move is a single speaker, which is understandable given its size.
Features that make it an ideal product
Being water, heat, cold, and dust resistant, the Move is all-weather proof, with an IP56 rating. It can withstand an accidental fall or slide, making it a fool-proof speaker for taking outside to the park or the beach.
Its components are shielded by a hard-wearing, shock-resistant outer covering. With Move, you can enjoy a wide soundstage, excellent rich bass, and automatic Trueplay tuning. In fact, these continuously adapt to the music type and your surrounding environment.
Move's microphones detect what you're playing, measures the frequency response from its surroundings. It then adjusts its EQ to balance the sound perfectly.
It can blast up to 11 hours of uninterrupted playback. Certain factors like volume level, Bluetooth, pausing, heat exposure will cause battery life to fluctuate. The charging base comes with a couple of pogo pins at the rear that joins and powers the speaker when you place the Move over it.
Following its setup on Wi-Fi, you can press the Bluetooth or Wi-Fi mode button on the speaker's rear to easily switch to either of the modes. On switching to Bluetooth mode, the LED on top of the speaker will light up blue. To pair, you need to select Move from the list of existing devices.
That being said, Bluetooth loses some features like voice command and automatic Trueplay tuning, that can be used only over Wi-Fi. For what it's worth, the Move sounds exactly the same and is just as loud and enjoyable whether used over Bluetooth or Wi-Fi set up.
Sonos App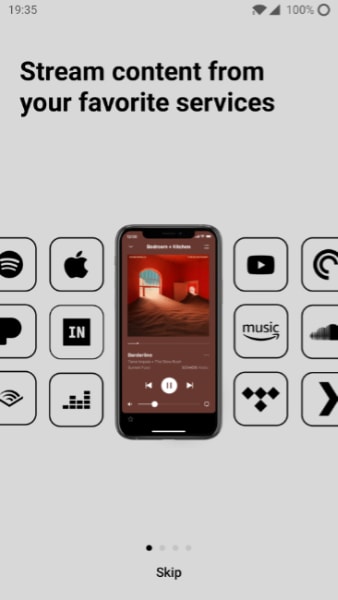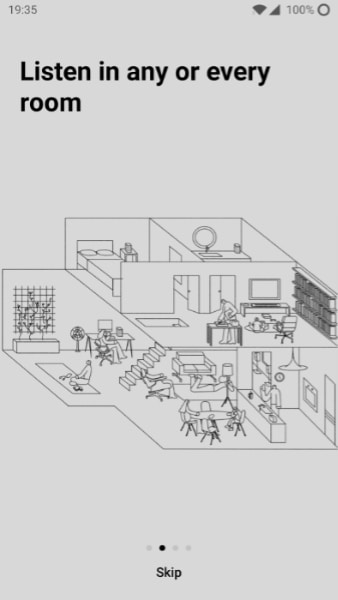 The Move is controlled with the Sonos app for Android and iOS, making it easy to use and simplifying the setup process to a great extent. You only need to switch on the speaker, enter the Wi-Fi password, and follow the steps prompted on the app. Once you connect your speaker, system updates also happen using the app.
The app allows you to play internet radio and stream your phone's music library. It is also compatible with ApplePlay 2. As a plus point, the App's TruePlay feature tunes the speaker to your surroundings.
It has control sliders for bass and treble and a loudness button to boost bass even at low volume levels.
Voice control can be assessed by adding Amazon Alexa and Google assistant through the app. The mic picks up voice commands quickly and clearly, even with loud music blasting out.
For outdoor streaming, you can easily switch from Wi-Fi to Bluetooth once the pairing process is complete. On the downside, the Sonos app can be accessed only when the speaker is connected to Wi-Fi.
The sound quality
For a mono speaker, the Move's sonic performance is unmatched. Even at impressively loud volume levels, it doesn't distort music, some negligible DSP (digital signal processing) aside.
In terms of the audio system, the Sonos Move consists of a single downward-firing tweeter for highs, two Class-D digital amplifiers, and one mid-woofer fitted into the cabinet for mid-range and bass. It has resonant and balanced enclosure cutaway features.
The Move sounds like a louder version of the classic Sonos One. With its automatic Trueplay tuning, it is simple to adjust the audio output according to its surroundings to sound top quality.
Trueplay functions only on Wi-Fi and not on Bluetooth. That aside, it plays equally premium sounds indoors and outdoors. In fact, the Move doesn't sound like a portable speaker and runs close to the Sonos Home range experience.
Setting Up Sonos Move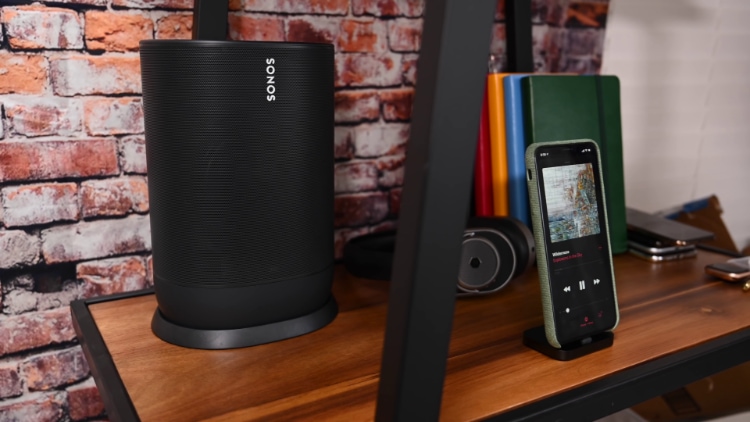 Setting up the Move on Wi-Fi connection and using it with the Sonos app or your voice is relatively easy. After downloading the app on your iOS or Android device, you need to sign up and connect the speaker to your Wi-Fi network by pressing the Join button on the rear of the Move. Next, you need to follow the steps prompted on the app.
You can add all of your music streaming accounts. Sonos can work with a wide variety of streaming apps, including multiple Spotify accounts and local web drives. The best part is that the app searches the song of your choice across all apps at once.
Streaming using Bluetooth is as easy: press the Bluetooth button and link it with the device of your choice. All three of these buttons, for power, setup button, and switching between Bluetooth and Wi-Fi, are at the backside of the speaker.
The app is like your virtual guide to operating the speaker. You can also figure out how to add a voice assistant, be it Google or Alexa to the Move. It is one of the premium-sounding smart speakers in the market, with the option to switch between either of the assistants.
Another control option is that you can use Spotify Connect and Apple's AirPlay 2 through the app itself.
Additional Features
The LED on the top panel lights up when the microphones are ready to command your voice assistant.
While playing music, you can slide your finger across the volume buttons to skip a track.
The USB-C outlet can consume up to 45W for fast charging.
You can link two Moves for stereo quality.
You can touch the mic option to turn off the light and the mic.
The All-New Sonos White
Sonos has released a new and improved version of this premium quality wireless speaker. With all the features of Sonos Move (black), it brings an improved battery life, an extra hour of charge to enjoy uninterrupted music for a bit longer.
The much-demanded new Lunar White version of the Sonos Move has a white/silver look to the portable speaker. You can now choose between the color options and pick the one that matches your home or patio decor.
Who should pick Sonos Move?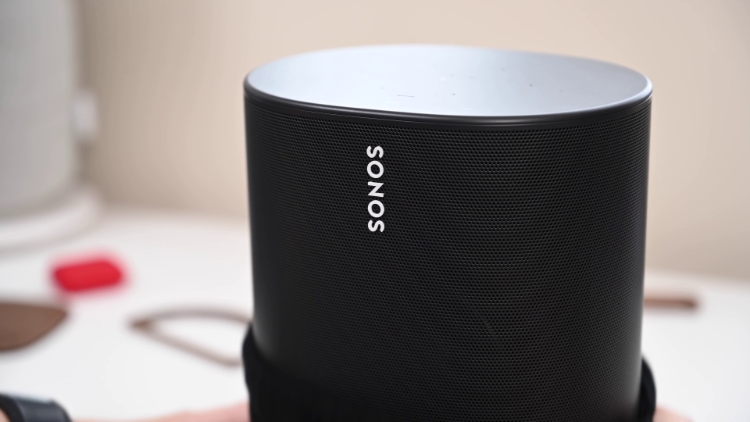 The Sonos Move is sturdy, portable, sounds great, and works with an easy-to-use app that allows you to tweak the sound signature up to a level. With voice controls using Alexa and Google Assistant, Spotify Connect, AirPlay 2, and the Sonos App, it offers all the control features one can ask for.
It can give a stereo-like performance when paired with another Sonos Move but is not for those looking for pure stereo sound or accurate sound signature. The two large boulders in the way are its hefty price and hefty size. For a mono speaker, its price is a lot.
Plus, it is on a heavier end for a portable speaker and won't be an ideal fit for light travel.
If you're looking for a smart speaker for the house, you don't require Sonos compatibility or portability; high-quality audio at a lesser price would suit your needs just fine.
But if having a portable, Bluetooth-compatible, rich bass Sonos speaker is what you are looking for, the Move might be the one for you.
Pros and Cons
Pros
Powerful audio with robust bass and bright highs
Durable, Dustproof, and IP56 water-resistant
In-built Alexa and Google Assistant
Wi-Fi and Bluetooth enabled
Can be linked with Sonos Home ecosystem
Cons
Lacks 3.5mm line-in
Shallow handle, no rubberized grip
Final Verdict
The Move comes with a hefty price tag, but it delivers powerful audio in a rechargeable battery-powered, outdoor-friendly design. Its size allows it to deliver some serious bass depth at varying volume levels.
Its sculpted, bass-forward audio signature may not be the best choice for audio purists. However, it has a strong appeal among those who want a strong bass and minor tweaking in the music.
When it comes to being fall and dust resistant, the product's rubber foot prevents vibrating or scratching the surfaces but catches dust quickly.
It is visibly larger than most portable speakers, which stops it from being your go-to compact speaker. Value-wise, the price is its biggest downfall. It is roughly twice the price of Sonos One and gives a similar sound experience, albeit with the portability and Bluetooth switch.
Despite the price, it is one of the select few wireless speakers that offers a number of perks such as portability, flexibility, compatibility, durability, and room-filling sound.
If you want a Bluetooth speaker to carry around, the Sonos Move won't be the right choice for you. However, if you are looking for a top sounding smart speaker, Sonos has a lot to offer with all the features.