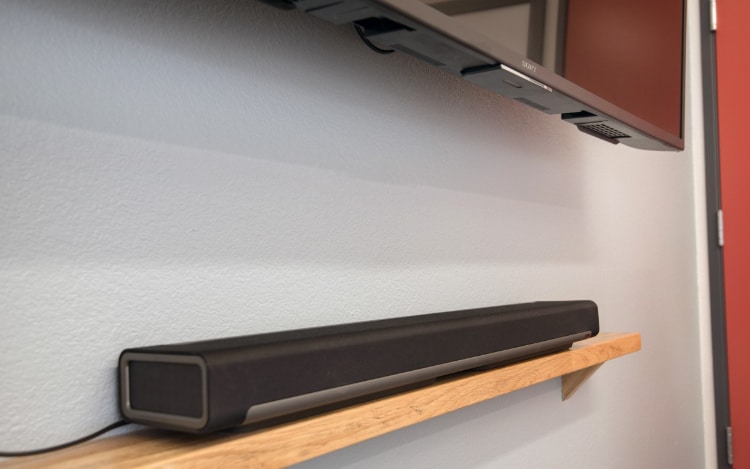 Advancements in modern technology are greatly enhancing the listening experience and satisfying audiophiles. Whether you are playing a game or watching a movie, the sound system's quality determines your whole experience.
One such lounge-unifying device is the Sonos Playbar. This talented play bar is the ultimate device for film fanatics and music lovers. This Playbar is the trojan horse Sonos much needed to crawl up in the list of bestsellers.
Its sleek design and over-the-top features have impressed many melomaniacs.
Where to Buy?
About Sonos
Sonos is an American manufacturer and developer of wireless home-standard audio products. The company is going to almost complete two decades in the audio equipment industry. Patrick Spence currently runs Sonos.
In these two decades, Sonos partnered with more than 100 companies such as Pandora, Google Assistant, Alexa, iHeartRadio, QQ Music, Amazon Music, and many more. The most exciting thing about Sonos is that it also owns a studio and an art gallery in Los Angeles.
Sonos equipment is famous for multiroom music playback and for supporting smart assistants. Sonos has embraced the whole-home audio experience with more perfection than any other brand out there.
If you are looking to augment your living room's TV audio, the play bars from Sonos are a fantastic option. The significant plus point of using Sonos is that it comes with a free app. This app makes it more straightforward to use Sonos. i
Specifications
Color: Black
Control Method: App
Product Dimensions: 5 x 5.6 x 3.4 inches
Product Weight: 88 pounds
Batteries: 2 AA batteries
App Compatibility: iOS and Android
Additional Features: Alexa and Google Assistant voice control
Setup: Wall Mountable
What's in the Box?
Optical cable
Sonos Playbar
User manual
Flat ethernet cable
Power cable
Design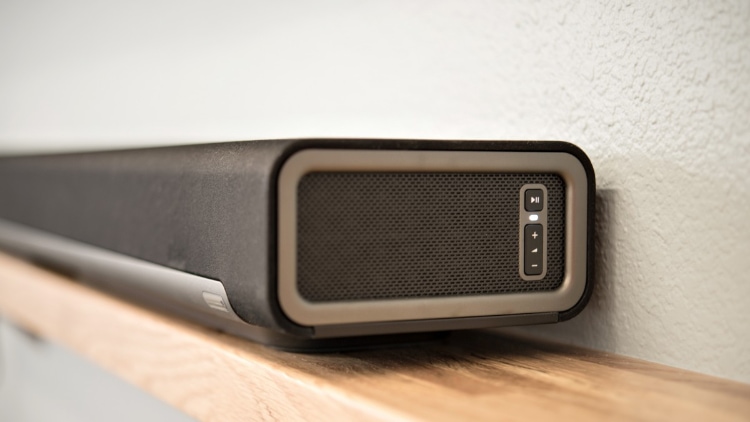 If you like your speakers to be as good-looking as the rest of your house, check out the Sonos Playbar. That all-black design is impressive and complements all types of living room interiors.
The previous Sonos speakers had a design to support a wide array of music streaming services like Deezer and Spotify. Additionally, the Sonos speakers are also adept at accessing music from your computer's libraries. The new Sonos Playbar offers all these features too.
However, the Playbars also allow connection to your TV. This design lets you enhance the weedy and puny internal speakers of the TV. The play bar can sit beneath your TV, or you can wall-mount it. It has a super-sleek design that is under 9 cm.
These Playbars work best with 42-inches or more giant TVs. The Sonos Playbar has a design that seamlessly blends and melts into the background of your living room. At 5.4 kg, these Sonos Playbars have a profound build.
Like the rest of the Sonos speakers, the Playbar has limited connectivity options. On the Sonos Playbars, you can find two Ethernet ports, optical input, and a power socket. You can use the second Ethernet port as a passthrough for a TV/media player.
The only thing we felt missing in the design is the inclusion of HDMI support. At this price point, the HDMI support was an expected feature. However, it is not much of a dealbreaker flaw as you'll have no issues.
Sound Quality
Does the sound quality of the Sonos Playbar as good as the typical standards of the brand?
Sonos usually keeps hush-hush about its driver array's exact nature. To be precise, the Sonos Playbar has three tweeters and six mid-range drivers. It is a sensible setup for a 3.0 soundbar. The center, left, and right channels incorporate a tweeter and two mid-range drivers.
The left and right tweeters are present on the edge of the Playbar at about 45-degrees. This design allows the Playbar to fire the sound as wide as possible. Remember that the lower-frequency sound is less positional than the high-frequency sound.
Therefore, it is essential to place your Playbar in the right spot. We love the driver setup, which works exceptionally great by producing a grand, detailed, and wide soundstage. We have to admit that the Playbar can generate sound than we initially thought.
Sonos also suggests placing the speakers upright for the best audio experience. Also, the Sonos Playbar has an exceedingly detailed and crisp sound quality. Being aluminum-bodied, these Playbars have a real finesse for quality and performance.
Besides, the bass performance on these Playbars is pretty decent. The Sonos Playbars pump out mid-bass with a shocking authority. We agree with users that claim that these soundbars have poor low-bass and sub-bass quality.
If you are watching an action-packed movie with these soundbars, you'll be a tad disappointed. The sub-less has a more traditional design and lacks a bit of warmth. If you want a blissful experience, you might have to tag along the Sonos Sub.
The good part is that you can also use non-Sonos speakers and accessories along with the Sonos Playbar.
Setup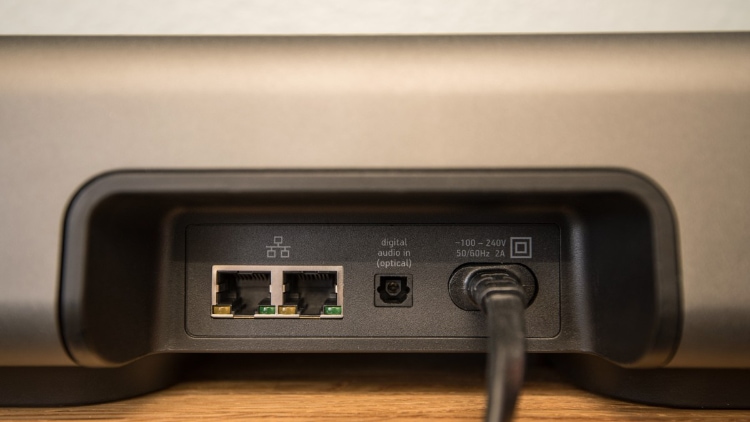 Unlike the rest of the Sonos product range, the Playbar doesn't precisely have a plain sailing setup. You have to involve in a little more setup guides and user manual to get this product up and running. First things first, the Playbars need a direct router connection to start.
If you are not going to use a router, you have to use the Sonos Bridge. The Sonos Bridge allows the Playbars entry to the wireless network of your home. Moreover, you will also need to install the Sonos app on your tablet or smartphone. Thankfully, the Sonos app is available on both iOS and Android.
You can ditch your TV remote by using the Sonos app. The Playbar harbors an IR blaster.
This blaster transmits signals like the standard remote control. You also have to mention what kind of remote does the Playbar needs to emulate.
Sonos could've easily implemented his functionality by featuring an HDMI port in the Playbar. Once the setup is over, you can control the Sonos Playbar and your TV using your smartphone or tablet.
Coming to the Sonos S1 app, it works decently. It intuitively integrates music services like Napster, Spotify, and also TV audio. Due to the Sonos System's close-knit nature, it is not possible to use any other app.
Features
There are a couple of small warnings for the Sonos Playbar features. Firstly, you must always have the broader edge of the Playbar facing out. In case you are not wall-mounting the Playbar, you make it stand upright for the best audio quality.
If you opt for a laid-down orientation, you need to know that this device's feet are not very high. Some users might find it a little complicated, but there'll be no issues once you set it up.
Talking of neat additions, there's also Alexa and Google voice assistant. You can imagine a smart speaker without having these voice assistants. Plus, the Sonos S1 App also acts as a remote.
The next good thing about these Playbars is that they are also suitable for a home theatre system. The app, the voice assistants, design, and everything else make this Playbar a complete package.
Performance
The big question is that "how does the Sonos Playbar perform?" Even if you have the best-sounding modern TV, this Playbar will be a massive improvement. The soundstage of these Playbars is might impressive! There's tonal balance, detail, and enormous weight.
All these sound qualities are not possible to expect from a TV alone. It seems that this Sonos device opts for an atmospheric sound experience rather than a full impact. The good news of the Sonos Playbar's performance continues no matter what music or movie you play.
The best part is that the Playbar can go darn deep compared to the rest of the products in its category. If you'd like a low-bass note, we suggest equipping a Sonos Sub as well. The Sonos Playbar effectively adds dimension to significant movie effects and dialogues.
Can the Sonos Playbar be a Part of a Home Cinema Setup?
Many buyers will wonder if the Sonos Playbar is a worthy addition to a home cinema setup. The Sonos Playbar allows you to connect it to the Sonos Sub, Sonos One, Play:1, Play:5, and Play:3. With this kind of arrangement, you can achieve a 5.1 Dolby Digital system.
Though it gets a tad pricey, it's well worth every penny. The Sonos Sub and the rest of the add-ons put in plenty of boom to the existing excellent quality of Sonos Playbar. However, only the same Sonos Speakers are compatible to make a stereo pairing.
For instance, it won't work with one Play:3 and one Sonos One. You can try adding stereo speakers to the Sub and Playbar. Your best bet is integrating Play:1 speakers or two Sonos One, Sonos One SL, and a Sonos One.
The setup also depends on the size of your living room. The great thing is that it is effortless to add a surround sound speaker or Sonos Sub. The Sonos S1 app lets you manage the equalization without any hassle.
For anyone willing to have a wireless setup, the Playbar, Sonos Sub, and Sonos Speakers are the best choice. This setup will work exceptionally well for a medium to large-sized home.
Pros and Cons
Pros
Excellent sound quality
Google Assistant and Alexa-enabled device
You can seamlessly integrate the Sonos Playbar with the rest of your Sonos system
It offers a fantastic center channel performance for movie dialogues
Wall mountable
Cons
Does not support an HDMI connection
Do not have a 7.1 support
Is the Sonos Playbar a Good TV Speaker?
The Sonos Playbar connects to your TV through an optical cable. With this cable, tv TV sounds will automatically play through the Playbars. This setup makes it easy to manage. However, your TV has to be physically turned on to produce sound from the Playbars.
If you love to hear the radio on our TV, you have to use a radio streaming service or TuneIn Radio from the Sonos S1 app. The Playbar smoothly connects to the Tv whenever it is switched on. When the Playbar is in Tv mode, you get a couple of more sound settings.
There's night sound and speech enhancement when you have the Playbar connected to the TV. You can also set up an audio delay. From Mad Max to Wall-E, you'll enjoy the sound quality of all movies with these Playbars.
It has reasonably decent bass, treble, and soundstage. The bass is slightly in the heavy category, but you can change it with the Sonos S1 app.
Final Verdict
Sonos Playbar is a compelling proposition, despite being surrounded by several similar rivals. It's hard to term the Sonos Playbar anything but a success. It looks sophisticated, works like a delight, and has an overwhelming sound delivery.
For that price point, the sound quality of the Sonos Playbar is standard. The lack of HDMI support might seem like a significant drawback to many. Though the product is not a bang for the buck, it still delivers a premium experience.
If you have financial means, the caveats of this product might be insignificant. In conclusion, the Sonos Playbar is an exciting upgrade to supplement your TV audio.