A good gaming keyboard can enhance your gaming experience. It can not only make a difference in your gaming performance but also enrich your daily productivity.
Many gaming keyboards are available in the market. The SteelSeries Apex Pro Mechanical Gaming Keyboard is one outstanding option. It is a versatile variant among gaming keyboards with its well-built and robust features.
The SteelSeries Apex Pro is the first gaming keyboard that enables you to modify the actuation in keys.
Where to Buy?
What is the SteelSeries Apex Pro?
The SteelSeries Apex Pro is a distinctive gaming keyboard that takes your gaming experience to the next level. This keyboard is designed to provide the best user experience for gamers.
This mechanical gaming keyboard comes in an attractive design and efficient RGB lighting. Its numerous features make it a pioneer for future models of gaming keyboards.
If you want a keyboard for gamers that you can customize to make it truly yours, the SteelSeries Apex Pro may just be the right one for you.
Its unique actuation settings allow you the change the actuation force that keystroke inputs need. This feature makes this versatile keyboard best for gaming as well as efficient for non-gaming usage.
You can reduce it to have a better responsive gaming experience. When you are not gaming, you can increase it to minimize any accidental keystrokes and other typos.
This advanced gaming equipment does not compromise user ease and comfort. The SteelSeries Apex Pro features a good wrist rest that is magnetic. Additionally, its media keys come with dedicated features.
The SteelSeries Apex Pro truly stands out with its user customization along with an appealing design.
Design, Features, and Build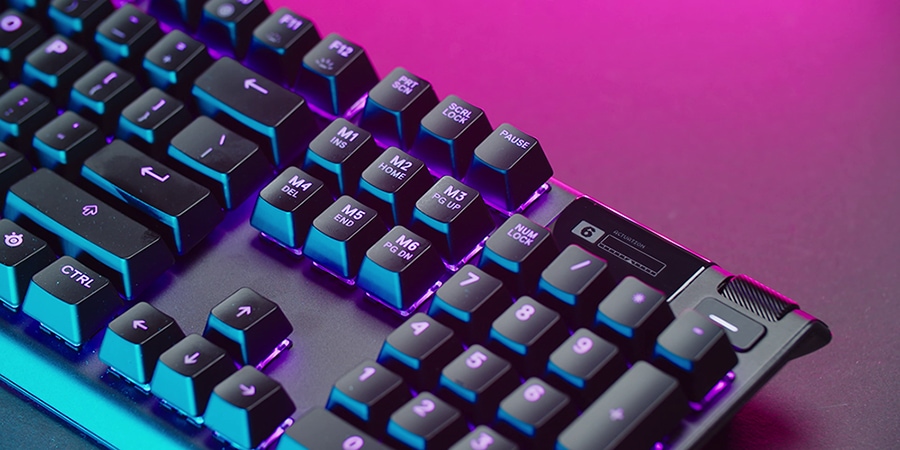 The SteelSeries Apex is a full-size keyboard, and you may find it quite large. However, it comes with a magnetic and soft wrist rest that you can easily detach if you do not wish to use it.
Its ergonomics are pretty decent. You can use this mechanical gaming keyboard comfortably and not worry about its controls.
Slender Design
Many gaming keyboards come with huge plastic slabs at the edges. The SteelSeries Apex Pro does not follow this trend. Instead, it comes in an elegant, minimalistic design.
This gaming keyboard has a frame that is only big enough to hold all its keys. There is not a lot of excess space. In fact, the SteelSeries Apex Pro does not waste any space at its sides. It almost ends where its keys stop.
Its design alone is very impressive. The dark matte finish adds to its attractive looks. Additionally, it makes an excellent foreground for its RGB lighting.
The bottom features 3 rubber pads, and they keep your keyboard straight on your desk. Its flip-out feet give it a small height boost. However, this boost may not be adequate when it comes to giving it a better height.
Solid Build
The build quality of the SteelSeries Apex Pro is excellent. It comes in a solid aluminum alloy body. Moreover, this gaming keyboard also has an efficient ABS double shot keycap that is durable.
When it comes to its magnetic wrist, rubber coatings cover it. This soft material may seem fragile. However, it is quite a thick supporting surface, and the coating does not peel off easily. It is, unfortunately, only one dust magnet.
Its keycaps are set in an elevated position over the deck of the keyboard. It contributes to the overall neat and modern aesthetic of the SteelSeries Apex Pro. While these keycaps are of plastic material, they feel premium and sturdy.
Its sturdy keys have a guarantee of about a hundred million presses. It is double the average of regular gaming keyboards.
OLED Display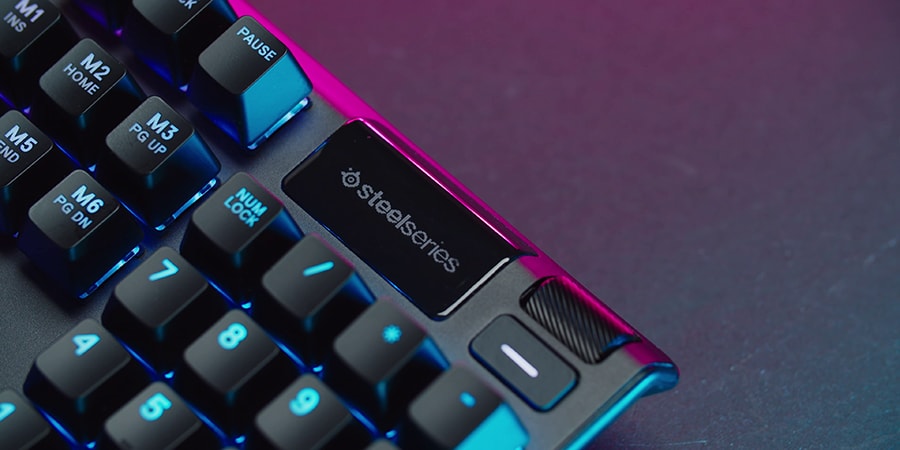 You can find the OLED display above SteelSeries Apex Pro's number pad. This section also has a handy volume wheel, and you can click it to mute. Additionally, there is a media key that plays or pauses your music.
Its efficient OLED display can adjust various settings. It includes setting the actuation, OLED brightness, and lighting. You can make all these changes without going into its software on your desktop. It makes it easier for all users.
It also makes it simple for gamers to change the actuation setting through its OLED display. There is a display of visualization of the volume of force that you require. You can then change it for every setting that is numbered.
The OLED display also allows you to keep custom images. You can also select a GIF. Such features boost the wide range of customization that this keyboard offers.
The SteelSeries Apex Pro is said to offer much more in the future when it comes to its OLED display.
Full RGB Lighting
The SteelSeries Apex Pro is a full RGB lighting mechanical gaming keyboard. You can choose the lighting that you prefer from its various bright lighting options. Moreover, you can do this directly on this gaming keyboard itself.
You will find this option in its menu button. There is also an option to control its brightness levels according to your comfort levels.
The deep matte black frame of the SteelSeries Apex Pro creates an excellent contrast to the RGB lighting. It makes gaming in the dark easier. You can clearly read the glowing keys in the dark.
During the time of typing for regular use, however, there are not many custom lighting setups. The SteelSeries Apex Pro offers illumination for each key.
The SteelSeries software declares that you may have many more options for illumination in the future. It assures that the wait may not be too long.
Unique Adjustable Actuation
The SteelSeries Apex Pro comes with a unique option to adjust actuation. You can set different actuation points. To enable this, SteelSeries has invented the OmniPoint switches.
These switches look like the Red mechanical switch. However, they work in a completely different manner. Once you press them, they actuate the other mechanical switches and make 2 pieces of metal touch.
On pressing one of the OmniPoint switches, you push a magnet into its stem, and it goes closer to one sensor. You can use the magnetic fields or the Hall Effect to see the distance between its magnetic stem and the sensor that is at its base.
It allows you to set it at a distance that equals your keypress. This lack of physical contact makes sure that there is no degradation. Your switches ensure longer durability.
You can set the distance at which a press should be registered in the SteelSeries software. You can also do this at the OLED screen on your SteelSeries Apex Pro. Moreover, you can set it for each key.
If you set the actuation at 0.4mm, it offers special uses. For instance, it is beneficial for a first-person shooter who is driven by the speed in gaming. When you are not using it for gaming, you can set the actuation to a lower point. It helps with better accuracy while typing.
Performance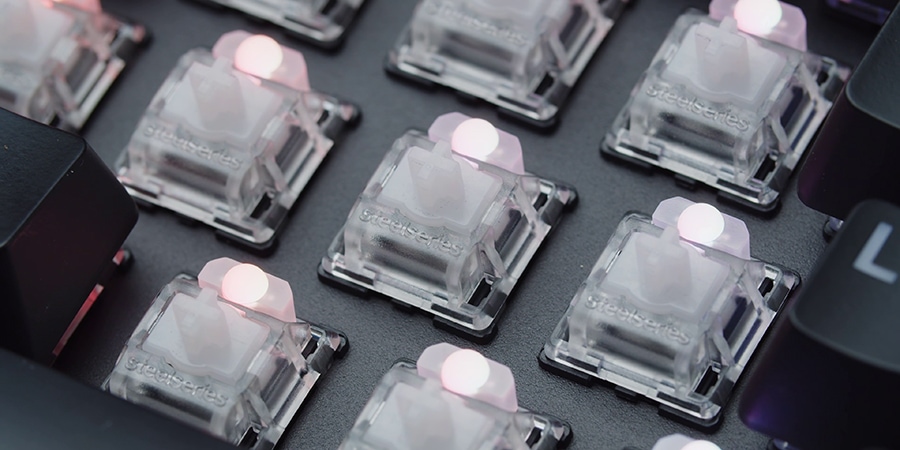 The SteelSeries Apex Pro is one of the best gaming keyboards when it comes to performance. With its custom actuation, you can tune this mechanical gaming keyboard according to your preferences.
Whether it is for gaming or typing, the SteelSeries Apex Pro makes an efficient gaming keyboard.
Gaming Performance
The SteelSeries Apex Pro is compatible with any Mac, PC, Xbox One, and PlayStation 4. The gaming experience that this gaming keyboard offers is very responsive. It makes it a go-to option when you are looking out to enhance your gaming experience.
This mechanical gaming keyboard's modifiable actuation is a boon for gamers all around the world. You can program the actuation strategically for various actions. It goes without saying that this feature boosts your gaming performance as well.
No matter which type of games you are into, the SteelSeries Apex Pro guarantees an amazing gaming experience. You will never mess up your winning game by accidentally pressing the wrong key.
You can modify the sensitivity of your keys. When you wish to play Grand Theft Auto or Battlefield, you can opt to set a higher actuation, and you are all set to conquer.
It is also useful if you wish to play games such as MOBA that require you to constantly hammer the same key again and again.
The SteelSeries Apex Pro is highly reliable for gaming. It is quick and very responsive. Moreover, it ensures that you play with much comfort. Its soft wrist rest makes sure that you are at ease with your gaming controls.
Typing Performance
The SteelSeries Apex Pro comes with OmniPoint switches. It contributes to the linear feel of this gaming keyboard. It becomes smoother to press its keys while typing.
Its keys go up and down smoothly with no clicks or bumps. They rise as soon as you lift your finger. There is absolutely no problem with the functionality of keys while typing.
If you, however, prefer the tactile switches, the SteelSeries Apex Pro may seem too spongy.
With the adjustable actuation, you get better control while typing with the SteelSeries Apex Pro. You can go for more sensitive keys or firmer keys to avoid any typos and accidental clicks.
Make sure to switch the actuation to lower levels when you use it for typing after your gaming sessions.
Should you buy the SteelSeries Apex Pro?
The SteelSeries Apex Pro is an excellent keyboard for both gaming and typing. It is, however, on the heavier price side in comparison to other gaming keyboards.
Compatible Keyboard
The SteelSeries Apex Pro has good compatibility with plenty of devices. You can find its software on all PC, Mac as well as Xbox One and PlayStation 4. You can fully customize it with these devices.
Its software is, however, not available in Linux. The SteelSeries Apex Pro works with this OS on default settings alone, but you will not be able to customize it.
Cable Connection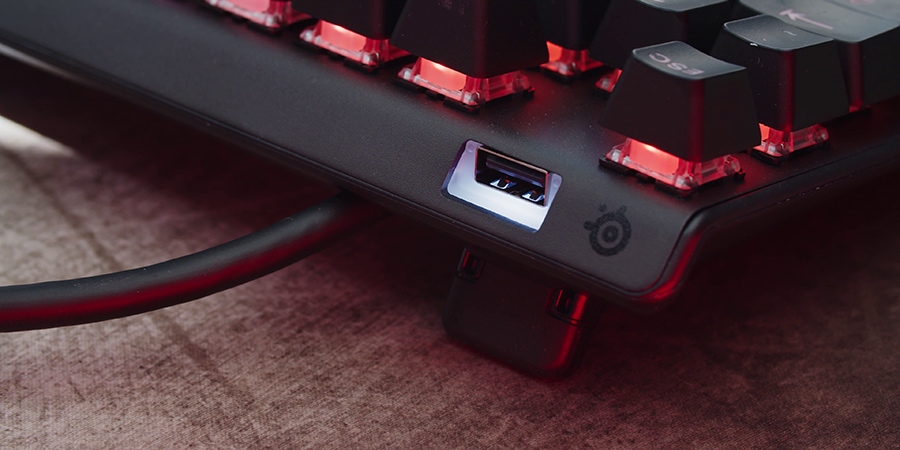 The SteelSeries Apex Pro is only a wired keyboard. It does not possess wireless versatility. However, its long cable makes up for it.
The cable is long enough to work with various setups. It comes with a sturdy rubber coating. Towards its end, there are 2 USB plugs. One of which is required on the keyboard's USB socket (USB Passthrough) .
Typing Noise
The keys of the SteelSeries Apex Pro are very smooth. There are no bumps when you press them while typing. It makes typing on the SteelSeries Apex Pro not very loud.
It does not produce much noise that makes you or anyone in your surroundings irritable. You can comfortably use it in an office environment as well without disturbing anyone.
Pros and Cons
Pros
Customizable actuation
Efficient performance
Sturdy aluminum build
Quiet typing
Excellent RGB lighting
Highly compatible software
Cons
Expensive
Not the best OLED screen
Final Verdict
The SteelSeries Apex Pro is a highly efficient gaming keyboard. It is very responsive and makes your gaming experience smooth. Its well-built body adds to the minimalistic aesthetic.
This mechanical gaming keyboard also does not disappoint when it comes to the typing experience. Its adjustable actuation truly makes it stand out from the rest while enhancing the user experience.
You can opt to buy the SteelSeries Apex Pro if you think its customizable actuation will boost your gaming experience. Otherwise, it may be an expensive investment for its other features. You can, however, not go wrong with the SteelSeries Apex Pro in terms of performance.