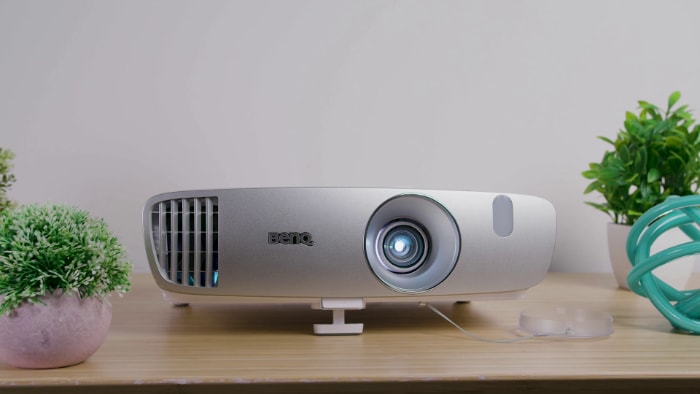 Projectors have gained a lot of popularity and use in the past few decades. There are various projectors available on the market, and if you increase your budget, you will get some very cool features.
However, most of us like to buy a projector that does the job just fine, and it is when we look for projectors within the $500 to $1000 range. Sadly, almost all the projectors in this range are more or less similar in terms of design. However, BenQ HT2050A is quite different from competing projectors in this range.
Where to Buy?
Overview
The BenQ HT2050A is a projector that can be used at home. It's made to provide the best possible cinematic experience at home. On the 100-inch projector screen, you may watch sports and play 3D games in addition to watching movies.
It is a high-quality projector that is reasonably priced. For the price, it provides superb color accuracy, contrast, and three-dimensionality for 2D video and a solid black level and top-tier shadow detail.
It can also link to other media devices like mobile phones, PCs, and gaming consoles, allowing you to watch internet videos, exchange digital information with family and friends, and even play games on a huge screen.
Display Quality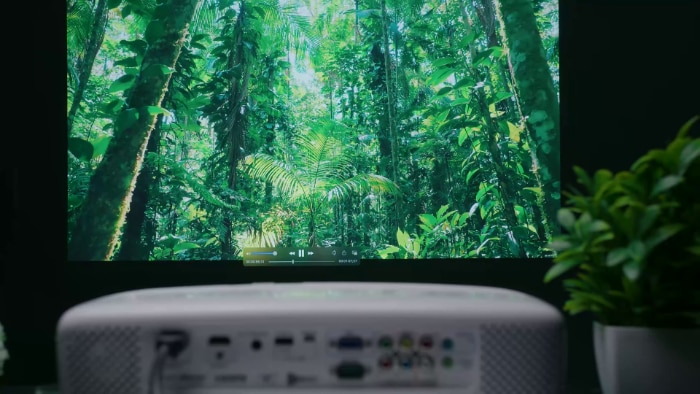 The brightness of the lamp is undoubtedly the essential factor in a projector's picture quality. The BenQ HT2050A provides a bright, clean image in dim to moderately lit rooms, thanks to its 2,200 ANSI lumens.
However, skin tones are more likely to lose their healthy shine in a brightly lit area and seem paler as colors are washed away.
The contrast ratio and color accuracy, on the other hand, have an impact on the picture quality. You'll be surprised to learn that the BenQ HT2050A excels in both of these categories.
The 6-segment color wheel creates rich, realistic colors, ensuring that you experience movies the way they were intended to be seen. Even if you're projecting onto a non-white surface, there's a wall color adjustment tool to keep the on-screen colors consistent.
Furthermore, this projector includes four picture modes, each with different brightness, operating equally well when appropriately calibrated. Vivid TV, Cinema, Bright, and Game are the modes.
The HT2050A's brightest mode, like other projectors, has a green bias. However, the green shift is so minor that most people will not notice it unless they compare it to a reference image.
As you may know, true blacks are one of the most challenging things for a projector to do. The automatic gamma control on the BenQ HT2050A helps with just that. It enhances the contrast further, making it easier to notice details in shadowy and dark movie scenes.
Overall, the projector will perform amazingly in a dim-lit room.
Projection Quality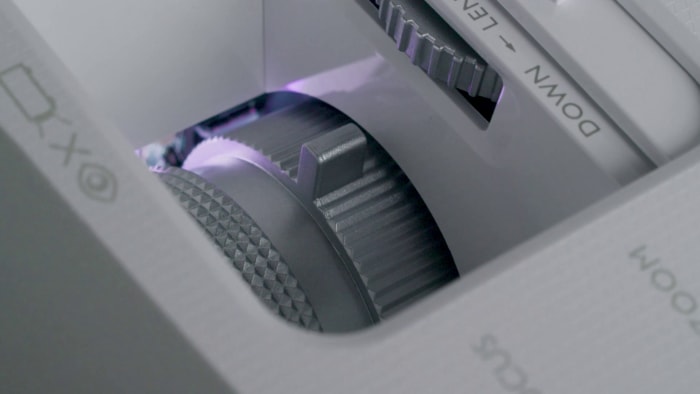 The BenQ HT2050A is one of the greatest short-throw projectors on the market, capable of projecting an incredible 100″ from just 2.5 meters (8.2 feet). It can project a 120″ 16:9 image from just 10 feet at its widest setting, allowing it to be used in almost any room.
The HT2050A's lens has a 10% vertical shift, which sets it apart from the competition. With this feature, you can essentially use it on a low table or in an inverted position.
In addition to lens shift, the height of the projector's legs may be adjusted to control the image's location. There is one spring-loaded leg in the front and two leveling legs in the back.
Connectivity
Many connectors are situated on the projector's back panel, allowing for a wide range of connectivity options. It works with a variety of devices, allowing you to have a hassle-free experience.
It includes two HDMI 1.4a connectors, a VGA connector, and two USB ports: one for charging devices and a service interface.
An RS-232 interface, three RCA connectors, RCA stereo in, 3.5mm stereo in, and 3.5mm stereo out are included, and a 12v trigger (3.5mm jack) output for controlling motorized screens.
Lamp Life
Compared to most of its competitors, this projector's 240-watt UHP bulb has a longer lifespan, lasting up to 7000 hours.
Moreover, Normal, Economic, and Smart Eco are the three lamp settings available with this projector. The lamp has a shelf life of only 3500 hours in Normal mode.
In contrast to the Normal mode, the Economic option cuts brightness levels significantly and extends the lamp life to 5000 hours.
The Smart Eco mode is the most energy-efficient, lowering power usage by up to 70% and extending bulb life to 7000 hours.
Video Performance
The BenQ HT2050A produces excellent image and video quality. The HT2050A is one of the few projectors that achieve 96 percent Rec. 709 color coverage, with more than 1.07 billion colors created in each pixel.
As a result, it can deliver the most accurate image and color, and you'll have an excellent video performance.
Remote Control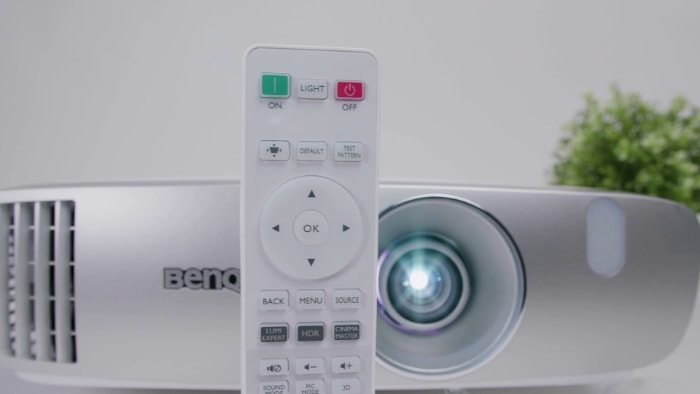 Most of the functions of the HT2050A are controlled via a small and compact remote. It has on/off power buttons, calibration adjustments, keystone, image blanking, and HDMI CEC sources transport keys, among other functions.
This projector is also incredibly powerful and has IR sensors on the front and rear. Therefore, it can take up remote commands from any direction. It's also quite convenient to use because you don't have to point the handset at the projector to respond to orders.
3D Performance
The HT2050A only supports Full 3D with DLP-Link glasses, with its 2D image quality strengths extending to 3D. Furthermore, the HT2050A is adept at dealing with 3D-related difficulties.
Also, unlike many projectors, the 3D model on this projector does not lose brightness or appear darker when switched from the 2D model.
Input Lag
The period between when the audio/video signal from the input source is received by the projector is referred to as input lag or latency for projectors. It is one of the essential features to consider while buying a product.
This projector has a microsecond DMD reaction time and a short input lag of roughly 16.6ms. You will appreciate the ultra-smooth gaming experience with no image lag or motion blur if you enjoy gaming.
Audio
A good projector, along with an amazing speaker, is just like the cherry on top of the cake. You will be amazed to know that this projector has a built-in speaker.
It is a 10 watts mono speaker that will fulfill all your audio needs. The sound quality of this speaker is quite good. Also, if you compare this projector's sound with other competitors, you will realize that it is better.
Fan Noise
The noise level of the HT2050A is 29 dB in Normal power mode and 27 dB in Economic power mode, according to BenQ. As a result, you won't be bothered by the fan's noise.
When switching modes, however, there is no discernible difference between the two. Because the fan speed is affected by the internal temperature.
Pros and Cons
Pros
The BenQ HT2050A features a lamp that has a long life
The noise that the fan produces is negligible
This projector is compatible with a wide range of media sources
It is capable of delivering large images from a short distance
It also features a vertical shift lens
The design is sleek and modern
The picture quality is impressive
It supports 3D functionality
Cons
The cost of lamp replacement might burn a hole in your pocket
There is no conducive for HD presentations in a brightly lit room
The projector has a fixed vertical offset
Final Verdict
BenQ HT2050A is different from other projectors available in this price range. Its deep, rich black levels set it apart from the competition, ensuring the highest image quality.
The best thing about it is that the user can use it with practically all modern media entertainment devices, including mobile phones, PCs, 3D Blu-Ray players, and gaming consoles.
It is the best projector that you can get in this range.