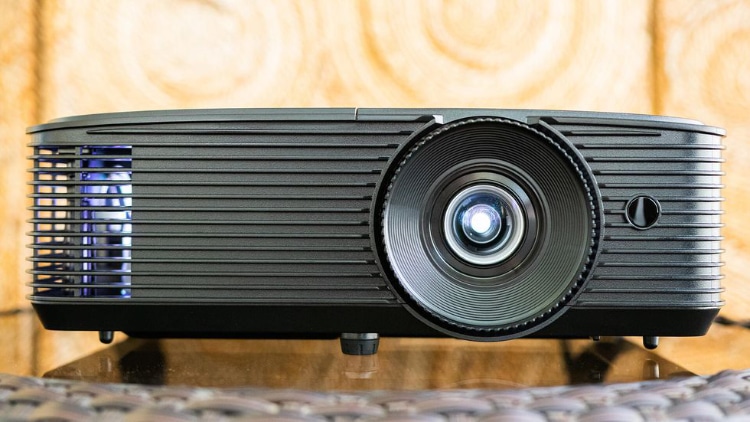 Optoma, founded in the year 2002 and headquartered in Taiwan, is a well-known company that makes high-quality projectors. Their specialization is LED and DLP projectors, and they continue to excel in these sectors. For years, the company has been highly recommended by people who have previously used their products.
The main attraction of the products is the longevity and durability of the products. Optoma HD146X is not different and is equipped with some amazing features.
Where to Buy?
Specifications of the Optoma HD146X
Before going into the details about the projector's top features, find out the specifications of Optoma HD146X.
Brightness: 3600 ANSI lumens
Aspect Ratio: 16:10 (HD)
Color Processing: 10-bit
Resolution: 1920 x 1080
of Colors: 1.07 billion
Contrast: 25000:1
Video Modes: 720p, 1080i, 1080p/60, 576p, 480p, 576i, and 480i
Lamp Life: 4000 hours or 15,000 (Economy Mode)
Throw Ratio: 1:47:1 – 1:62:1 (D:W)
Lens Shift: No
Throw Distance: 3.3' – 32.2'
Projector Size: 4.30" H x 12.40" W x 9.50" D
HD Compatibility: Full HD 3D
Weight: 6.2 lbs
Image Size: 28.05" – 301.59"
Audible Noise: 28 dB
Enhanced Gaming Mode: 16ms input lag
240W metal halide bulb
Integrated 3.0-watt mono speaker
Only Vertical Digital Keystone
Digital Zoom
Key Features
The Optoma HD146X has certain key features that make it a very well-performing projector. Below is a detailed explanation of the important features present in the Optoma HD146X.
Connections
The Optoma HD146X has some basic connectivity options similar to most mid-range projectors. Despite the absence of advanced connectivity options, the projector is equipped with the ones that are very commonly used. The connectivity options include –
USB Type-A x 1
HDMI x 1
5 mm Stereo Audio x 1
Sleek and Modern Look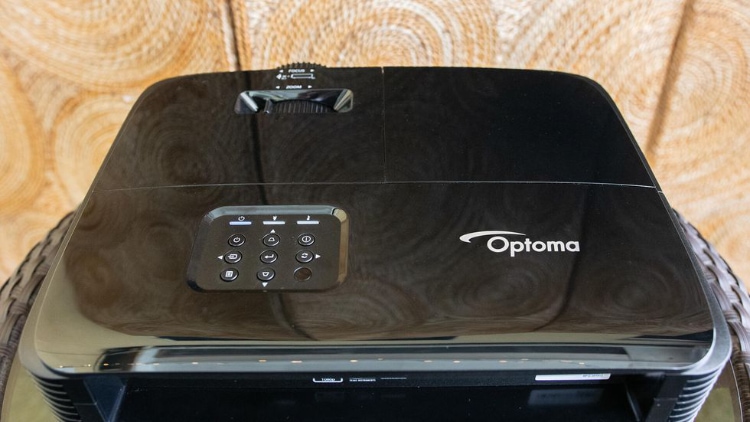 The design of the Optoma HD146X is very appealing and comes in a curved and sleek shape. You will not find other models in the same price range offering the same visuals. This projector is visually very modern, and the black color provides an aesthetically pleasing touch to your home theatre.
On the top of the projector, you will find the necessary buttons, which will impact how the device is fit permanently. You can use the buttons to swap settings, and the roller is used to adjust the image size. There is a remote control included in the package that increases functionality.
Full HD
Projectors that you will find in this budget are equipped with Full HD feature, and so does the Optoma HD146X. With this feature, the images appear very detailed, sharp, and crisp. This enhances your experience; however, HDR is not supported by the projector.
Even though HDR is not supported, the projector can display 3D images. But you will not find #D glasses being offered by the company. However, you can opt for 3D glasses of other companies to enjoy the full experience of the 3D feature.
4K is also not supported by the projector, but most users do not look for the feature in this price range. This projector mostly falls in the started home kit, and the viewing experience of the users is not compromised by the lack of the 4K feature.
Auto-Focus
The auto-focus feature is present in most of the models of Optoma. This feature ensures that the viewers are not distracted while watching anything. You will not have to spend a long time while calibrating the focus of the projector.
Another great thing about the auto-focus feature is that it does not recalibrate while the projector is being used. You will get a crisp and clean image with the intuitive auto-focus feature of Optoma HD146X.
3D Feature
Due to the presence of an HDMI port, you can view images in 3D. This is possible if the user has a Blu-Ray player. Equipped with complete 3D support, you can experience amazing visuals with the perfect pair of 3D glasses. It is better to purchase high-quality 3D glasses that will help you have an enjoyable experience.
Gaming Mode
For gaming addicts, the most attractive feature in the Optoma model is the dedicated gaming mode. This mode is known as the Game Display Mode, where the input lag is cut down, and the visuals are boosted. Players can get an amazing gaming experience in this mode without any lag, no matter how big the game is.
Dynamic Black Technology
Dynamic Black Technology is a feature that is present in most models of the Optoma brand. With this feature, you get more depth in your visuals, and the lamp output can be adjusted to increase the contrast ratio.
The feature ensures that the bright scenes are clear and crisp, whereas the dark scenes are detailed even in dark colors. You will see perfect details both in shade and light. When you see deep black visuals, the image will not turn completely black and stay very detailed.
HDMI-Link
With the HDMI-Link feature, you can control all the connected devices and the projector using just the remote. The projector has a lamp life of up to 15,000, ensuring that you can use the projector for several years. You will have to spend minimal time maintaining the projector when it is being used in Dynamic mode.
Pros
The pros will help you understand if the projector you are choosing is a good choice for you.
1. Affordable
Price is a critical factor that you should consider when you are buying the projector. When choosing a starter home projector, you always opt for an affordable product, and the Optoma HD146X falls in the budget-friendly price range.
You will find that the projector is affordable with some amazing features. This is not found in most models in the same price range. Due to its affordability, many users recommend this projector. You can find this projector on many trusted websites at a very affordable price range.
2. Gaming Mode
Another advantage of the projector is the Enhanced Gaming Mode that provides a 16ms response time. That is a rapid response time, exactly what you need for any fast-paced PC game or competitive console. You will not have to face any delay or lag in the game that you are playing.
The images you see will be real-time, which will eradicate any frustration you may feel while playing any game. This is a great alternative for any high-end gaming monitor and also at an affordable range.
The Gaming Mode provides a great advantage to your visuals, and it boosts dark scenes and shadows, which makes gaming an amazing and immersive experience for you.
3. Image Quality
The image quality displayed by Optoma HD146X is amazing and similar to HD television standards. Featuring a 1080p HD resolution, you get a crisp and fantastic image no matter which setting you choose. The brand is very well-known for the amazing visuals, so this is something that you do not have to worry about.
4. Back-lit Remote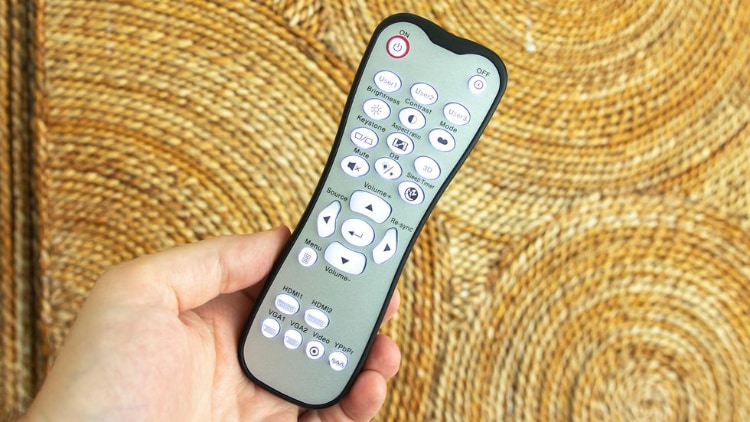 This is not a huge feature that most people would need, but it can come in handy when using the remote in dark rooms. If you are in the habit of watching movies late at night and while keeping your room dark, then the back-lit remote will be a huge advantage.
You can easily navigate the controls using the back-lit remote. You do not have to waste time guessing how to select your preferred setting in a dark environment.
Cons
There are many good features present in the Optoma HD146X, but there are also certain cons. Knowing these cons will help you make a more informed decision.
1. Noisy Fan
One of the most common complaints that people have been giving against the Optoma HD146X is its noisy fan. The projector's noise level is said to be at 26 dB, but many users have complained that it exceeds the said noise level when in use. The Dynamic Black Mode feature may be one of the reasons for the loud noise.
The noise can be very distracting, especially if you are using the projector in a small room. Even if the 3-watt speakers provide a good sound output, the fan's loud noise can be a huge disadvantage. To restrict this feature, you can use the Eco mode often since the fan will be quieter in this mode.
On using the Eco Mode, however, the image brightness will get decreases. So users have to either compromise with the image quality or bear the loud noise of the fan.
2. Connectivity Limitations
There are not many connectivity options in the projector, which could be a huge con for some users. Moreover, many projectors that belong to a similar price range offer more connectivity options than Optoma HD146X. There are only three connectivity ports, and they do not offer much functionality.
In case you are looking for a simple connection, then these connectivity options are enough for you. However, if you want an advanced home theatre set-up, these limited connectivity options could become a huge problem. Suppose you want to use the projector for film projection and gaming; you need to change the HDMI or use a splitter for the same.
3. Brightness Problems
Another issue that many customers have faced is its brightness. Optoma HD146X is not an LCD projector but a DLP one. Even with the 3600 lumens, the projector is not as bright, and you need to remove the ambient light as much as needed. There have been complaints about the Dynamic Black feature as well.
Consumers have complained that the feature does not work as stated by the brand, and there is an unnatural hue in the darker scenes. Although the image is gorgeous, the colors are not vibrant as the other Optoma models.
Who Can Use The Optoma HF146X?
It is a huge struggle to set up a proper home theatre, especially if you do not know which projector would be right for you. You need a projector that would perfectly fit your room space and enhance your movie nights' experience. For people looking for a starter home projector, the Optoma HD146X can be a great choice.
The projector does not have any complicated high-end features and is equipped with straightforward features. You will not have to go through any trouble just to set-up the projector. Even if you are an amateur, you can easily set up the projector by following the manual provided with it.
Another great thing about the projector is that it comes in an affordable price range. People who buy a projector for the first time and do not want to spend a huge amount of money can benefit greatly from this model. This versatile projector can satisfy your needs of building a home theatre without burning a hole in your pocket.
Optoma is a very well-known brand, and you can easily contact customer service if you face any problems with the projector. Moreover, this projector can also be used by gamers to enhance their gaming experience. The projector's dedicated gaming mode is perfect for gaming addicts who want to make their experience more appealing.
Final Verdict
Emptying your bank is not necessary for trying to set up a good home theatre. All you need is proper research and good guidance. This could be a very overwhelming experience for first-timers, worrying that you might make the wrong choice. However, with the right guidance, you might end up with a projector that can change your whole experience.
Optoma is a trustworthy brand, and the HD146X is a projector that you can invest in. If you paired the projector with amazing speakers and branded 3D glasses, then you will have an experience like no other.
The Optoma HD146X review helps you understand the areas that the projector exceeds and the ones it lacks. With this understanding, you will decide whether this projector would be the right addition to your home theatre.