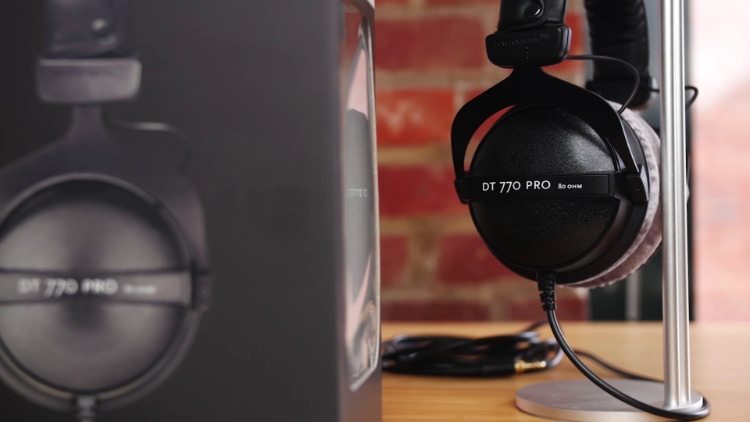 Being a music lover, it's tough to get your hands on high-tech and efficient headphones. You are going to need a headphone which you can carry on all sorts of adventures. However, not all headphones are adventure-friendly.
Before choosing your headphone, you must understand under what conditions and environment you will be using them. Open-ear headphones are best for sound mixing in the studio, whereas non-isolated headphones are great for monitoring sessions.
Here, you have the best out of the rest headphones – Beyerdynamic DT770 Pro 80. For long-term mixing sessions like monitoring, mixing, or listening pleasure, this over-ear headphone is exceptionally comfortable on your ears.
Where to Buy?
Overview
Beyerdynamic DT 770 Pro 80 is one such top-notch isolated headphone ideally designed for long listening sessions. The headphone proves to be a lifesaver for frequent travelers who would love a headphone that is affordable, pleasant to the ear, and exceptionally comfortable.
Being lightweight, Beyerdynamic DT 770 Pro 80 ohm comes with a frequency range of 5 to 35,000 Hz. You can use the headphones for isolated listening, such as monitoring field recordings, musicians in-studio sessions, listening sessions, and location recordings.
Main Features
To understand the performance of efficiency of the over-ear headphone, you need a detailed description of its main features. This way, you can determine how beneficial and effective the headphone is as per your requirement.
So, without any delay, let's begin by explaining the key features.
Design
Like other Beyerdynamic headphones in design, DT 770 Pro differs in earcups' material and the headphone's padding. The all-black design clearly shows the features of a professional and elegant headphone.
The headphone's earcups are made of hard plastic, which is quite durable and comfortable. The headphones' clamping force is quite comfortable, which means you will not feel like your brain is under pressure. Also, the soft velour covering on the earpads are comfortable to wear.
With thick and enough padding, the headphones are comfortable on the ears for long-listening sessions. On the top of the headphones, there is soft-leather padding, which is replaceable and removable. That means you can replace the padding when it wears out instead of buying a whole new headphone.
With the headphones, you will also receive a three-meter-long cable. Thus, it is easy for you to move around with the wire while wearing the headphones. Also, the cable is durable and flexible.
Performance
Wear the headphones, turn up the volume and immerse yourself in your favorite music. Designed primarily for studio work, the headphones offer a very balanced sound profile. Even if you keep using and wearing the headphones for a week, it won't affect your ears.
You can easily make out every detailing from the music about its clarity and weight. Even chaotic music is not hard to track with this headphone. It gives a benefit to pick even the weirdest noise in the chaotic music. Thus, you have an altogether unique listening experience.
Comfort
Comfort, as we already explained, comes with the material used. The headphones come with a steel hand-band clamp, which you can comfortably flop on your head. The soft leather pad above the steel pad is removable and extremely comfortable without any hard or sharp lumps.
The velour earpads wrap around your ears comfortably, and you can easily wear them for an extended period. Also, they are warm and absorb sweat in summer or hot weather conditions. Furthermore, they offer a rich bass response that does not strain your ears when the volume is turned up.
Frequency and Power
When you add power to the headphones, the upper bass range amplifies, which detract deeper tone's relative perception. Thus, if a power of more than 100mW is added, it can ruin the headphones' sound base.
When it comes to Beyerdynamic DT 770 Pro 80 ohm, the impedance is suitable enough to provide a definite bass response. If you like the sound of heavy-drums and sub-tones, the headphones offer an exceptional experience as you make music and listen to field recording.
The model doesn't come with swiveled cups, which means you have to slide it to uncover your ear manually. But, this enables you to listen to tones that many reference monitors and consumer speakers do not reproduce.
Isolated Listening Experience
While you are making a recording, you would want a headphone that allows you to focus on what's going inside the headphones and outside. If you need to hear something around you or somebody has asked you a question, you can quickly make adjustments in your listening perspective.
The comfortable earpads offer one more benefit. That is a 20 dB ambient attenuation level. With just a high ambient attenuation level, you can adjust the headphones and microphone as per the situation. Moreover, the headphone seems like you are in a mini-studio. For sub-mix monitoring sessions in the studio, the high ambient attenuation is perfect.
Impulse Response
The headphone is ideally made for professionals in the studio because of its exceptional acoustic definition. The headphones produce defined and crisp ultra-low bass sounds. It makes the headphone suitable for monitoring work.
Apart from that, the high frequencies produce a differentiated and clear sound. In addition to providing incredible isolation from the external environment, the headphones offer excellent spatial reproduction. Thus, it gives a superior reference status for sound professionals.
Connectivity
The connectivity on this headphone is very similar to that found on other wireless headphones. It uses a straight 3.5mm TRS-pin connector. Do note that these headphones do not use a removable cable.
The cable that comes with this headphone is also below 10 feet. Hence, it is not the best option to use it with a smartphone.
Sound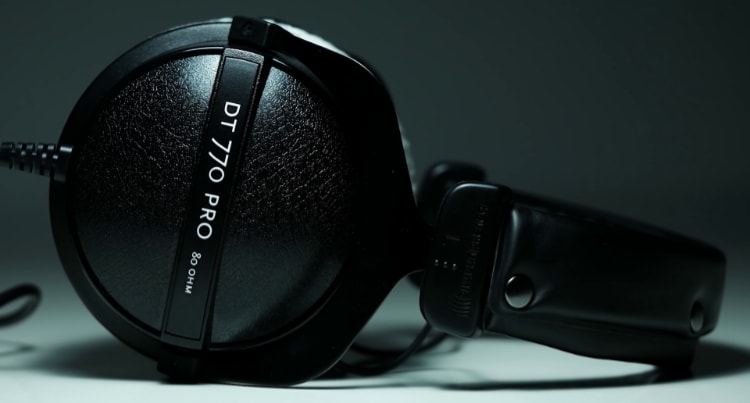 Here is what you should know about the sound profile that these headphones offer.
Frequency Response Consistency
These headphones offer medium consistency. At about 30 Hz, it offers about 6dB of variance. This is a noticeable variance. However, the variance that is seen in the treble area is not as high. Hence, this is a good feature of the headphones.
Bass Performance
The Beyerdynamic DT 770 Pro headphones offer excellent bass accuracy and performance. With the low bass, it is extended to 10 Hz and is flat. It makes for good hearing. The reproduction of the bass is also excellent. On the other hand, high-bass is underemphasized a little.
Hence, the vocals and the lead come across a little thinner than they should be. Do note that the emphasis on these headphones is the bass, which will dominate the sound. Any music with high-pitched vocals may not be heard as intended.
Mid-Range Accuracy
The mid-range accuracy and performance are excellent. Within 1 dB, the response is flat. Hence, the lower harmonics, as well as the tones, will shine through on the headphones. The vocals, string instruments, and other music will fall within this range as well.
By performing well in this range, these headphones work well for people who listen to music across genres. While the mid-range music performs well, it will be slightly underemphasized in comparison to the bass.
However, music that is well-mixed to lie in the mid-range will perform very well on these headphones. For the best performance in this range, indoor listening is recommended.
Treble Accuracy
Another key consideration of headphones is the treble accuracy on them. The Beyerdynamic DT 770 Pro shows a good enough performance in the treble range. It shows consistency in this area. The low treble might show a slight dip, which is insignificant.
The high treble, as well as the treble, are over-emphasized a little. Hence, they create a bright sound on the headphones. Do note that the string instruments may come with a shriller sound around them.
As with other tracks, well-mixed music will make the treble sound good. There may be a little difficulty hearing the music areas that transitions between the mids and the highs. However, this is not very significant.
Who should buy the Beyerdynamic DT 770 Pro?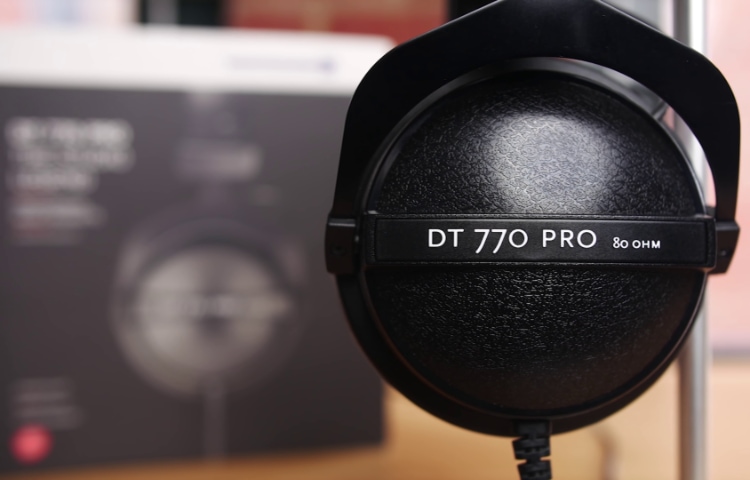 These headphones come with a good build and superior sound quality. Hence, they are a good option for anyone looking for both these features in their headphones. Here are two classes of people who can make use of these headphones.
Music Makers
If you are a professional musician or a sound engineer, you need to listen to the music you make precisely. A good pair of headphones will help you listen to your music in the way that the intended audience will listen to it.
The Beyerdynamic DT 770 Pro headphones will allow just this. These headphones are durable and will perform very well in the recording booth. It is also made for heavy-duty use and will not break after consistent usage. Hence, music-makers can opt for these.
Casual Listeners
The other set of people who can opt for these earphones includes anyone who wants a better experience with their music. It is a great option for users who have glasses.
It is also a great option for anyone who wants to listen to music just as the music creators intended it to be heard.
Difference Between Beyerdynamic DT 770 80 ohms and 250 ohm
There are a few differences between the two models. The 80-ohm model comes with a straight cable. The 250-ohm model, on the other hand, comes with a coiled cable. Despite this difference, both are just as comfortable to hear from.
However, the 80 ohm tends to be lighter than the 250-ohm model. Here are a few other comparisons between the two.
Sound: The 80-ohm model is more bass-heavy than the Beyerdynamic DT 770 Pro 250 ohm. If you are looking for an impactful bass emphasis, the 80 ohm is the model for you.
Burn-In: With the 250-ohm option, you will have to play music for a couple of hours before it flows with ease. The sound may be a little harsh in the beginning. It is not true of the 80-ohm model that quickly picks up the sound and delivers it.
In addition to this, the straight cable of the 80-ohm model tends to be longer. You will be able to opt for the best option that suits your preferences.
Pros and Cons
Pros
Durable headphones
The earpads are swappable
It offers good mid-range sound
Good for aspiring artists
Very comfortable
Versatile sound suitable to many genres
Cons
It comes with a long cable
Not a portable option
Final Verdict
You may be looking for the right closed-back headphones that will give you a balanced listening experience. If this is the case, the Beyerdynamic DT 770 Pro 80 may be one of the best options for you. It's light and comfortable and great for both casual listeners and budding musicians.