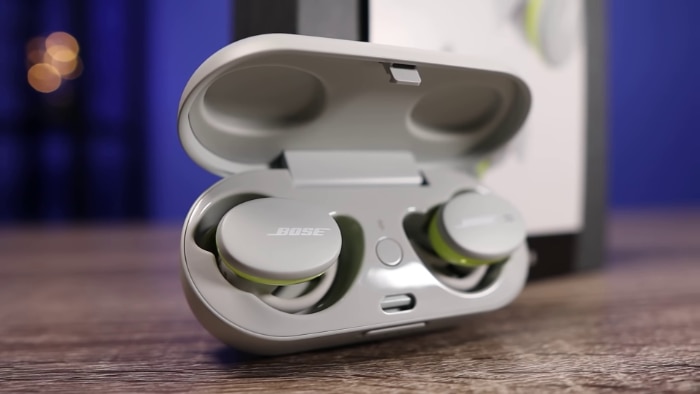 Sports earbuds should have excellent Bluetooth connectivity, high-quality sound and provide uninterrupted features even during intense working out. Moreover, it should not slip off due to fast motion or sweat.
Bose improved their original SoundSport free to create one of the best workout headphones. Bose Sport Earbuds is going to be a mainstay among fitness enthusiasts.
It has a chic minimalist look that looks excellent and provides a warm sound. Therefore, you can expect good value in these fitness buds.
So, what else do you get when you buy Bose Sport Earbuds?
Where to Buy?
Why the Hype Surrounding Bose Sport Earbuds?
Bose Sport Earbuds is a relatively affordable pair of sport earbuds that have a new and improved design. Unlike several true wireless earbuds of this price range, Bose Sport Earbuds have an in-ear design.
It is one of the many reasons why these earbuds have created such hype, especially among the fitness and sports community. So, what's the hype all about? Is it really as good as the hype?
The Bose Sport Earbuds are available in three different colors for you to choose from. Also, the earbuds are secure and comfortable. You can customize your fit with the three sizes of StayHear Max tips included.
Moreover, Bose Sport Earbuds have a rugged and lightweight construction. It has the same rating as AirPods Pro, which is an IPX4 rating. An IPX4 rating means the earbuds are resistant to water splashes from all directions.
Additionally, this is the best choice for fitness enthusiasts who like Bose sound. So, if you are one of them, you can go ahead with purchasing this one.
Furthermore, Bose Sport Earbuds offer various useful and interesting features making them excellent sports earbuds.
Design, Features, and Build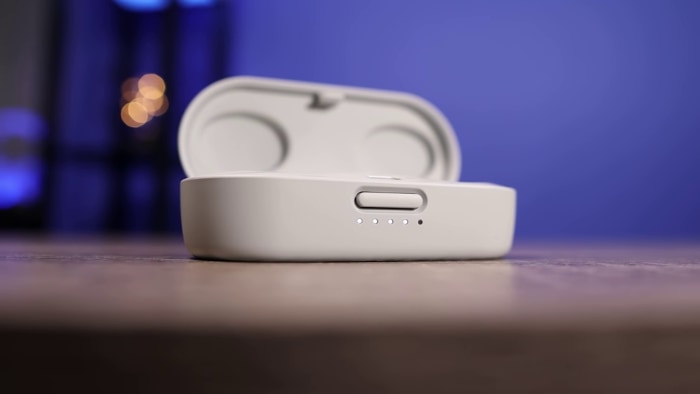 Style
Bose Sport Earbuds are smaller in size compared to many other sports earbuds. Although they might seem too bulky for their size, they are weightless when you wear them.
These earbuds are available in three different colors: Glacier White, Baltic Blue, and Triple Black. All three colors are beautiful and chic.
The charging case is slightly bid, yet it is compact enough to fit in any pocket. The charging case has a button that will flip the lid open. It also has a charging port on its rear panel for attaching the charging cable.
Unlike traditional earbuds, they gently nestle over the top instead of suctioning into your ear. Moreover, it has an LED readout on the front panel for battery life information.
Comfort
Bose Sport Earbuds are extremely comfortable earbuds, especially for athletes. However, it can be very comfortable for anyone who wants a pair of truly wireless buds that does not easily fall out.
Bose's new StayHear Max has an amazing advantage with a complicated design. It has an extra material that can increase the surface contact with your ears. This extra material keeps it in place even when you shake your ear.
Also, it comes with extremely comfortable wingtips. It improves the stability of the earbuds, which changes as you move around a lot. The material of the wing tip is light and seals around your ear without any irritation or pain.
Moreover, it offers very comfortably and easy-to-use touch actions. You can tap twice on the left to skip songs and on the left to check battery life. You can also swipe for increasing and decreasing volume.
Connectivity
These sports earbuds support both the AAC and SBC codec. It means it is excellent for iPhone users. Also, it plays very nicely on iOS with the AAC.
Initially, these earbuds had some issues with connectivity. However, it is resolved with an update of the firmware version to 1.0.7-10904+620b71c. Now, it offers strong connectivity even when you are outside.
Also, the firmware can fix autocorrect issues if there are any in your phone. It plays very well as it connects strongly with iPhone.
This new firmware also boosts the energy efficiency of the earbuds. You can find a slightly improved battery life with Bluetooth 5.1 over Bluetooth 5.0. Nonetheless, they connect excellently with both versions of Bluetooth.
Audio Quality
Sound Profile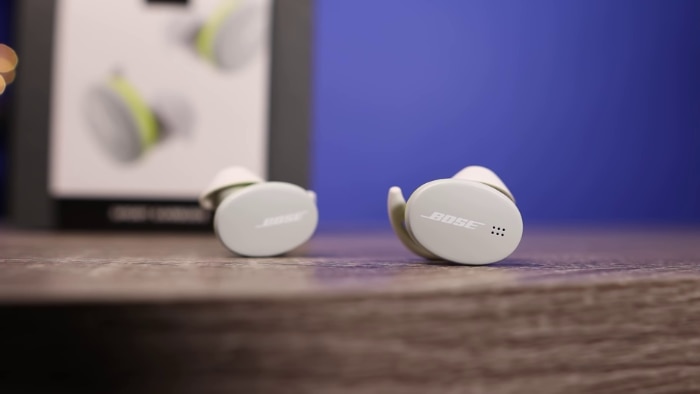 Bose Sport Earbuds offer upper-midrange notes and emphasize bass. However, it does not raise it to an awfully high level. The earbuds also produce instruments and vocals accurately.
Also, unlike most sports earbuds, these earbuds do not emphasize bass too much. Therefore, you will not lose any music detail while using these earbuds.
However, the isolation is not the best, yet it produces one of the best sounds. Furthermore, the overall frequency is pleasant for most users. Nonetheless, if you are into bass a lot, this is not the best for you.
Phone Call Quality
The sound quality is perfectly suitable for phone calls as well. These sports earbuds have an inbuilt microphone setup, and they fit perfectly in the tiny footprint of the earbuds.
However, it has some limitations when it comes to taking calls since it is an embedded setup. One of the limitations includes deeper voices sounding off sometimes.
It is due to the proximity effect, which means an increase in bass when sound is close to the microphone. Nonetheless, the microphone can reduce background noise and provide clarity.
Noise Isolation
Bose Sport Earbuds offers reliable noise isolation. It is handy for making calls since you can listen clearly in noisy environments.
However, these earbuds still have milder noise cancellation when compared to other popular earbuds. Nonetheless, its active noise cancellation can be helpful.
Moreover, the milder noise cancellation can be useful when you are in a gym or jogging across the streets. However, it is still not the best choice for noise isolation as much as it is for good sound.
Firmware
The latest version of firmware for the Bose Sport Earbuds should be 2.8.0. It allows for various audio settings and equalizers.
It has an enhanced voice pick-up system that can accommodate a wider range of orientations for sports earbuds. It can also optimize standby power manager, which can help in extending battery life under various conditions.
Moreover, it can improve stability, make Bluetooth connections reliable, and improves call transitions. Also, you can update the firmware with low power transition and interoperability.
Additionally, it provides improvements and optimization to the touch gesture interface. Also, it has various software versions of Bose Music app.
You update the product by connecting it to a computer using a USB. Alternatively, you can visit the Bose update site, or you can update it wirelessly from the Boss music app.
Selling Points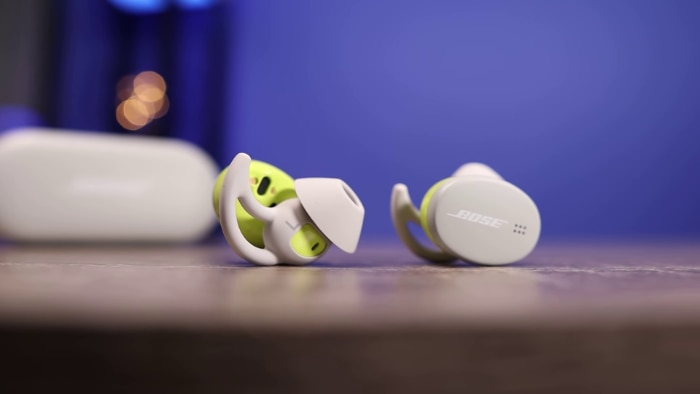 1. Excellent Connectivity
These buds offer excellent connectivity with Bluetooth 5.0 and Bluetooth 5.1. The connectivity is solid no matter if you are inside or outside. Therefore, it is one of the best earbuds for sporty and tough usage.
2. Water Resistant
These earbuds are IPX4 water-resistant, which means water can not damage the earbuds even when it splashes from all directions. It is excellent for use in rainy or sweaty situations since it is splash-proof.
3. Fast Charging
Bose Sport Earbuds require about 2 to 3 hours to charge fully. Also, you can charge it for 15 minutes which can provide up to 2 hours of playtime.
Pros and Cons
Pros
Highly comfortable
Fast charging
IPX4 water-resistant
Excellent sound
High-quality microphone
Cons
Mono listening available only on the right bud
Lacks in-app EQ and aware ambient mode
Final Verdict
Bose Sport Earbuds is packed with numerous features like many expensive earbuds. However, it falls in the affordable range when it comes to pricing. Moreover, it offers a clear, balanced, and amazing sound quality.