A good soundbar for your TV can enhance the sound to reproduce the one produced by your television. You may watch various soaps, music performances, and dialogue-heavy content on your television.
The audio experience while watching can have a major impact. To reproduce the best sound, you can buy a soundbar that comes with various exciting features. The Bose Solo 5 Soundbar is a versatile option that will enhance sounds of mid-range frequency.
Where to Buy?
What is the Bose Solo 5 Soundbar?
The Bose Solo 5 Sound System is a single one-piece soundbar. It has been specially crafted to bring good sound quality to all the TV programs that you watch. From dialogues to the faintest background noise, this soundbar will clearly reproduce each.
If you want to focus on the dialogues, promptly switch to dialogue mode. It reproduces sound to make each word easy to hear. It is also designed to be a versatile option. This means that you can place it anywhere for quality sound.
If music is on your mind, you can play it through the speaker using its Bluetooth connectivity. Your favorite music will be played through the speaker wirelessly. This soundbar is seamlessly compatible with your aesthetic flat-screen TV.
Such beautiful TV sets don't leave any room for large and stocky speakers. Enter the Bose Solo 5 Soundbar to solve your design woes. With its sleek body, dialogue, and quiet passages on your TV programs can be heard through a speaker that is pleasing to the eye.
A flaw with the design is that it is suitable for small rooms. Given the price tag, it comes with. Competitors may offer much better sound for larger rooms at affordable prices.
Features, Design, and Build

This Bose Solo 5 Soundbar comes in an elegant black that will add to your living room's aesthetics. It can be controlled using a remote control. It will only enhance the audio of your TV with much better quality through a single soundbar.
Your television will not be able to deliver clear and crisp audio. This soundbar will use the right technology to reproduce the sound to make it detailed and clear. If you are watching a dialogue-heavy movie, promptly switch to dialogue mode.
It will make every word stand out clearly. All the details will be brought out for maximum impact. If music is the activity for the day, use Bluetooth connectivity to add quality to your music.
The range of the Bluetooth for the Bose Solo 5 Soundbar is about 10 meters. It will operate stably within this range. You may want to note that the soundbar bluetooth's performance might be affected by any obstacles on the way.
It may include walls, metal, or even interference from other Wi-Fi networks and wireless devices.
You can use this feature to stream music from any device you may have. The audio output is digital and optimal, and the audio input is digital and coaxial.
The remote control is universal to allow for connections through TV, Bluetooth, bass, and others. You will enjoy deeper bass on all the soundtracks you choose to play. The exciting bit is that you won't have to tweak the volume from scene to scene on your TV.
The soundbar will catch the right sounds and enhance them for you. The soundbar is also rather convenient to use. It is because it can be placed with ease just about anywhere you prefer. You can place it on a shelf next to your TV.
You can also go ahead and mount it on the wall directly. You can opt for the WB-Wall Mount to easily put it up on the wall beneath your television for a good-looking living room space. Bose insists that 'setup' is the wrong word to use when you begin to use this soundbar.
You don't have to expend any effort in getting the soundbar started, proving Bose's claim true. Simply use the analog or optical coaxial cable in your order of preference and connect it to your TV. With this, the system should be attached and ready to use.
As discussed, the bass is great as well. Whether you are in the middle of live music or a gripping thriller, the bass will bring everything a life-like quality. It is also applicable to the dramatic series you have been watching lately.
Do you find that the bass is a little too high for your taste? Use the remote and decrease it as you like.
It is mostly because of the proprietary technology used by Bose to bring out nuanced details. Your TV's in-built speakers are unable to pick this up. Do note that there is a USB port at the back of the soundbar. However, this is used only for system updates.
Audio quality
There are two features in the Bose Solo 5 Soundbar that make it stand out. The first is how it focuses its efforts on making the dialogues sound crisper and clearer. The second is its bass.
The good part about this soundbar is that it brings the two together so that neither overpowers. Instead, the two simply interact not to allow the bass to overshadow the dialogues when watching a show.
It adds a superior quality to the dialogues that the in-built speakers in your TV will not be able to replicate. The sound profile is balanced and neutral, as well. This is especially so in the mid-range of voices.
The focus on the mid-range is what makes the soundbar special. The quality works in a manner where the voices and lead instruments on your TV come out the best. However, the soundbar will not get too loud.
Further, it will find it difficult to reproduce low bass. It is because of its integrated subwoofer. The audio quality of the Bluetooth, however, is great. The audio streamed from any device is of good quality and is a great option for your home.
Here is an instance to give you an idea of the sound quality in this Bose soundbar. If you are watching movies, you can expect the dialogue to be pretty good. It is the case even without opting for the pre-set dialogue mode.
If you are listening to a movie in a different accent, increased intelligibility of words will be crucial. In this case, use the dialogue mode for crisper and comprehensible words.
Should I Opt for the Bose Solo 5 Soundbar?
Buying an appliance like this soundbar can take some pondering. Read ahead as we discuss a few aspects of the Bose Solo 5 Soundbar that will help you make an informed choice.
Opting for a Wall Mount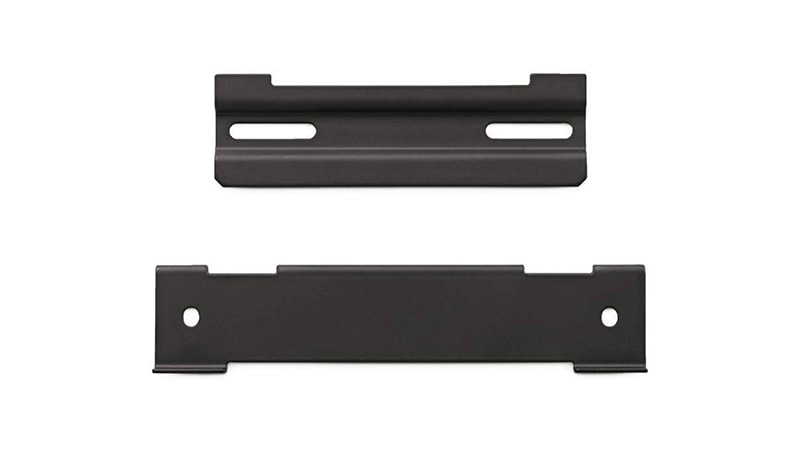 A decision to buy this soundbar will also come with a responsibility to place it well. You can place it on a rack next to your TV if you like. There is an optional wall mount for a better aesthetic that you can opt for at an additional price.
Toggle the audio output of the soundbar once mounted. You can use it to remedy the lack of a low base in this soundbar.
Inputs and Connectivity on the Wall Mount
The connections available on the soundbar are just basic ones. It comes with optical, coaxial, and auxiliary options that do justice to this soundbar's price tag. However, if your device works with an HDMI port, you will be at a disadvantage.
Ensure that the device you want to connect it too has a coaxial or optical output as there is no HDMI port on the soundbar. There is also no NFC to enable quick-pairing of your device.
The number of pre-set sound modes are not abundant either. There is nothing like a music or sports mode to enhance the sound in these areas. There are only options to enhance bass and speech. If these suffice for your needs, this is the soundbar you should opt for.
All of the sound you hear is attributed to just two speakers located at the center of the soundbar. Because there is minimal stereo separation, the soundstage is narrow. Hence, the sound will lack the directionality that larger soundbars afford.
You won't feel the enveloping sound effects that you would expect of a larger soundbar. However, the speakers do a lot to elevate the quiet sound produced by TV speakers. Instead, it will fill in a small to medium-sized room with good volume.
The quality is good even when it is used to play music. It is naturally set to pick up mid-range frequencies and naturally bring out the music's treble. If you are biased towards the bass, use the bass setting on the remote to get the speaker sensitive to the lower frequency.
You can use this trick even when you watch movies. For scenes where there are explosions, a higher bass will create a better impact for the viewer.
Remote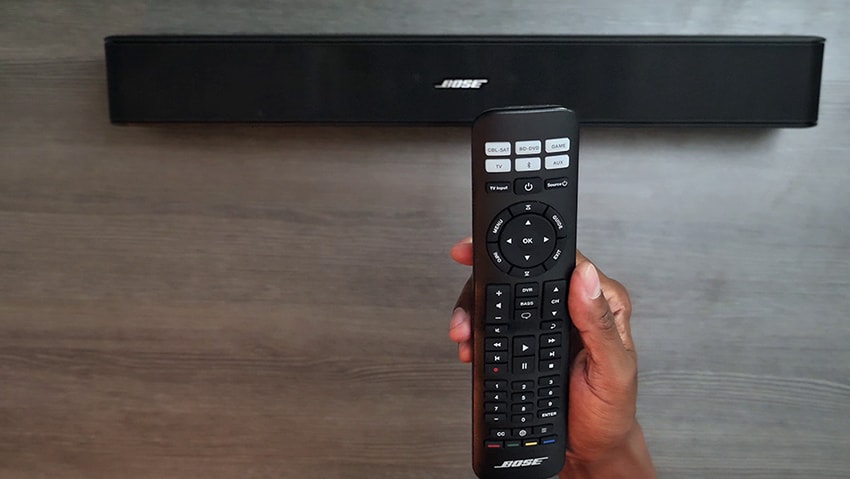 The soundbar comes with no controls on its body. All of the work is delegated to the accompanying remote control that is quite impressive. It is a universal remote control that can use the database of included manufacturer codes to control other devices.
The interface will not disappoint either. From menu buttons to other controls, the remote is designed to control DVD players and satellite boxes, in addition to the television. The devices can be controlled through 6 shortcut buttons across the top that have been labeled.
However, you can't control a few devices like some gaming consoles. It is because the remote works over infrared only.
Design
The soundbar is sleek and aesthetic and will look good next to your TV. It has a minimalistic design with a Bose logo on the front. It also comes with subtle status indicators lined up in the front of the device.
These come in different colors and will light up to indicate the current mode of the Solo. For instance, when the dialogue mode is on, it will light up in amber.
Other Features
The Solo 5 TV Soundbar comes with an auto-wake function. It means that you don't have to switch the soundbar on each time you use a device. It begins to work when it detects a sound source.
It also comes with an auto power-down feature. This will begin to work after 60 minutes of inactivity on the soundbar. Some people consider this period to be a little too long.
Pros and Cons
Pros
Small and compact design
Bluetooth feature
Good voice enhancement
Can alter the bass as required
Auto-wake feature
The bass of the sound can be easily adjusted using the remote controller
Auto-shutoff feature
Cons
Not too many pre-set modes
The sound may not be loud enough
Final Verdict
The Bose Solo 5 Soundbar is a simple and minimal option that will blend into your living room surroundings. It provides just the minimum features that you can expect of a soundbar and can only be used in a small to medium-sized room.
If you are not looking for a complex device and only want to add some clarity and volume to your television speakers, this soundbar is a good option. It will prove light on your pocket compared to other soundbars with better features.
The feature that stands out is the universal remote control. In any case, explore your options before you purchase this device. For anyone looking for the bare minimum, it will not disappoint.