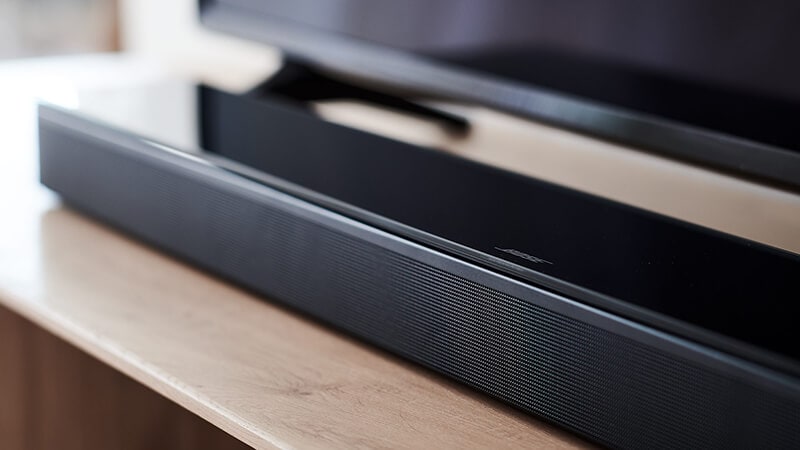 A soundbar can be a great way for you to get decent sound quality while using your TV. They can offer you a marginally better experience than having to resort to your TV's insufficient speakers. Having a soundbar blast high definition audio at you when you're watching a show or a movie can be the penultimate experience. But to get the right sound, you need to have the right soundbar at your disposal.
Bose aims at providing just that with its Bose Soundbar 700. At this point, you might have heard of Bose one way or the other. The company has been a long-standing name in premier audio fidelity products. So the question stands at whether or not the Soundbar 700 can live up to the reputation. We'll be finding out in this review below.
Where to Buy?
Superior Looks and Build Quality
Getting a soundbar is often never strictly about the audio quality alone. You need to have something that can tie your living room together between your TV, your lighting, and any decoration that you may have up. Since it's such an important element to your entertainment suite, it needs to look and feel like it belongs there.
When it comes to ranking different speakers and audio gear, each manufacturer does something just a little better than the others. For Bose, this quality tends to be their great attention to detail when designing the looks and build quality of their products.
Nowhere does this quality truly shine like in the Bose Soundbar 700. The exterior is built to withstand just about anything that you can throw at it. Everything is designed to stay in place even after taking the most dramatic falls. All of the buttons and ports are designed to last even the most ample abuse that you can put them through.
At the same time, the Bose Soundbar 700 looks good doing it. The bar is very sleek and stylish, which makes it blend in well. You can seamlessly tuck it under your TV and makes it fade away when you're watching movies while still looking elegant enough to catch anyone's eye.
The soundbar comes in black and white colors, both of which will equally suit the color scheme that you're looking to go for. It includes a tempered glass top with a grille that wraps around the entire speaker. The look incorporates clean lines and elegance that you can't find in any other competing soundbars.
Integrated Voice Controls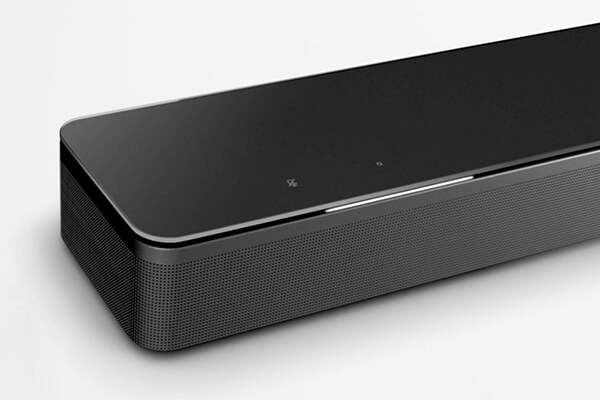 Picture this; you're sitting in your living room watching your favorite movie when you suddenly need to turn up the volume. Normally, you'd have to spend a good amount of time having to look for a remote or getting up to do it the old fashioned way. It's not the ideal way to do things, and it can ruin an otherwise perfect movie session.
Thankfully, Bose has taken this well into account with their Bose Soundbar 700. They have added in voice controls that let you do just about anything from the comfort of your couch. The soundbar has complete support for both Alexa and Google Assistant built-in right out of the box. You can use your own choice of assistant without worrying about getting tied down to just one option.
The Bose Soundbar 700's voice control lets you do things like play and manage your music, get information, access your audio controls, and much more all without having to get up. These voice controls give you an added layer of functionality and control that might not have been possible with a traditional remote or physical buttons.
The best part about the soundbar's voice controls is that they work really well. Normally, you're subjected to having to repeat yourself or deal with the assistant not recognizing your commands properly, but this isn't the case here.
The soundbar comes with its own array of eight different microphones arranged in an optimal pattern. This makes it so that voice pickup is clear in any corner of the room without any kind of drop-in sound quality. You can use your voice controls even while having your music blasting at full volume and not have it affect the voice recognition.
Universal Remote Control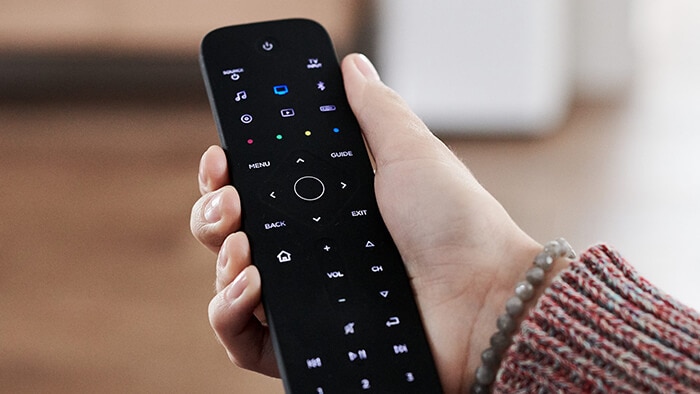 The biggest issue for a lot of people adding a soundbar to their entertainment console is the fact that it adds another layer of control on top. This often means having a remote handy that can help you control the functions and setting on the soundbar.
But what if you're already struggling to keep so many remotes in place? It's not enough that you have to deal with taking care of your TV remote or the one for your set top box, but now you will also have to worry about keeping one for your soundbar.
This is hardly the situation that anyone wants to find themselves in. Bose seems to understand this and has provided a good option for those that face these issues. The soundbar comes to its very own universal remote control for superior control options.
The remote control not only lets you control the soundbar itself, but it can also be used to control other things as well. You can change the channel, bring up your music, pause and play, change your volume settings, or do just about anything that you could ever want.
Wide Variety of Music Services


It isn't uncommon to come across a soundbar that simply acts as a glorified speaker giving you nothing more than a way to output audio from your TV. But the Bose soundbar 700 isn't just that; it's much more than that.
Bose proves that it was designed as a premier soundbar that can keep up with your every need. This soundbar is designed to take full advantage of its multimedia capabilities to provide you with the best entertainment options under the sun. And nowhere is this more apparent than in the various music services on offer.
The Bose Soundbar 700 is designed to seamlessly integrate with a ton of different music services out there to give you the best audio choice that you could hope for. You can find dedicated support for all your usual methods of playing music like WiFi, Bluetooth, or plugging in the 3.5mm jack into your phone.
But if you're looking for something a little more than that, then this soundbar has you covered. It offers full integrative support will all kinds of music services and platforms out there like Spotify, Amazon Music, or Apple Music. All of these services are easy to hook up to the soundbar and will leave you with a great option to play your music seamlessly without any issues.
Easy Setup
Setting up a soundbar or a speaker system in your home is never a quick and easy task. You have to spend an entire afternoon getting everything set up just right. And after all that effort, if you find out that your equipment is not in the most optimal condition, then that's just effort wasted.
Luckily, you won't be dealing with issues like these on the Bose Soundbar 700. This soundbar is designed to be really quick and easy to be set up no matter where you put it up. You have an entire array of different connectivity options that you can use to hook up your audio to the soundbar.
To help with finding the correct placement for the best sound quality, this soundbar uses features to help you get the best out of your soundbar. Bose includes a set of the ADAPTiQ headset to help you set the soundbar up for its first use. The ADAPTiQ headset helps you calibrate the proper placement of your soundbar, depending on the acoustics of the room and how the sound tends to interact with the space around you.
If that wasn't enough, you also get some nice upgradability options for your soundbar. If you ever decide down the line that you need some extra speakers or a subwoofer, then it can be easily integrated into the soundbar. Using wireless functionality, you can add more pieces to your audio arsenal without having to care about any compatibility issues.
Premium Sound Quality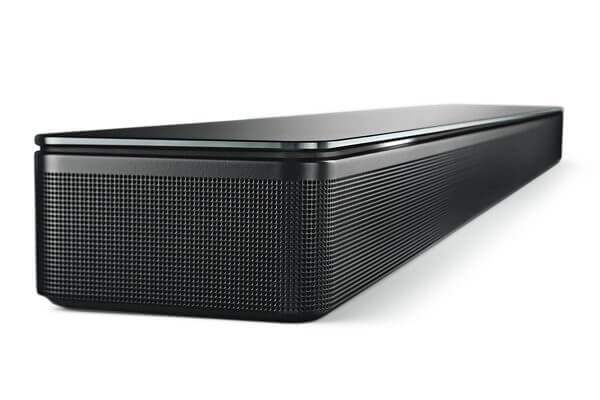 Putting the other features aside, the most important aspect of any soundbar out there on the market today has to be the sound quality that it provides to the user. You can compare and argue day and night over which soundbar is more feature-rich, but it doesn't live up to the sound quality that you would expect, then it's all but an expensive paperweight.
This is one department where Bose doesn't slack with what it's offering to the customer. This soundbar is designed only to give you some of the cleanest and crisp sound that you'll ever hear. The four drivers on the soundbar are capable of delivering some of the most powerful sounds that you will ever see yourself come across.
There is a distinct lack of bass in the soundbar because of the way it's been designed. However, you can tweak the setting manually until you feel like you've got it just right. And with so many different options to tailor your sound, getting the output that you need will be a piece of cake for you.
The best thing about the Bose Soundbar 700 is that it has the capability to fill the room with some of the most jaw-dropping and ear hooking audio that you can possibly recognize. The soundbar deals with directional audio well without having to worry about how the sound comes across. You won't have to worry about sitting at any optimal angles for getting the best audio anymore. The soundbar will be able to deliver you with precise audio no matter where you are in the room in relation to the soundbar.
With this soundbar, you get full access to audio enhancement options like Dolby Digital support and much more. It makes it so that all your sounds can be brought to life with proper definition and clarity that you would never expect from something like a soundbar. Admittedly, it's not one of the best sound qualities you will come across, but it's one of the few well-designed ones that give you the ultimate audio for less.
Specifications
Tons of great options for providing living room audio
Many different connectivity options
Wireless and Wired ways to hook up your audio
Endless support for many music and streaming services
Extensive voice controls for controlling the soundbar
Elegant and stylish looks as well as the interior and exterior
Comes out of the box with tons of feature preinstalled and support for many more
Extremely affordable and price competitive
Conclusion and Customer Reviews
You shouldn't be surprised to know that the Bose Soundbar 700 has a good reputation online as one fo the bestselling soundbars that you can ever go for. This soundbar has tons of reviews online that praise it for being among the best soundbars for any kind of multimedia use out there. You will find that a large number of people out there will prefer to go for the Bose Soundbar 700 as their first theatrical soundbar.
There are some very minor setbacks that can leave this soundbar to be a little less desirable than usual. Those setbacks almost always happen to be related to the lack of bass and surround sound that the soundbar could possibly provide. However, this isn't as big of an issue as you might think. Thanks to the impressive connectivity options that the Soundbar 700 has to offer, you can seamlessly link up a standalone woofer or a set of tweeters to enhance your listening experience.
But minor issues aside, this just happens to be one of the most consistently rated soundbars on the market thanks to its unique offerings. Not only does it provide great sound with a ton of features, but it also looks and feels good doing. And sometimes, that's all that really every matters.