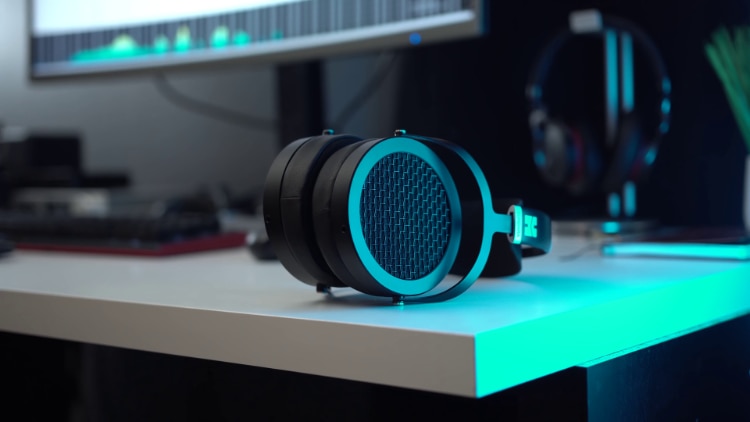 Among the audiophile community, the benefits of planar magnetic headphones are well known, but a casual listener can't differentiate. Planar headphones generally prevail between Electrostatic and dynamic driver headphones.
Planar headphones are always known to be challenging to drive. But, HiFiMan changed the whole planar headphone scenario by building them with super lightweight drivers. The headphones provide exceptional accuracy and ease of drive.
In terms of comfort, performance, and build, the HiFiMan Sundara is the most impressive headphone you can have.
Where to Buy?
What is HiFiMan Sundara?
HiFiMan headphones are in the market for some time now. The HiFiMan Sundara is an open-back and over-ear headphone. The design has drastically improved from the previous models like HiFiMan HE400i and 400S.
In Sanskrit, Sundara means lovely or beautiful. The description fits well enough when you take a first look at the headphone. The majority of parts are made with steel, while few other parts are made with plastic. The overall build quality is great compared to other models.
In terms of comfort, your ears will have enough space to breathe, and the earcups will fit your ears quite well. Furthermore, the headphone is known for its light-weightedness, which adds to the headphone's comfort level.
All in all, HiFiMan Sundara offers a comfortable and enjoyable listening experience. It balances entertainment and accuracy perfectly. Being the most balanced headphone, it also contributes a cool sound signature to take your listening experience to whole another level.
Build, Design, and Features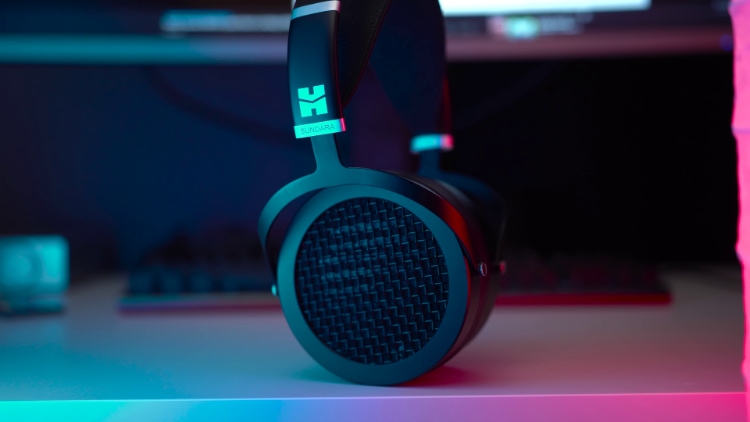 Now, it's time to review HiFiMan Sundara in detail and give you detailed information about its design, features and build quality. So, let's read how you can make the most of the mid-fi HiFiMan Sundara headphones.
Design
HiFiMan Sundara offers exceptional sonic performance along with providing excellent sound quality control and build quality. The headphone demonstrates a refined and sleek design with a high level of finish.
With a clean design and minimal parts, the consistent matte black color scheme looks extremely elegant. Thus, there is no space for rattles and squeaks, and you will experience a solid feel.
The headband is made of faux leather, wide enough to distribute the headphone's weight to prevent hotspots formation. Also, the lightweight contributes to the comfort level.
The headphones come with a dual-mono 3.5 removable cable system at the base. The cable is equipped with a smooth rubber sheath and metal connectors. It resists tangles and also easy to handle because of the headphone's ergonomic design.
Build Quality
As mentioned above, most parts of the headphone are made of metal whereas some adjustment system comes with plastic covers. Furthermore, the headphone provides consistent machining, nicely finished edges, and a superficial level of finish.
The earpads are angled naturally and do not pivot. They conform to the head very conveniently and comfortably. Additionally, they are made of hybrid faux leather and comes with a large opening to let your ears breathe restfully.
The best part of the headphone is its extendable headband. You no longer have to remove the headphone and adjust it. Now, you can easily extend the length of the headphone while wearing.
Performance
In terms of performance, HiFiMan Sundara has passed various tests with flying colors. In every song, you will hear a separate sound for each instrument, and also, the sound of acoustic space is remarkable. Moreover, it does not color the audio so that you can differentiate between individual sounds.
The transducers of the planar magnetic headphones function effectively to capture fast percussive sounds. Thus, HiFiMan Sundara provides exceptional performance when it comes to dynamics, speed, and detail retrieval.
Ultra-Fine Diaphragm
The installation, processing, and diaphragm material production is quite complex as it requires creating a lightweight material and has high tensile strength. HiFiMan Sundara included both the qualities in the diaphragm.
Even the driver comes with exceptionally low mass and thickness resulting in a low distortion level while providing a high dynamic response. Moreover, you can connect the headphone with any mobile or portable device. Also, it gives a wonderful listening experience due to remarkable clarity and tonal quality.
The new HiFiMan Sundara planar magnetic headphones have resolved issues like lingering vibrations and surface distortion in high-frequency audio. The heavy magnets are used to cause vibration whenever the driver moves. The problem is resolved by reducing the driver's weight with an ultra-fine diaphragm.
Grills
The HiFiMan Sundara is equipped with the latest outer grills that offer three qualities: aesthetics, protection, and sound. The headphone's grill helps find a perfect balance between the three to provide long-lasting protection on sensitive innards' outside barrier.
Connectivity
Can you connect the headphone with your desktop or mobile? Definitely, with such ease of connectivity, you can listen to the gaming sounds as you play games on your desktop or connect it with your phone and enjoy portable listening.
Mobile connectivity
The HiFiMan Sundara headphones work well with your smartphones. The headphones deliver excellent dynamic range while providing sufficient headroom. However, it does not have Bluetooth, but you can connect it with a cable's help.
Desktop
The headphone is designed for home use for desktop. The open-back design is ideal for a quiet environment where a desktop will offer excellent listening conditions. You would need 1w power to drive the headphone at a satisfactory level.
Comfort
The HiFiMan Sundara offers exceptional comfort, as discussed above, with its adjustable headband and breathable earpads. Let's discuss how they help provide comfort while wearing the headphone for a long time.
Headband
The new headband system is sturdier and straightforward in functionality compared to other HiFiMan headbands. It is lightly extravagant and comes with a standard curve.
For comfort and pressure displacement, the headband is equipped with a leather adjustment strap. You can easily adjust the height with the notch system available on both sides of the headband. Also, it is made with a faux leather finish which boasts high durability.
Pads
In the previous models, you will find Focus A pads to provide excellent fit and comfort. However, HiFiMan Sundara has hybrid faux leather. Also, it has stitched fabric innards that provide enough space around the ears. Besides, they are more comfortable, breathable, and also detachable.
Audio Quality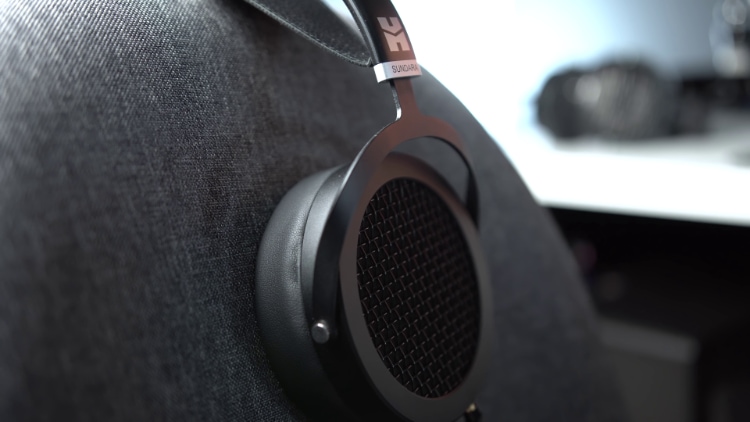 It's time to get to the most crucial discussion: the sound quality of this exceptional planar magnetic headphone. The sound quality is divided into various categories including, Bass, Mids, Highs, Tonality, and Soundstage.
Bass
The bass of the headphone is quite linear sounding and natural. When it comes to performance, the headphone can provide a reverberant thump, usually a polite and clean thump.
The mid-bass induces a slightly warm touch as it is enhanced slightly, whereas the upper-bass is neutral and linear that prevents saturation and over-warming. Also, it offers excellent driver control where each note has a high definition and tight impact.
You shouldn't assume a hyper-defined sound, but that offering a euphonic tone with amazing quality. You will not experience a hard-hitting at the bottom because of the mid-bass that makes the Sundara a musical headphone rather than being muddy or sloppy.
Mids
HiFiMan Sundara is known for its natural instrument presentation and warm vocals. That's why the mids perform relatively well. The lower mids travel from the upper-bass linearly while providing warmth highlighting the vocal range. Furthermore, you get a neutral center mid-range that puts vocals behind the instruments.
The HiFiMan Sundara offers consistency in its character while maintaining a perfect balance between the bass and mid-range.
Highs
With a trouble-free rate and extension and excellent detail, this kind of level is unique to Sundara, which makes it stand out among its competitors. All this is done without getting the sound increased artificially.
The transition from lower-treble peaks towards the smoother foreground offers a smooth tuning environment. The laid-back lower-treble keep the sound well-boded and smooth. Furthermore, the sibilance is controlled exceptionally well, where the midrange is refined and smooth. The detail retrieval does not come close to turbulent.
Tonality
Delivering natural sounds, the HiFiMan Sundara is well-balanced, slightly laid-back, and a natural headphone. Its U-shaped design offers engaging sounds that come with improved air up top and bass fullness. Moreover, it aims to provide a relaxed listen and try to engage with impactful low-end at the same time.
Soundstage
The open-back design and sufficient treble extension offer a spacious soundstage. The soundstage is well-rounded because of the upper bass's high linearity to the lower-treble. Therefore, the headphone provides accurate imaging.
You should not assume a clear background and foreground distinction due to the darker middle treble. However, you can expect well-separates sound with the headphone because of it quicker decay and fine-tuning. Overall, you will get a well-metered listen with this headphone.
Should You Buy It?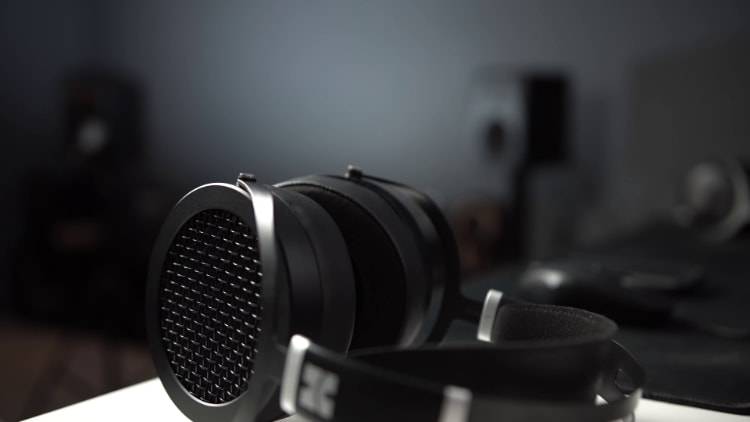 Whether to buy the headphone or not depends on various factors such as the features, build quality, and personal preference. By now, you have understood how efficient the headphone is in its performance, but does it perform better than its competitors?
Let's compare the HiFiMan Sundara with some popular headphones to help you decide which one is better.
Advanced Sound Alpha
The Advanced Sound Alpha offers a balanced but weightier sound that is less linear. Generally, both the headphones offer lightly warm mid-bass with a linear upper bass. However, Sundara has a more defined and controlled low-end.
Both the headphone deviate due to mid-range; Alpha has a quite noticeable vocal range which offers enhanced vocal clarity. On the other hand, Sundara is more natural and well-balanced with its smooth articulation and consistent build.
Sennheiser HD6XX
When it comes to clarity, the Sennheiser HD6XX is exceptionally energetic. However, Sundara provides excellent sub-bass emphasis and deeper sub-bass extension.
Though both the headphones offer slightly warm mid-bass, the HD6XX is the warmer headphone that extends its emphasis towards the upper bass. On the other hand, the Sundara comes with more definition and bass control.
The sound is natural in both the headphones, but Sennheiser is lying on the forward side, and Sundara is on the laid-back side. The soundstage of Sundara offers a significantly larger sound that culminates with extended bass to provide voluminous sound.
HiFiMan HE-560
HiFiMan HE-560 is more balanced as compared to Sundara. The bass is present and more extended, but it does not affect the sound quality, just like Sundara. Also, the headphone offers less physical impact by being more detailed and faster.
Both the headphones have a similar spacious soundstage which offers better instrument separation and precise imaging. Though they have identical mid-range, too, Sundara offers more elevation.
The distinction lies in the treble performance and upper-mids. Compared to Sundara, the HR-560 provides a sharper sounding attack due to harsher sounding. Also, Sundara prevents sibilance more compared to HE-560.
Pros and Cons
Pros
Detailed and fast driver
Excellent built with high-quality materials
Comfortable for long listening sessions
Airy and balanced sound
Realistic imaging and spacious soundstage
Excellent price-to-performance ratio
Cons
Treble could have been slightly more abundant
Final Verdict
You can find headphones in a similar price range that are entirely different from HiFiMan Sundara. But, you wouldn't find the headphone which is undoubtedly, the best one in the market. Adhering to the manufacturing guidelines of HiFiMan, the Sundara comes with chilly mids, well-extended bass, boosted treble, and laid-back design.
In comparison to the previous models, Sundara has exceptionally improved in both build quality and sound refinement. The lack of fold flat and cup swivel increase the durability of the headphone. Moreover, the headband sits comfortably for long hours.
If you are looking for a u-shaped signature and open-back, well-rounded headphone, you should go for HiFiMan Sundara planar magnetic headphones.