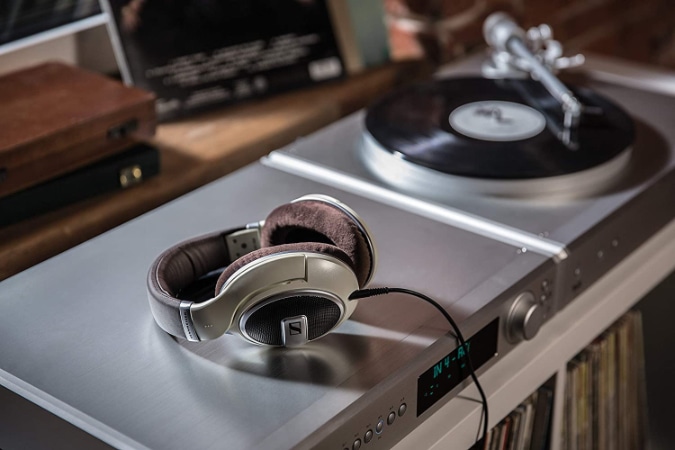 When it comes to headphones and other music hearing aids, one name shines above all, and that is Sennheiser. Sennheiser has been delivering quality-grade products since 1960 when it first launches the MD421. The company delivers the true sense of German engineering in its products.
Every Sennheiser product not just outperforms every other product in the respective category, it also outlives them. All their models have sold in extremely high numbers, making them one of the most popular music brands across the globe.
Their new HD599 captures the essence of the company and delivers a great performance.
Where to Buy?
What is the Sennheiser HD599?
The Sennheiser HD599 is a result of the company's up-gradation of the 5XX series. Their iconic HD598 won a lot of hearts with its amazing sound quality. The HD599 is an improvement on the HD598. This model is closer to the HD600, and you can expect it has a close relation to its performance and quality in more ways than possible.
According to the company, this headphone has been designed to give the listener some home theatre level voice quality with many comforts. The large ear cups with soft and replaceable ear pads provide the user with immense comfort and an exceptional sound experience.
It uses the Ergonomic acoustic refinement technology of Sennheiser. It channels audio directly to the listeners' ears to create a better acoustic experience for the listener. If you are an audiophile, this headset is enough to blow your mind.
Specifications
If you look at the specifications of this amazing headphone, you will be amazed at what the company has to offer. It comes with a frequency range of 12 to 38,500 Hz, which is truly spectacular. You can vary the sound quality to ample highs and lows for any type of music you feel charmed with.
The impedance has been set at 50 ohms. This is relatively low in comparison to other headphones in a similar range. This allows you to pair it up with any device, be it a mobile phone, television, or laptop. You will feel the amplification of the sound done to perfection without causing any discomfort to the ears.
The sound pressure level goes around 106dB, and the total harmonic distortion is set below 0.1%. This is the expected value for the given price. It helps in delivering a clean and crisp sound with ample volume. The amount you pay for these brilliant headphones is justified by each and every specification the company has loaded it with.
Specs
Frequency range : 12 – 38,500 Hz
Impedance: 50 ohm
Sound Pressure level (SPL): 106 dB
Total Harmonic Distortion (THD): < 0.1%
Looks and feel
Not everyone is looking to satisfy the audiophile in them. Some buy gadgets just for the look they have to offer. The Sennheiser HD599 is absolutely perfect for getting that flex of owning a fancy and expensive-looking headphone.
Looks and design
The company has presented its most contemporary and modern designs in the form of this headphone. It speaks volumes when it comes to communicating enhancement, purpose, and an exceptionally good built. There are subtility and intricacies in its design that will reflect the superiority in performance just by the look of it.
It has a timeless ivory color that is pretty basic and common with the Sennheiser product range. If you are not a fan of this color, you might want to reconsider as it is the only color this headphone comes in. It has a pretty solid and quality built that promises durability and longevity.
It has a very appealing and aesthetic look that will blend well with your fashion sense. Be it a chic look or a funky tomboy, and this headphone is a great pair for all your moods.
A point of disadvantage with the design is that it does not come with any sound control. You won't be able to control the volume just with the headphones. You will have to use the device it is connected to. But this disadvantage can be easily overlooked. The amazing amp experience that comes with this headphone will help you enhance the quality of music.
Feel and comfort
Looks work their magic well when the listener is comfortable with the product. You don't have to worry about your comfort being neglected at any point with the Sennheiser HD99. It has an open-backed, over-ear design with soft and replaceable velour ear pads. They have a very soft and comfortable feel to them, so you can enjoy the feel of listening to music while wearing these.
The headband is made of brown leather and is pretty lightweight. It spreads evenly across your head and does not put pressure while it is clamped to your ears. The force with which the headpieces adhere to the ear is just the perfect amount. You will not feel a lot of pressure being exerted on your ears, neither will you get the feel of the headphone slipping off.
The flexibility of the headphone is yet another outstanding feature of this product. It is much more flexible than any of the higher-end models, and you can use it as roughly as possible. The promise of German engineering is very well delivered by Sennheiser in this headphone.
Other features and Price
Another great feature of this product is that the capsule is removable. It terminates at the ear cups' end in a single 2.5 mm plug. It also comes with two stock cables on with one is 6.3 mm that is given for home use, and the other is 3.5mm that is it to be used when you are on the move.
There is a 6.3 to 3.5mm adaptor and one Velcro cable tie in the product box. The user needs to be careful with its use as the unique locking mechanism. It also comes with a 1.2m long cable. This enables the users who prefer using a portable music player to connect with it and listen in peace. Even though it a unique cable system, you can still find it easy in the market to make a replacement in case of damage or loss.
The price of this classy headphone is $199, including VAT and shipping. It has been greatly priced for all the features it has to offer, and you won't regret a penny you spend on the purchase.
Sound quality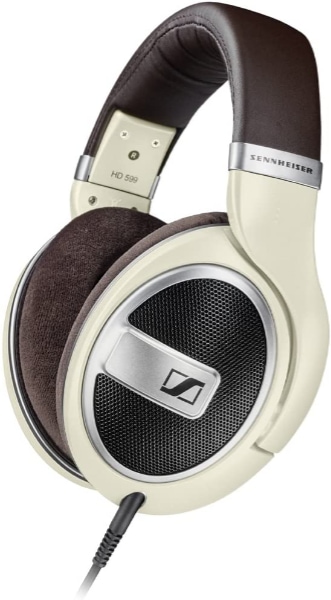 A headphone is known for its sound quality, and the Sennheiser HD599 promises the most superior sound quality. This headphone will establish a reference point for your future purchases, and you will not find anything as good as this one in the market.
The sound quality of this headphone is quite smooth and engaging. You will feel every note reaching you and delivering the melody in an outstandingly pure form. The sound delivered has a natural feel to it and provides a unique warmth to the listener. This is the perfect headphone for an audiophile and one wanting to step onto the path of becoming one.
They can be used for some quality music time or a next-level movie experience. These all-rounder headphones make a perfect choice for everyone who is into music and likes to enjoy it the way it is supposed to.
Pros and Cons
Pros
Excellent clarity
Good bass response
Smooth and tight
Immersive listening experience
Comfortable to wear
Solid built
Lightweight
Cons
Final Verdict
The Sennheiser HD599 is a perfect choice for all audiophiles. It has an amazing bass quality that will give you quite an immersive listening experience. It offers a clear and crisp sound quality, which will offer a natural sound to the listener.
The stylish design and the exemplary comfort that comes with these headphones are truly unbeatable. You won't regret the money you spend and enjoy the fulfilling joy of music for a very long time.