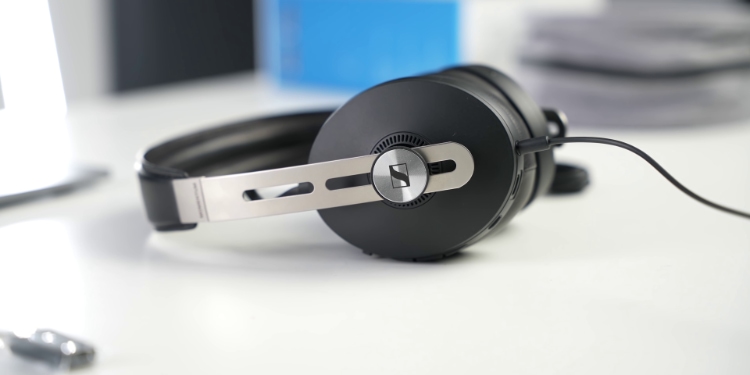 In all veracity, headphones have today become a necessity for all individuals. If you are traveling, working out, or having a game night, you require them nevertheless.
With growing technologies and innovation, today, headphones are endowed with revolutionary features and functions. This often leaves buyers confused with one question in mind,
Which headphone is the ideal choice for me?
In 2019, Sennheiser Consumer Audio launched its power-packed Sennheiser Momentum 3 Wireless Headphone. This new launch comes with the promise to leave you enthralled by its spectacular futures.
Where to Buy?
Overview
Brand: Sennheiser Consumer Audio
Connectivity Technology: Wireless
Model Name: Momentum 3 Wireless
Form Factor: Over-Ear
Frequency range: 6Hz-22k Hz
Inputs: Bluetooth, analog, USB-C
Bluetooth: 5.0
The new momentum wireless delivers exceptional sound quality with studio recording precision. Through it, you can hear bass, treble, and mid-range with perfect harmony. It has intuitive controls that make it convenient to use anytime and anywhere.
You acquire active noise cancellation using which you can enhance your listening experience manifold. Even within noise cancellation, you can choose through multiple modes, depending on your environment.
It is luxurious, stylish, and makes you enjoy the rhythm without any hassle. You can personalize it by using the smart control app.
Body and design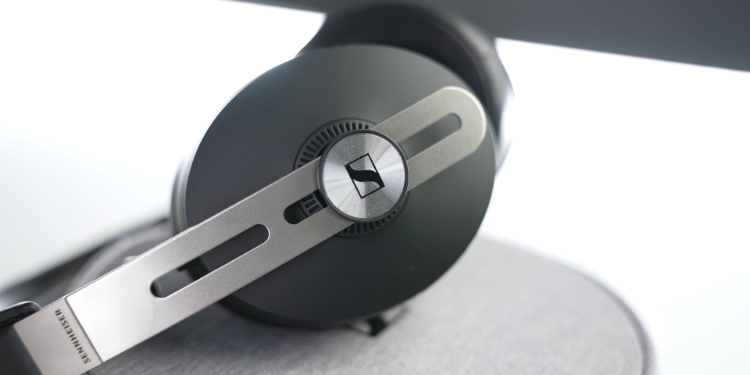 The headbands are made of genuine leather. The genuine leather used in this model is much smoother than in the case of previous models. The ear cups have a plush covering and soft memory foam. You can easily rotate the ear cups and adjust them to your comfort.
The button layout is on the right ear cup's edge. A rubberized matte material has been used to make the buttons. The joints and yokes are of stainless steel.
You can access the virtual assistant by pressing the Bluetooth pairing button once. There is no power button. However, when you fold the ear cups towards the headband, the headphone automatically turns off.
Similarly, when you push back the ear cups away from the headband, it will turn on. Further, you get the auto-pause and play a function in this headphone. When you remove them, the music will automatically pause and will play when you wear them back.
Not only this, it has a multipoint feature that enables you to connect up to two devices simultaneously.
Along with the headphone, Sennheiser furnishes you with a drawstring back and a stitched case to carry your headphone around. You will also be given a 3.5mm cable and USB-C cable for charging.
Some essential points that you must know:
Momentum 3 provides decent stability.
Though they are bulky, you can easily fold them into a more compact form and carry them in your bag.
The plush material used for the ear cups cuts shots air passage. So it might not be a good choice to use it during work out.
Size analysis
Momentum 3 is larger and heavier than the previous models launched by Sennheiser.
Dimensions: 7.8 x 6.7 x 1.78 inches
Weight: 10.6 ounces
The plush padding on the ear cups is comfortable. However, if you wear the headset for a long duration, they feel like extra weight. However, some users, on the other hand, find it just fine for long-duration usage. Hence, this depends on subjective usage and comfort.
Momentum 3 is available in black as well as in sandy white version.
Smart app feature
App control has become a commonly added feature in a wide array of devices. As for app control in momentum 3, you can install Sennheiser's propriety app from Google Play Store and Apple App Store.
Though not a necessity, the app provides hordes of convenient options and privileges.
Through the app, you can customize and control the voice assistant feature. You also gain control to adjust the noise-canceling function based on how many degrees of external noise you wish to cancel.
The Noise cancellation features come with three modes that you can choose from through this app. It also has the Tile tracking integration feature that helps you locate your headphone ( 150-foot radius).
So, if you are a forgetful one and often lose your headphones, this feature can be a lifesaver.
Momentum 3 supports Siri, Alexa, and google assistant. You can voice command your device through the headset.
You can also make changes to the automatic pause and play feature through the app. You will have to open the app ad turn off the smart pause setting. Hence your headset will no longer automatically play or pause your music.
Controls
Momentum 3 has large control buttons that are very easy to operate. The rubberized material used for these controls is sustainable and touch-friendly.
The toggle at the top of the headset enables you to control the noise control setting. The volume buttons work just fine. You would not require the use of the app very often because of its handy controls.
You can easily control levels of ANC and talk features using the buttons only.
The automatic pause and play feature work flawlessly. Hence, you no longer have to use any control buttons on your phone to pause or play your music.
Noise cancellation
The technology works together with the hardware design and quality to give you spectacular noise cancellation. However, some believe that its low-end attenuation is not as good as other headphones in competition.
Its noise cancellation is conducive to preventing noise-induced hearing loss. Its three Anti-noise cancellation modes include anti-pressure mode (low), anti-wind (medium), and maximum mode (high).
At the anti-pressure mode, you receive the best balance of audio and noise reduction. The higher up you go, the bass levels will shoot up. This causes extra pressure on your ear.
The headphone is efficient to cancel out midrange to high-frequency sounds. Hence you can experience a high-quality sound experience without any disturbance.
Transparent mode
Momentum 3 has a transparent mode which lets the listener be aware of their surroundings. This feature comes in handy when you do not wish to remove your headphones.
However, this feature is not efficient in the case of low-frequency sounds.
Battery
The battery would last up to 17 hours nonstop when listening to music (or anything you wish to listen to) at a quiet level (75 dB). However, with the noise-canceling option turned on, the battery output would be comparatively less (13 to 14 hours).
One advantage is that this headphone has a quick charge function. So if the battery has completely drained, and due to paucity of time, you could only charge it for 10 minutes; you still get 1.5 hours of listening.
Unlike other noise-canceling headsets, momentum 3 is unique because of its fast-charging convenience.
The app is also helpful in this regard. You can easily view your headset's battery life using the app. All you have to do is, press the multifunction button down for around 2 to 3 seconds, and the battery percentage displays on your smartphone screen.
Connection
To connect momentum 3 (wireless) to your smartphone, you can use NFC as well as the standard Bluetooth pairing option.
NFC connection
To connect your phone with your headset through NFC, you will have to follow these steps:
Enable NFC option through your smartphone settings
Next, place your phone next to your headset.
Wait for the pop-up to appear on your phone.
Once it comes, it means that your phone and headset are successfully connected.
The Bluetooth 5.0 firmware is a good addition to momentum 3. You can connect to multiple devices easily. Also, it has the auto-connect feature that prevents manual selection and the hassle that comes with it.
You can also use the 3.5mm cable that comes with the headphone to connect your device with it. The wire given by Sennheiser does not have any integrated mic or remote module. However, you can always purchase third-party cables at your convenience.
Sound quality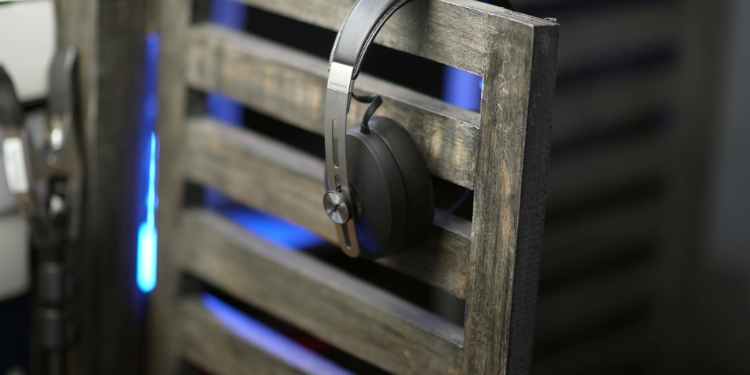 The sound quality that momentum 3 provides is mind-blowing. It is perfect for general users for their day-to-day use. Though, it is not that popular among professionals.
Bass and treble notes are perfectly balanced. You can use it to listen to any type of music through the headphone. Whether it is pop, jazz, hip hop, or even classical music, momentum 3 will never fail you.
Though at a loud volume, you experience unpleasant harmonic resonance, it is not a major drawback. At lower levels of volume, you experience much clearer and sharper audio. The interplay between left and right channels is impressive.
The tonal balance and dynamic richness of the audio are splendid. Surely, listening to music through momentum 3 will make you giddy and energetic in no time!
Call quality
Calls through Momentum 3 are muffle on both ends. When you are in a noisy environment, low volume levels make it hard for you to communicate effectively. During calls, noise cancellation takes a step back, and you can still overhear noise from your surroundings.
Though its call quality is not the best, it does cover up through its splendid wireless connectivity. The long wireless connectivity enables you to walk around and talk without bothering about your phone or its location.
Price and availability
As mentioned earlier, momentum 3 is available in black and white color. These headphones are quite expensive at $399.95 (AED 1,649/ £280/ AU $ 500).
It even surpasses Sony WH-1000XM3, another popular noise-canceling headphone in competition. Sony WH-1000XM3 price is set at $349(AED 1,299/£245/AU$ 499).
Its high price, more so than Sony headphones, causes the buyers to have second thoughts.
However, the extra $50 in the cost is justified because of momentum 3 extraordinary features such as Tile technology.
Pros and Cons
Pros
Noise cancellation feature
aptX Bluetooth codec
Unique style and high comfort levels
Amazing sound quality
Aggressive bass
Tile tracking (no fear of losing your headphone)
NFC integration
USB-C
Cons
Slightly expensive
Moderate battery life
Competition analysis
Though momentum 3 provides amazing noise cancellation, it might not be the best option (If ANC is the most important feature required by you). The new Bose Headphone 700 gives better ANC than momentum.
However, that does not mean that momentum's ANC is any less decent.
In comparison to Sennheiser's HD1 and previously launched headsets, momentum 3 surpasses them with great ease. Momentum 3 comes with better sonic attributes and features.
Also, it's more comfortable to use for longer hours than any other Sennheiser headphones.
When it comes to Sennheiser's momentum 3 vs. Sony's WH-1000XM3, momentum 3 surpasses WH-1000XM3 in both price and features.
The tile tracking feature and its industrial design make momentum 3 worth your money.
The audio quality is also similar. Hence momentum 3 (irrespective of the price constriction) dominates Sony surprisingly.
Final Verdict
If you wish for a peaceful listening experience and a headphone jam-packed with exceptional features, Sennheiser's momentum 3 can be the best option for you.
Sennheiser has stepped up its game by launching this awesome headset into the market. Many reviewers might strongly critique the sound quality, but let it not hinder you from looking at the bigger picture.
Sennheiser's headphones are capable enough to break down Sony and Boss' monopoly over this business segment. Momentum 3 tunes in well with your lifestyle and needs. You can customize and personalize to any extent you want.
Impeccable design, sound quality, and convenience make momentum 3 a wise choice. Hence, if you have any further reservations, keep them at bay and get this revolutionary headset before it is too late!