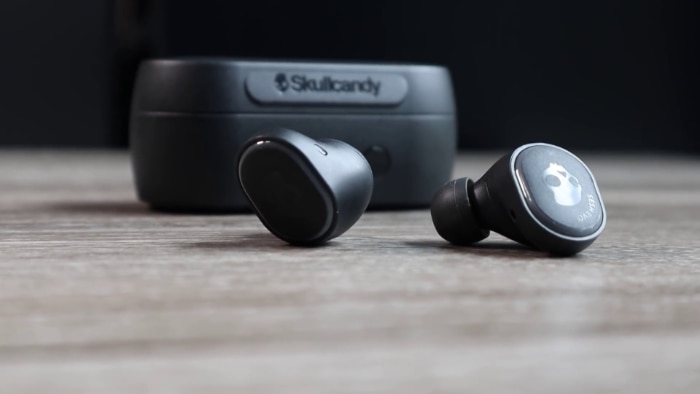 Wireless Earbuds have taken the market by storm. Although various companies have released multiple products, Skullcandy still maintains its position in the market.
Skullcandy Sesh Evo is a wireless, solid pair of running earbuds that can even resist sweat and water. Their affordability at just $59.99 is another cherry on top of the cake!
But does the Skullcandy Sesh Evo Wireless In-Ear Earbuds have enough features for you to invest your money? Is the Skullcandy Sesh Evo worth the hype?
Where to Buy?
What Are Skullcandy Sesh Evo True Wireless In-Ear Earbuds?
Skullcandy has pulled out a new version to their previous earbuds in 2020 called Skullcandy Sesh Evo True Wireless In-Ear Earbuds. It serves the absolute right purpose of earbuds; it's compact, cheap, and can be used on the go, even during your morning run!
The battery life, easy Bluetooth connectivity, and bass effects are great assets to the product considering its price.
About This Item
Use Either Bud Solo
24 Hours Total Battery + Rapid Charge
Movie, Music, and Podcast EQ Modes
Built-in Tile Technology. Impedance-32 Ohms
IP55 Dust, Sweat, Water, and Resistant
Track, Call, and Volume Control
Design, Features, and Build
In the Box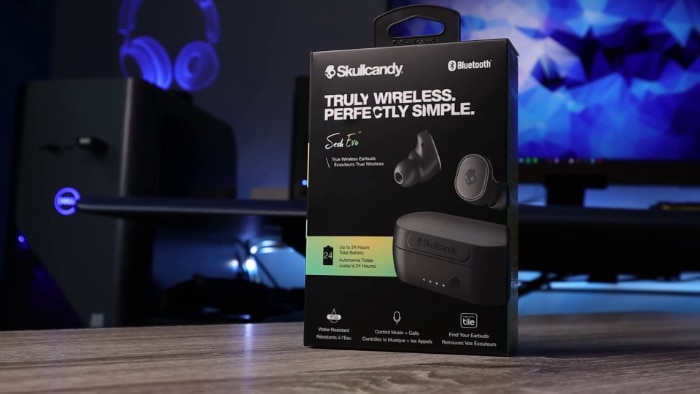 Skullcandy Sesh Evo Earbuds
USB-C to USB-A charging cable
Manuals
Wireless charging case
3x ear tips
Style and Build
As far as the style of tiny, lightweight Skullcandy Sesh Evo is considered, they are mostly based on the previous version of Skullcandy's Sesh Truly wireless. It is available in multiple colors such as blue, red, black, and mint. Silicone Ear tips (in size, S, M, L) are given in the box, which helps them fit properly in the user's ears to avoid falling out.
The product dimensions are 7.28 x 4.21 x 1.54 inches. The earbuds have a volume of 1.80 29.50 cm³. They do not require a transmitter. The battery in the bud can last up to 5 hrs. The case is hard and has a volume of 137.65 cm³. The battery in the case can last up to 19 hrs.
It comes with a compact charging case with a flip-top lid and status LEDs to show the remaining battery. It is made of a hard, sturdy plastic material. The case consists of a USB-C port used for charging, making things easier if you want to use power banks.
Comfort
Comfort is one of the essential factors in wireless Earbuds since they were made to be very user-friendly and comfortable in the first place. Skullcandy Sesh Evo is created in a way to be fairly comfortable to the user. Unlike Air Pods, these earbuds fit right into one's ears with no-stick coming out.
Sometimes it might get tricky putting them in place, and users could feel general malaise in their ears due to the bulky buds. The buds are IP55 rated to be used comfortably in light, sweat, and rain.
The earbuds are Tile-enabled, so one can easily find them if they get lost (if nearby). This is one of the biggest attractions of these earbuds.
Controls
The control scheme is reasonably okay for Skullcandy Sesh Evo. The bud consists of a multi-function button that has all the basic controls. Alternatively, you can use your smartphone to makes changes as well.
With one tap, the user can either pause/play the media and answer calls. With three taps, they can use the phone's assistant and four taps to alter the EQ Preset- Movie, Music, or Podcast. By tapping the button twice on the right, bud volume will increase, while the same on the left bud will reduce. To skip tracks backward and forwards, hold down the left and right buds individually.
Occasionally, you may experience some hardship while pressing the button on the earbuds, so using smartphone controls might be recommended. These earbuds can be very easily connected via Bluetooth to both Android and Apple devices.
Audio Quality and Performance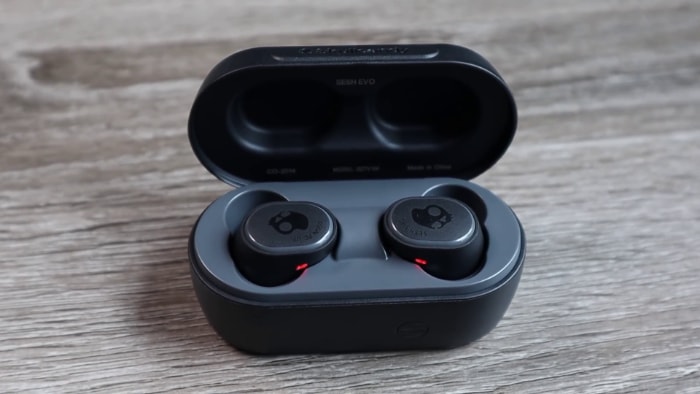 The sound profile for the Earbuds is very bass-heavy. Skullcandy operates similarly for most of its products. Skullcandy Sesh Evo is known for its high bass and low-end performance. The earbuds amplify the low-end frequencies to enhance the bass effect. Drumbeats in genres like EDM and Hip hop are strong. The only issue is that the mids and highs might be muddy and unclear.
The Overall frequency response consistency is great. Well-fitted earbuds with a correct ear tip can provide congruous audio delivery. As mentioned previously, the bass accuracy is optimal, with mainly being flat throughout the range and sometimes very exaggerated. This is exactly why some users may feel that the earbuds muddy/muffle the sound.
For example, playing slow, romantic songs won't be the best situation for these earbuds. A track like Someone You Loved per se would be a sad situation as the bad highs and mids would dampen the whole experience.
The earbuds have okay treble accuracy and great mid-accuracy. By average treble accuracy, we mean the vocals and instruments might be underemphasized.
The noise isolation performance of the earbuds is great as well. They significantly reduce external sounds like that of people chatting or an AC humming.
Nevertheless, noise as loud as automobile engines will still be heard. The leakage performance is also wonderful. Very rarely would anyone hear your sounds or tracks, even when it's quiet?
As far as the integrated microphone is considered, it has good recording quality with the voice sounding organic.
The performance of these earbuds can be determined with the three EQ Modes available- Movie, Podcast, and Music Mode. The Movie mode gives away a similar frequency range as a soundbar where the lows are pumped and highs are differentiated for clarity.
Music Mode, which is used to listen to music/tracks, is on similar lines. The mids are also boosted here for a better experience. The overall effect of the Music Mode has reduced muddiness. Lastly, Podcast mode removes bass completely and is useful when one wants to listen to human voices range/podcasts. By having these three equalizer profiles, Skullcandy Sesh Evo gives you the provision to personalize your experience.
Battery
Taking about the battery, Skullcandy Sesh Evo has a fair battery performance. Skullcandy promises 24 hours of battery and also performs on similar lines. On a single charge, the earbuds last for 4.7 hours. The charging case has an additional three charges. These stats may vary according to the volume levels too.
Users can use one bud while the other one charges with limited controls in case of emergency. As mentioned earlier, one can easily use the USB-C port to charge the case. The case also has a battery indicator so that you are aware of the charge levels of the product.
Pros and Cons
Pros
It can be used in three different modes- Movie, Music, and Podcast
Tile tracker built inside
Nice and sturdy design
Low price
Good battery life
Cons
Inconvenient controls
Average fit
Final Verdict
After counting and analyzing almost all the Skullcandy Sesh Evo Earbuds features, it will now be easy to decide whether to buy the product or not.
If you are looking for lightweight wireless earphones, having a good battery backup, bass-heavy good audio quality, and which are most importantly cheap, Skullcandy Sesh Evo is the one for you.
The three EQ modes are Music, Movie, and Podcast. Also, an impressive aspect of the whole product, as well as the IP55 Rating highlighting its tendency to work well in sweat, dirt, and water.
The biggest USP of the Skullcandy Sesh Evo Earbuds is the Tile Tracking option, which will help you find them for sure in case of misplacement.
Considering all these aspects, Skullcandy Sesh Evo In-Ear Earbuds seems worth the hype!