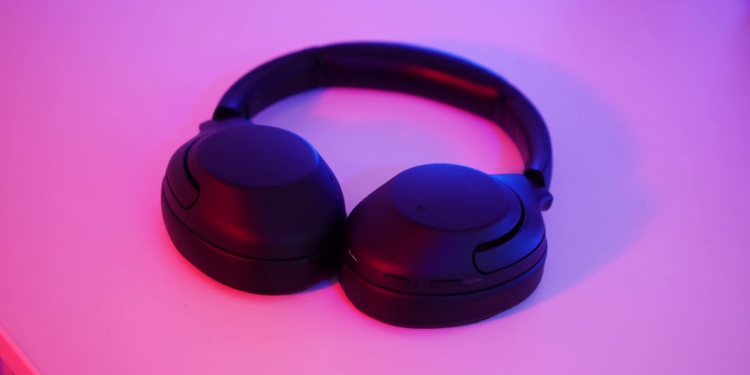 Are you looking for quality headphones without breaking the bank? Headphone sets are not just for listening to music but also for noise cancellation, hands-free calling, and so much more. That does not mean you would have to spend all your savings to get a good piece. Why pay extra for premium headsets when you can get the Sony WHXB900N at affordable prices, with premium features!
It is a pair of comfortable headphones with a pretty easy user interface, excellent battery life, and superb design. Moreover, you can adjust the audio settings to meet your taste and enjoy its unparalleled noise-canceling technology. The best of all—its bass is heavier than most other models out there!
Where to Buy?
Exciting Features to Expect from Sony WHXB900N
Your prime question may be, why buy Sony WHXB900N when you can get a cheaper model. This all-new headset has some unique features similar to its premium sibling—the WH-1000XM3. Still, it is way more inexpensive and features high-end build quality. Therefore, before getting to the basic characteristics, let us first get to the exciting part!
All About the Bass
What makes the WHXB900N stand out from the rest is its superlative extra bass feature. If you are a lover of low-end frequencies and wish to enhance them, these headphones are for you. The headsets feature a special bass duct that makes fine-tuning of the audio and bass super-efficient and performative.
It does this by the surrounding environment and adjusts the frequency accordingly—giving you flawless quality. You will see the bass duct as a layer of shiny blue (or black) on the outer side of the ear cuffs.
Noise Cancellation
Only second to the extra bass, the noise cancellation feature of these headphones sets them apart in the crowd. They come with the top-tier, grade-A noise canceling (ANC) technology. Its microphone monitors the surrounding noises, creating a waveform. The headphones replicate this waveform so that both of them cancel each other, giving you a noise-free environment.
So, whether you are sitting in a coffee shop or next to an engine, the headphone's audio will be as clear as ever. That said, the ANC may not be the highest-quality offered by the brand, but it is still considerably efficient. Plus, the feature seems good enough for the price.
Touch Control Panel
What if you could control the music settings with a simple touch? The Sony WHXB900N features a touch sensor control panel on the right earcup. It lets you adjust volume, play or pause your song and receive or end calls. Swipe up and down to adjust volume, right and left for tracks, and tap at the center to play/pause and manage calls.
Apart from that, you can also shuffle through your playlist and access assistants like phone, Google, and Alexa! You just need to touch the center of the ear cup for 3 seconds, and the phone's voice assistant will get activated.
Hassle-free Live Communication
There are instances when you want to listen to others while using your headphones. Most headsets will require you to either pause your music, turn down the volume or take them off. Not anymore!
The Sony WHXB900N has a unique Quick Attention Mode that automatically turns down the volume. You just need to place your palm on the right ear cup, and the headphones will deactivate noise cancellation. It allows you to communicate in a hassle-free manner.
Phone Assistant
Be it your in-built phone assistant or others such as the Google Assistant and Alexa—you can control them through your headphones. On the right ear cup of the WHXB900N, you will find access to these assistants by tapping at the center.
You can activate these settings with the custom button present on the left ear cup. Now you can quickly give commands to activate apps, send messages, set reminders, or access other information.
Customize with Phone App
Some listeners love to modify sound settings as per their taste, which is why Sony brings the Headphones Connect app. You can download it on your iOS or Android smart device to get completely customized settings.
The app offers ambient sounds, noise cancellation, bass, equalizer, and more—perfect for music enthusiasts.
Sony 360 Reality Audio: The Sony Headphones app has a unique feature for the Tidal, Deezer, and Amazon Music HD subscribers. The app will take a photograph of your ears to get the measurements and alter the audio settings accordingly.
Once you complete the process, you can access a 3D space to listen to music. However, the available playlist will be limited to almost 1000 songs.
Other Features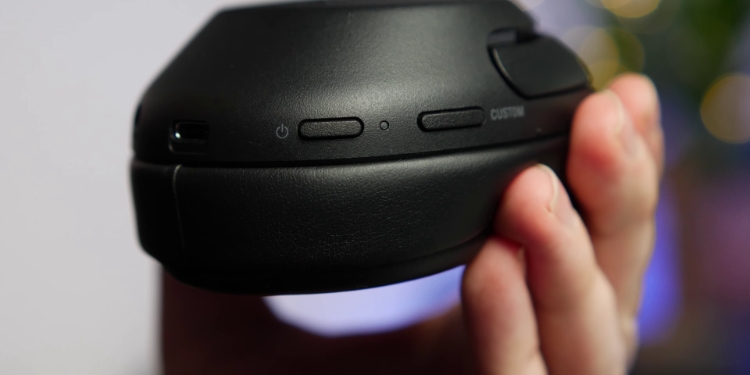 Now that you know all about the highlights of the Sony WHXB900N, let us get to the basics. Here is everything you might wish to know about the headphone's appearance, usability, and comfort level.
Looks
The black Sony WHXB900N is quite minimal yet attractive, reflecting decency. It is made of quality plastic with a matte finish, giving it a refined touch. Moreover, its build is quite durable and should not break anytime soon.
For further protection, its headband also has an additional layer of metal reinforcement. Overall, the headphones have a sleek design, perfectly stylish for making a statement while simultaneously looking sophisticated.
Comfort Level
These are among the most comfortable headsets you will get your hands on. With a weight of only 254g, the Sony WHXB900N is perfect for long hours of use without uneasiness. Plus, they have a thick layer of memory foam on the ear cups and the crown, giving a soft feel.
The negative side of these thick ear pads is the compromise in breathability. If you wear these headphones for too long, your ears may get relatively warmer, just like with most other headsets. However, this is what you can expect from a good pair of noise-canceling ear pads.
User Interface
Apart from the sensors integrated on the right ear cup, you get some simple control buttons on the left one. These are ergonomic buttons for ease of access, including a large power button and a custom button.
The latter helps you to flip between the ANC and ambient modes or disable both of them. The ear cup also has a headphones jack of 3.5mm, along with a USB-C port for charging. So, even if your headphones' battery is dead, you can connect them with the TRS cable and use them passively.
Bluetooth Connectivity
The Sony WHXB900N features the 4.2 version of Bluetooth along with a few other wireless connecting abilities. It supports NFC pairing with both android and iOS devices, letting you pair your device in seconds.
Apart from that, Sony offers you 5 different streaming options to enhance your experience. These include AAC, LDAC, SBC, aptX, and aptX HD. However, the performance of these Bluetooth codecs will greatly depend on your device.
Sound Quality
The sound quality is in favor of the bass-lovers. Its signature EXTRA BASS technology boosts the low frequencies, giving a powerful bass. Apart from that, the headphones ensure a balance between the low, medium, and high frequencies for a smooth listening experience.
Apart from that, the microphone quality of the headphones is quite satisfactory too. Its response is neutral-leaning, with most of the frequencies being equally loud. Therefore, your voice will mostly sound clear. However, owing to the Bluetooth connectivity, the microphone may not completely turn-down the ambient sounds.
Battery Life
The Sony WHXB900N comes with an exceptional battery life of over 30 hours. If you do not use the noise cancellation mode, you can use the headphones for over 35 hours straight. Even if you enable the mode, you can still manage 30 hours of use on a single charge.
That is not all. Even when your headphones battery is dead, charging it for only 10 minutes can give you 1 hour of listening.
Accessories
The Sony WHXB900N headphones come with a soft carry bag, USB-C charging cable and an audio cable. These cables make charging the headphones and using them on a low battery easily.
The best part is that you can compactly fold the headphones. Plus, their ear cups flip to lay down flat, making them perfectly-easy to store. Place them in the carry pouch and stuff them in your bag without occupying much space.
Price
The black-colored Sony WHXB900N headphones cost only $248 on Amazon. The price is way lesser than the premium model WH1000XM3 as well as WH1000XM4. Despite its comparatively low price, the WHXB900N offers some amazing features that make it stand against its pricier siblings.
Aspects like the Ambient Sound Mode, App Customization, superb battery life, noise cancellation, and touch controls make it worth the money.
Features Summary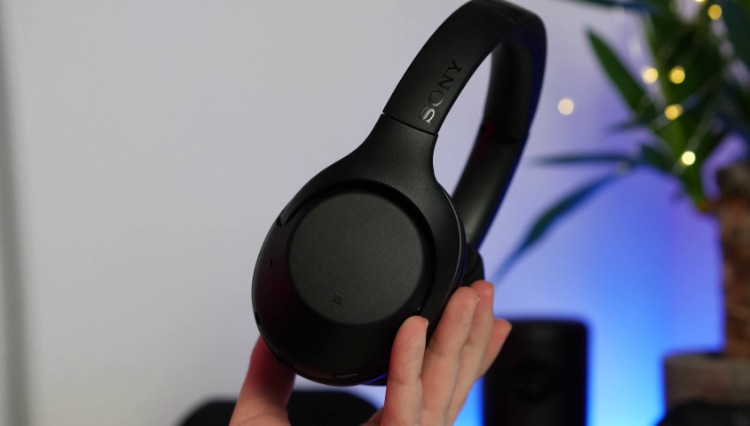 So, do you think the Sony WHXB900N headphones are for you? Despite the detailed list of features, it might not seem very clear. Still, you need not worry. Here is a quick round of pros and cons of the WHXB900N to help you decide.
Pros and Cons
Pros
Heavy bass
Excellent battery life
Lightweight and comfortable
Balanced mid and high frequencies
App integration for customization
Multiple codec support
Cons
Reduced breathability due to thick ear pads
The heavy bass may not be fit for everyone
FAQs
1. What to Do If the Sony WHXB900N Headphones Stop Working?
In case your Sony WHXB900N stops working for some reason, the best option is to reset them. Here's how you can opt for the 'soft' reset.
Put the headphones on charge.
Long press the power and custom buttons simultaneously while still on charge.
Your headphones will be reset without any paired devices getting deleted. If they still do not work, you can go for the 'full' reset.
Turn off your Sony WHXB900N and unplug the charging cable.
Long press the custom and power button for 5-10 seconds until the blue LED light flashes 4 times.
Doing this will fully reset your headphones.
2. Can I Jog Wearing the Sony WHXB900N?
The Sony WHXB900N is considerably stable, so you will not have any issues wearing these during a light jog. The headphones will fit well for most individuals, and you can also adjust their size. Plus, they are wireless, so you need not worry about cables getting in your way.
That being said, they are certainly bulky, so you cannot do an intense workout with these headphones.
3. Is the Sony WHXB900N Good for Phone Calls?
The Sony WHXB900N performs reasonably well for phone calls. Its in-built microphone picks up your voice frequencies equally, making you sound clear to the person on the other end. Additionally, it also lowers the ambient sound greatly, though it does not go away entirely.
4. Can I Connect the Sony WHXB900N with PS4 and Xbox?
Yes, you can connect your Sony WHXB900N headphones with a PS4 or Xbox. However, that will not be possible with Bluetooth or any other wireless feature. You will have to choose the good old way of connecting them with the audio cable.
Final Verdict
Should you purchase the Sony WHXB900N headphones? Well, if you are a bass-enthusiast and would love a pair of quality headphones at reasonable prices, then yes. These headsets offer some fantastic features and noise cancellation that you cannot look over.
Be it the super Quick Attention Mode, touch control, cool Bluetooth codecs, or the finest bass—its offerings are brilliant. Plus, it is comfortable for prolonged use, though it may warm up. Not to forget, the Headphones Connect app can help you create a completely customized music environment.