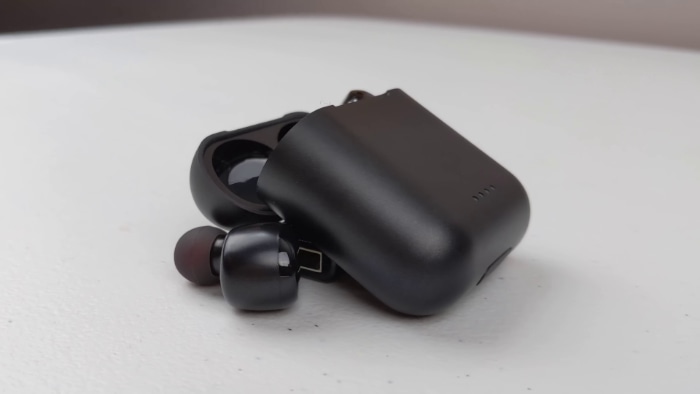 If you're looking for earbuds that offer an authentic sound quality, these TOZO T6 earbuds might be of interest to you.
The correct pair of earbuds can amp up your audio experience. These TOZO earbuds are packed with exciting features to stimulate your auditory senses at a pretty reasonable price.
Whether you need earbuds to listen to music or to enjoy gaming, this product will not disappoint.
The comfortable fit, and the noise cancellation, set the TOZO T6 apart from other earbuds.
Where to Buy?
What Is the Hype About the TOZO T6 Earbuds?
When you look for earbuds today, you can see that the markets are filled with countless options. There are plenty of earbuds available in different shapes and sizes.
The TOZO T6 is an incredible product as it incorporates various exciting features and makes them available to users at an affordable price.
The music experience with this product is impressive, and it is pretty light on the ears. The ergonomic and in-ear design makes it a comfortable product and ensures that it remains secured in its place.
Using these earbuds is extremely convenient and hassle-free. You can easily put the case in your pocket and take it wherever you go.
They come equipped with the latest Bluetooth technology and can quickly be paired with compatible devices without any trouble.
If you're looking for a pair of earbuds that look good and deliver great features, this could be the right product for you.
Specifications
| | |
| --- | --- |
| Design Style | In-Ear |
| Enclosure | Closed-Back |
| Frequency Range | 2.402GHz ~ 2.480GHz |
| Connectivity | Bluetooth 5.0 |
| Transmission DIstance | Up to 10 meters |
| Weight | 4.53g |
| Battery Life | 6 hours + 24 extra hours in the compact charging case |
| Microphone Type | Bidirectional electret condenser |
| Impedance | 16Ω ± 15% |
Design, Features, and Build​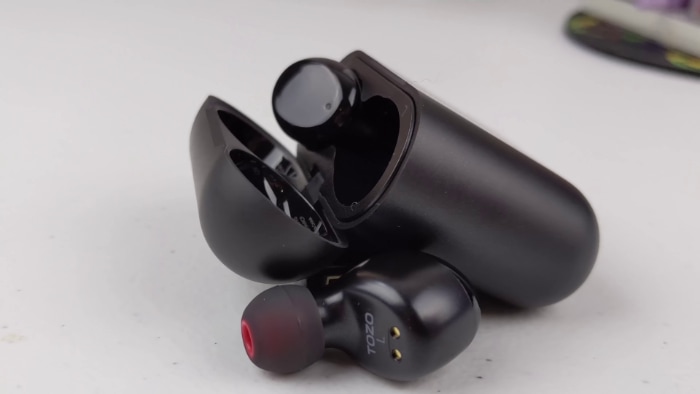 In The Box
One pair of wireless earbuds
One USB charging case
Eight ear tips (two on the earbuds)
One quick start guide
One product manual
Micro USB charging cable
Style
The simple yet elegant design of the TOZO T6 stands out. The earbuds come in a sleek and compact case that works as a charger too.
Inside the case, you will find two small earbuds with soft tips. They do not feature clickable buttons but have touch-sensitive controls.
While the controls have a glossy finish, the rest of the body is covered in matte plastic. These earbuds are available in Black, White, and Rose Gold options. Moreover, the entire pack is waterproof.
All in all, the case is easy to hold and carry. The design of the case is simple, and you can flip it open with just one thumb.
Comfort
It is interesting to see how these earbuds manage to get a firm yet soft seal against your ears. TOZO has invested in good-quality silicone to create such comfortable tips.
Each pair of earbuds comes with medium-sized soft tips pre-installed and three additional pairs of tips in different sizes. The variety ensures that anyone who puts on these earbuds experiences comfort.
Once you figure out the correct tips for your ears, you can hop and skip with the earbuds in, and they will not fall out!
Since the controls are touch-sensitive, you won't have to press too hard on the earbuds, ensuring that they won't get shoved into your ears.
The only thing that could've made the earbuds more comfortable would be installing memory foam on the tips. However, for the price that you can purchase these earbuds for, the comfort level is perfect.
Breathability
The TOZO T6 True is designed in such a way that you could wear it comfortably while working out or undertaking any other physical activity.
Even if you tend to sweat a lot, these earbuds will not irritate or bother you.
Controls
The TOZO T6 controls are touch-sensitive, contrary to the usual push or click buttons. They have a glossy finish and are easy to use.
This product doesn't feature any fancy controls but provides all the essential ones.
You can play or pause by tapping once on the earbud. If you want to skip a track and move forward, you need to tap the right earbud twice, and if you wish to move back, you can tap the left earbud twice.
You can adjust the volume by holding the earbuds; the left piece reduces the volume while the one on the right increases it.
If you press thrice on either earbud, you can pull up your phone's voice assistant.
While the touch controls do not offer physical feedback like regular push buttons, you do receive beeps or voice prompts as a response to your commands.
Build Quality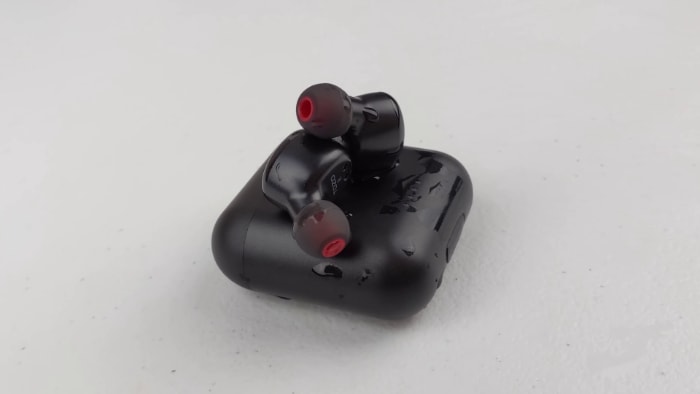 The TOZO T6 comes with impressive build quality. The earbuds are made with dense plastic and have a solid feel to them. The product is not likely to get damaged if you drop it a couple of times by accident.
The earbuds are held within the case by magnets. No matter how hard you shake or rattle the case, the earbuds will stay in place.
Additionally, the charging case features strong magnets that hold the lid shut. You can observe an obvious click sound every time the case snaps shut.
The earbuds and the case both are IPX8 rated, indicating that they are water-resistant.
Display and Lights
On the front of the case, you will find four LED lights. These lights show the battery or charge status of the earbuds.
Apart from that, there isn't much going on here for display.
Bluetooth Technology
The TOZO T6 makes use of the latest Bluetooth version, Bluetooth 5.0. You can simply connect these with your device with a one-step aspiring process.
Bluetooth 5.0 ensures quick and continuous transmission so that you can enjoy your music without any interruptions.
The wireless connection remains stable for up to 30 feet, which is more than necessary for most people.
Audio Quality
Sound Profile
These earbuds have a balanced sound profile. The audio is nice and crisp, and you won't struggle with muffled sounds.
The trebles and mids can be heard clearly, making these earbuds acceptable for different media styles. The tonal range offered by this product is excellent and ensures a seamless listening experience.
These earbuds have unique and pleasant neutrality to their sound.
Bass Accuracy
The TOZO T6 uses small 6mm drivers, so the bass is a little underwhelming. However, given its price tag, the low-power bass does not come as a surprise.
The bass here is not as deep and rumbling as some genres might require, but the overall sound quality makes up for the lackluster.
Many brands focus on creating earbuds with highly inflated bass. The TOZO T6 may not have a rich bass, but it focuses on other aspects of sound, such as clarity and tonality.
Noise Isolation
While the TOZO T6 does not feature active noise cancellation like some premium options, it does have great noise isolation.
These earbuds will block out any background noises as long as they fit you properly. If you regularly work or use your earbuds in places with lots of background chatter, this product will ensure that you are not disturbed by such sounds.
The earbuds may not be able to block the rumbling from buses and planes, but they are good enough to deal with the high-pitched AC noises.
Pros and Cons
Pros
Excellent passive noise cancellation
Rich sound
IPX8 rating for water resistance
30 hours total battery life
Qi wireless charging
Comfortable fit
Convenient touch controls
Cons
Poor noise handling
Sensitive controls
Final Verdict
With so many stunning features and an affordable price tag, the TOZO T6 True Wireless Earbuds are a steal deal.
They are extremely comfortable and can be worn for hours at a stretch without worrying about how heavy they might get for the ears.
The rich and balanced sound quality makes up for the close to average bass offered by these earbuds.
If you wish to carry your earbuds around but generally forget to charge them, this product will be a true savior for you. The compact storage case doubles up as a charger!
You may not find a lot of brands that produce such good quality products in this price range.