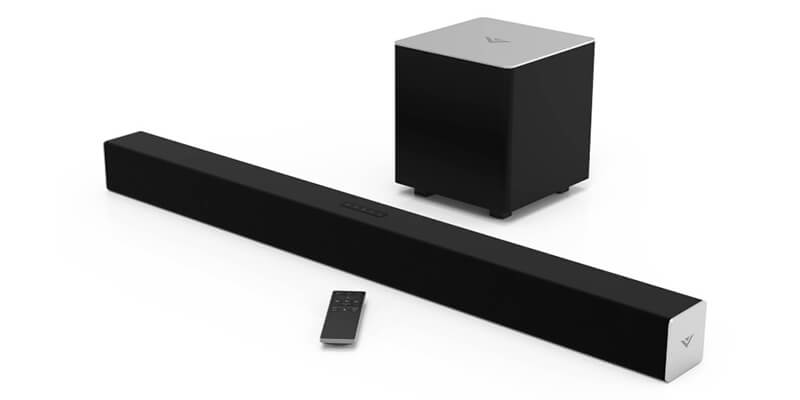 A good soundbar doesn't have to be complex, nor does it have to be expensive. But the reality is that with some of these products, you really get the best out of both worlds. The Vizio sb3821-c6 is a really interesting and super impressive soundbar that comes with a wireless subwoofer and a whole lot of other appealing features to it. Once you start using it, you will be quite impressed with the great value for money and the outstanding sound depth that comes with it. For the price you have here, it really shows a tremendous experience, and you will find it overly rewarding for sure.
Where to Buy?
100 db of pure power
At 100 db, you will have a very good user experience here. The reason is simple, the positioning is very good, and the unit itself shoots all the music at you. This way, you can have the cinematic approach if you want, or you can keep it really simple. Either way, you are bound to have a great time with it, and the fact that the sound is very good is just a plus for sure. But even then, the sheer fact that they give you so much power through this product is what really makes it so amazing to begin with. Granted, it takes a little bit of time to get used to the customizations and power itself, but it's worth it either way.
Wireless subwoofer
As we mentioned earlier, the Vizio sb3821-c6 comes with a wireless subwoofer. That's a great thing to have because the unit itself doesn't have a subwoofer integrated within it. But that's no biggie, as the wireless unit does a very decent job. You can have the bass richness you need from your sound delivered very quickly, and honestly, it's better than you would expect. There are some situations where the sound will stop for a tiny bit, but at the end of the day, it will end up being a very good and exciting approach no matter the situation. The wireless system does lead to quality loss at times, but if you get past that, you will still find it really good without worries.
Audio quality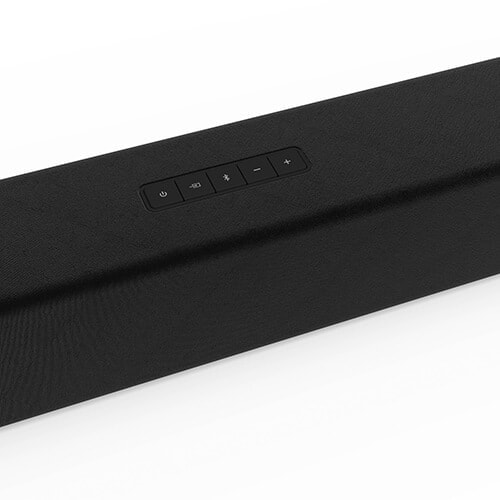 What really makes a soundbar the best purchase is obviously the overall sound quality. You always want to have the best possible quality on the market, and with the Vizio sb3821-c6, we believe you get there, even if the price is well under $200 all the time. You have that crystal clear sound that will give you the sound richness you need. And the fact that you don't have to worry about any issues that appear with this sound aside from some harmonic distortion here and there is nothing short of impressive every time.
Aside from that, they are also bringing in Dolby Digital decoding. We find that to be a must, especially on those soundbars that want to offer a premium value. And we believe that you get that here without worries. They also added DTS audio post-processing and DTS TruVolume. This kind of stuff can really be incredibly important, and we believe that it does a very good job with the experience itself. To make things even better, the processing speed is great, and there were no delays with the audio. As we mentioned earlier, the subwoofer will have a bit of delay at times, depending on the signal strength. The unit itself is fine, but your device's signal strength will influence the audio quality if you want to use the subwoofer. Otherwise, it's more than ok.
Wireless remote
Yes, the Vizio sb3821-c6 has its own wireless remote. Upon using it, we found this remote to be very good, actually. It does include just about all the extra features you want from a remote without being difficult to work with or anything like that. There were no adjustments required from our side, and the remote itself worked as required. It has audio and input controls, good volume controls, and anything you may need. You do need to keep it in the line of sight of your device.
That's not a major issue, as you will be in front of the soundbar anyway when you choose to use it. But it will end up taking a bit of time to get used to it if you want to use the remote from the side. Sometimes it will work, but there are times when it doesn't. So that's definitely what you want to understand. There are situations where you will have issues with it, and you need to tackle that properly for the best results.
Connectivity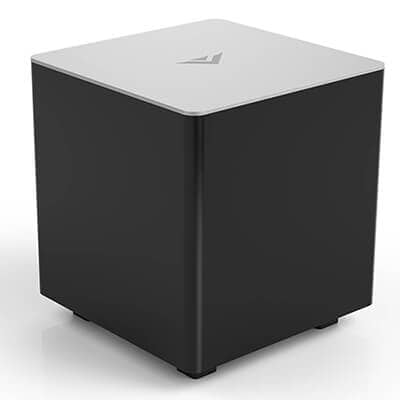 We like the fact that it has a USB port, stereo RCA, digital optical and coaxial inputs, as well as the audio jack. It really feels like a great product right off the bat, and while it doesn't have HDMI, it still gives you pretty much any connectivity you want without compromises. Just consider giving it a try, and you will see that it delivers on pretty much all the fronts you want.
Pros and Cons
Pros
Great price point
Outstanding sound quality
Has an external subwoofer
Nice connectivity options
Cons
The Bluetooth connectivity is not the best
It lacks HDMI
Can disconnect at times
Conclusion
Should you get the Vizio sb3821-c6? That depends on what you need. The product is very affordable so that on its own is an amazing thing. But at the same time, you also have some issues with the connection and also the lack of HDMI, which might be important to some people.
Depending on your needs, this can be either a must-buy or something that you will eventually have on the backburner. It's all about knowing your needs here and adapting to that the best way that you can. It's a great product, and at $150 or so you definitely get your money's worth. Plus, it's dependable and just a pleasure to use, not to mention it provides a very good user experience without compromises.