How well is your search for the best VPN provider? You must have burned through several reviews now. It's good to read as much information about the different VPN services available today. In this review, you will find out yet another popular VPN service known as TorGuard. But before discussing the VPN service, let us start at VPN basics.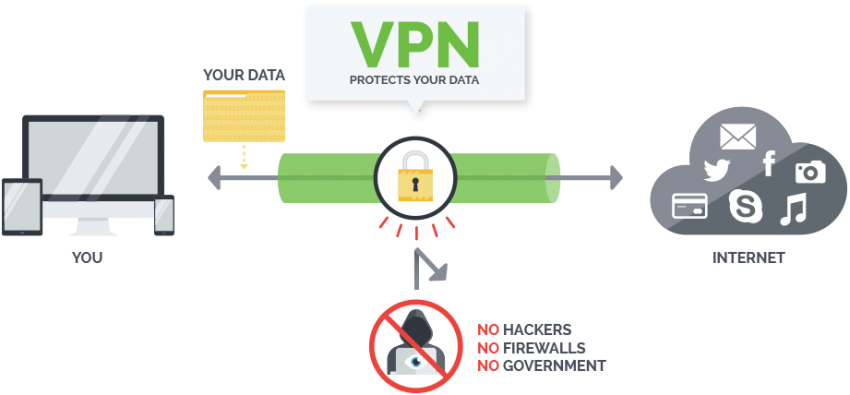 VPN or Virtual Private Network is utilized to extend your physical network's virtual boundaries. It includes extending the capabilities of networks that a corporate organization maintains. With VPN, the traffic passes through a secured tunnel within the internet. With this, no middleman can access the same traffic while the data is transmitting.
One of the advantages of VPN is how it can hide the location and IP address of the user. Additionally, it has the capability to let the employees of a company access its resources remotely. Other benefits of using VPN include the access to blocked sites and bypass of geo-restrictions which huge benefits compelling many people to subscribe to VPN services.
Some people believe that using VPN reduces the speed of the internet, which makes other users a little bit concerned about this service. However, this belief is not completely true. Some factors may exist that are the things that actually affect your connection speed while using VPN. Either way, the slow speed is one of the known believed disadvantages of VPN.

One of today's most popular VPN services, TorGuard is a VPN maintained by VPNetworks, a company based in West Indies. VPNetworks is known worldwide for its strong presence within the VPN market. It is not surprising how far the company's reach is since it has more than 3000 servers positioned in over 50 countries.
One of the biggest reasons behind the popularity of this VPN service is it's being a clean VPN provider. That is, TorGuard has a reputation that is truly free of dirt. Over the years since the company has started to provide VPN service, it has not yet experienced any hackings, giving up logs, etc. The company also doesn't lie about the features of their products.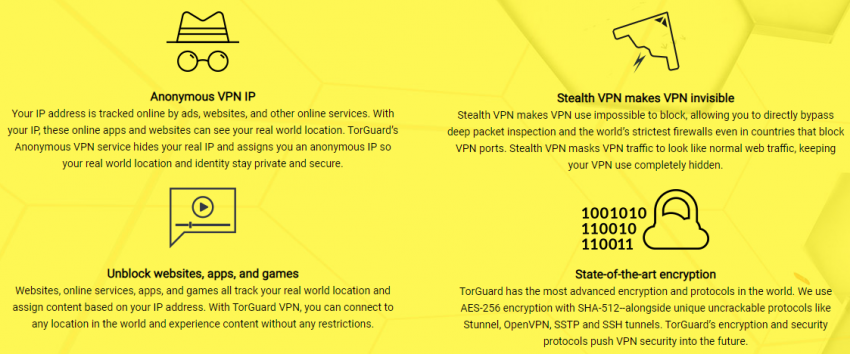 Other than being a clean VPN, TorGuard is fast and has plenty of features. A subscription to this VPN service allows you to access an incredible number of features designed to elevate your VPN experience. On that note, here are some of the amazing features that TorGuard has to offer you as a leading VPN service provider.
Torrent Allowed
Stealth VPN
Unlimited VPN bandwidth and speeds
Strict-no logs policy
3000+ Servers in 50+ Countries
Ability to run up to 5 devices simultaneously
Supports multiple VPN protocols – L2TP, PPTP, OpenVPN, SSTP, IPSec, and eKEV2
Supports SSL VPN via OpenConnect, Stunnel, and Cisco AnyConnect VPN
Includes support for Kill Switch
Protects IPv6 leaks, WebRTC leaks, DNS leaks, and more
Supports all OS and devices
TorGuard secured its connection with the use of strong encryption. It also allows users to choose their preferred authentication and ciphertext. Besides the normal VPN service, TorGuard also offers Stealth VPN. It is a special category that allows users to access sites even in places where the use of VPN is restricted.
Users can also use TorGuard VPN anonymously to access the torrent network. With that, it is possible to download any content. These are among the incredible features of TorGuard that makes it an incredibly popular VPN services. Besides that, this article will further discuss the many things you will enjoy using TorGuard VPN.
One of the reasons why you should use Torguard is because they allowed torrent, unlike some VPN service. We have tested several times using a torrent client and we are happy with the results being able to download at max speed. And Of course, with Torguard, you will be torrenting anonymously and secured since they protect against IP Leaks and no logs policy.
This VPN has extensive apps support, which allows your different devices to be covered while you use VPN service. The VPN apps of TorGuard support Windows, MacOS, Android, iOs, and Linux. Furthermore, it supports different platforms such as Apple TV, Xbox, Kindle, PlayStation, Chromebook, and more. It even supports different router firmware including Asus Merlin, Tomato, and DD-WRT.

TorGuard VPN is known for its cheap pricing despite the quality of service. The monthly costs of using TorGuard's service are around $9.99 for each month. There are different price packages which include:
$19.99 – 3 Month
$29.99 – 6 Month
$59.99 – 1 Year
Every plan includes 7 days money back guarantee. With that, users can utilize and try the services offered by TorGuard without any risk. It also serves as a way for you to see how well the service works. As mentioned before, TorGuard VPN can support around 5 devices at the same time and that includes every plan. The payment for the plan can be through PayPal, credit card, Paymentwall, Bitcoin or through gift cards. You can pay anonymously using a gift card from Target, Starbucks, and other big retailer names. As it can be used across platforms, TorGuard VPN is surprisingly flexible as a VPN service.
Wide Array of Security Configurations
When it comes to security, TorGuard comes packed with killer features. While you may not be able to use or plan to use each of the features, this VPN has some of the coolest ones such as the script support. When it comes to security, it has many must-have features that will improve your network. These features include:
Auto-connect features
Application kill switch
Network kill switch
DNS leak and IP leak protection
Dedicated IP service integration
Additional proxy support
There are many VPN services available today but only TorGuard provides an encrypted email. Besides the usual features you can expect from a VPN service, this one comes with simple but vital extra features. Among those pretty features include unlimited mail storage, calendar support, MITM protection, G/PGP encryption, and more.
Additionally, With the VPN's router store, the service also sells pre-flashed VPN routers ideal if you want to have a household VPN connection. Currently, TorGuard has a deal where users can switch over and use their pro-rated credit to get a free VPN router.
Excellent Customer Service
One of the advantages of TorGuard is its 24/7 customer support through live chat coverage. It is a huge benefit for the users since it means they can partner with a company who actually values them as much as the product. The excellent customer service of the company serves as an example and an indicator of how they care about their customer.
The features and customer service of TorGuard clearly shows that they are pro-consumer. It is further given proof with the business's clear pricing models and easy refund. Besides the customer service, even the employees of the company are great. With such great support, TorGuard is essentially one of the best in the market.
Besides the simple interface on the app, you will not find an error with TorGuard. Using this VPN service, you can easily improve your ping and torrenting anonymously. After all, it has all the benefits and features along with effective and quick support. Consider what they are offering, It's definitely worth the money.