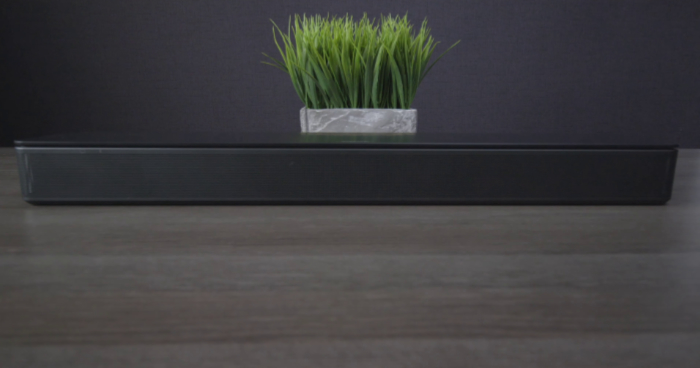 Most TV speakers with good audio quality and effective delivery take up quite some space. They have multiple speakers and several wires for connection. As a result, they don't appeal to you, do they?
However, if you want a small and compact TV Speaker with equivalent audio quality, Bose TV Speaker is your answer. It is perfect for your room and would not block the TV view too.
Although it doesn't come with many features and multiple uses, it can enhance the audio quite well. Also, with multiple connection options, it becomes effortless to install it with your device.
Where to Buy?
Specifications
Size of Speaker: 4″ x 2.2″ x 4″ (W x H x D)
Power Cord: 5 ft
Optical Cable: 5 ft
Battery: 1 CR2032 lithium battery
Alexa: No
Bluetooth Version: 2
Bluetooth Range: Up to 30 ft (9m)
Colour: Bose Black
Features, Design, and Build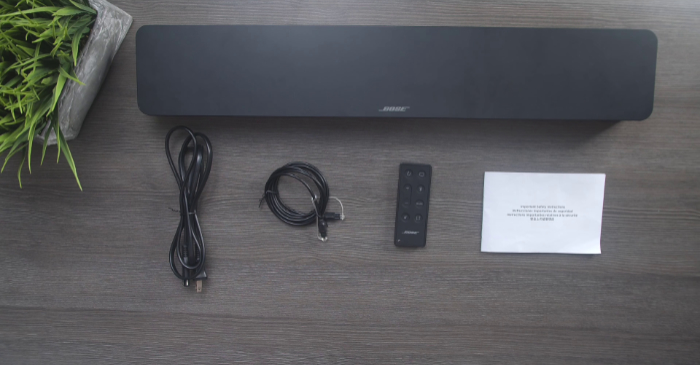 1. Enhanced Sound Clarity
The soundbar has 2.0 sound systems set up. It means that there are two speakers present. The sound produced is clear and has more volume.
The presence of the two front channels reduces the panning effect ensuring good sound clarity.
However, you may feel the sound getting distorted when you raise the volume. Bose TV Speaker is designed for basics such as music, TV shows, etc.
2. Audio Quality
Bose TV Speakers claim to enhance the vocals of audiobooks, podcasts, and even TV shows. Also, apart from the default one, you can find one extra single sound mode called Dialogue mode.
The dialogue mode is present in the speakers to ensure sound clarity. However, you can also boost sound clarity by activating the dialogue enhancement feature.
Further, you get the bass adjustment feature to enhance the deep sound for better vocals.
3. Connection To Other Devices
The Bose Simple Sync technology enables you to connect your TV Speakers to Bose Home Speaker or Bose Soundbar simultaneously.
As a result, you can listen to the same song in different rooms together without much effort.
You will have to download and install the Bose Music app on your mobile to access this feature.
Design
Bose remains a top choice among its customers when it comes to choosing audio products. All thanks to the efforts the company takes in designing its product without compromising the quality.
The Bose TV Speakers are small and compact and fit with all TV sizes. There are no up-firing or side-firing drivers, so it's easy for you to place it in a compact space. Further, this also provides more flexibility.
The company uses a strong plastic material that ensures a long life of the hardware. Also, Bose TV speakers have round corners in line with the company's policy to unify its design.
Similar to other products like 500 and 700 soundbars, Bose TV Speakers offer a solid metal grille. These are present on the front side ensuring protection from harm. Additionally, they add a luxurious touch to the speakers while maintaining high quality.
The most prominent display design includes the indicator lights that act as a guide for the main functions. There are two LED lights present, the left for the TV and the right one for the Bluetooth.
When the soundbar gets connected via HDMI ARC, the optical cable, or Bluetooth, the LED light turns on. Further, another light blinks when the mute mode is active or when you try to change the volume.
Build and Control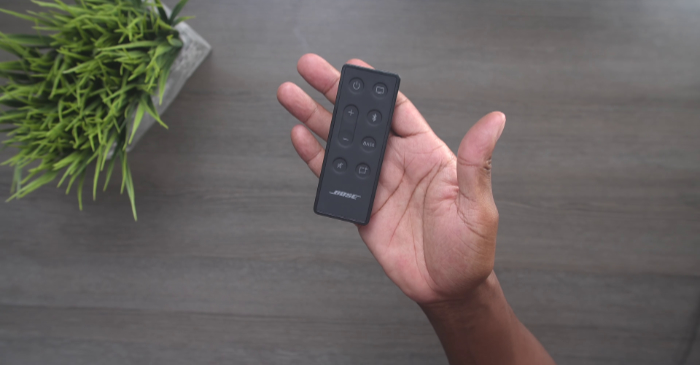 Bose TV speakers are built simply using 2.0 channel systems. There is no additional driver for side-firing woofers.
There are two oval-shaped full-range drivers present in the middle of the Speakers. These are locked at the perfect angle to enhance the soundstage. Further, the single twitter available in the middle of the drivers enables clearer dialogue while balancing high frequencies.
For control, the Bose TV Speakers come along with a remote. However, they lack in-built buttons, voice control functionality, or mobile app support.
The remote is small in size, rectangular, with rounded corners. The battery type of the remote control is CR2032 instead of the usual AAA.
The volume and bass control buttons are present next to the Bluetooth button on the remote. You will find the mute and dialogue buttons at the bottom. At the same time, the power button is the main one.
Connectivity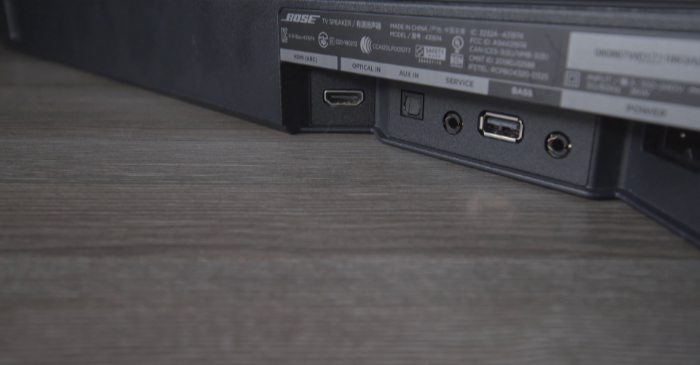 Bose TV Speakers have an HDMI ARC input present on the left backside designed especially for modern TV setups. It also has digital optical and AUX input space if you have an older model.
Also, it offers a USB port that you can use only for service and not playbacks. Additionally, a Bass port is also present to connect a subwoofer.
The TV Speakers offer only Bluetooth connectivity as its wireless option. Therefore, you will be able to play music, TV shows, and podcasts after connecting it via Bluetooth on your Smartphone.
Finally, Non-WiFi connectivity is also possible with the speakers.
Installation
Bose TV Speakers are quite easy to connect and use. The unpacking, placing, and connecting to your TV doesn't take much of your precious time.
The speaker utilizes a linear connection to connect to the television with the help of an optical audio cable. You can also use an HDMI cable that you have to purchase separately.
While you are using HDMI-CEC, you also have the option to control the volume using your TV remote. Amazingly, the HDMI-CEC detects the signals and turns on the TV remote automatically.
Performance Evaluation
Bose TV Speaker is one of its kind. Those who have bought it are pretty satisfied with its performance as well as durability.
First things first, it effectively clarifies the speech and makes it more audible. Even very rough sounds get clear and better with Bose TV Speaker. Further, it elevated the vocals of the sound, enhancing its clarity.
Although it does not provide any extra qualities, like bass or subwoofer, it is complete on its own. Most customers prefer it due to its simple enhancement. After all, a virtualized sound system doesn't attract all on regular TV days.
Additionally, due to its simple structure, anyone can use it. It has a basic installation procedure and no special requirements. A simple Bluetooth connection or an optical cable works.
Not a hassle, right?
One concern many customers face is life. Bose provides only a 1-year warranty for the device, which is less in comparison to the hefty amount it charges. However, customer experience has revealed that Bose TV Speaker has a good, long life if used properly.
Bose has many other upgraded speakers on its list, with extra features you might like. Still, if simplicity and compactness are your choices, Bose TV Speaker is the right choice for you.
Further, Bose TV Speaker is a pricey device. Even though it provides an amazing daily experience, at this price, you can find much better and upgraded speakers today. It is still demanded by customers, because it fits well with your TV sets, unlike the majority of other speakers.
Pros and Cons
Pros
The Bose TV Speakers works as a great device for basic vocal sounds such as TV shows, Podcasts, or audiobooks
The Dialogue enhancement feature allows you to get access to more clear dialogues
The shape and size are perfect and do not require improvements in your room for setup. Furthermore, the speakers go along with a variety of TV sizes
The speakers offer Bluetooth connectivity
Cons
The sound starts getting distorted on high volumes, which can be a turn-off for many people.
The speakers do not offer WiFi connectivity which limits their usage.
FAQs
Does the Bose TV Speaker set up include a subwoofer?
No, the Bose TV Speaker does not come with a subwoofer.
Do the speakers offer any surround activity?
The speaker only uses a two-channel soundbar, limiting its surround sound activity.
What are the compatible products for the Bose TV speakers?
The Bose TV Speakers are compatible with Bose Home Speaker 300, Bose Home Speaker 500, Bose Portable Home Speaker, Bose Soundbar 500, and Bose Soundbar 700,
Can headphones get connected?
No, the headphone does not get connected with Bose TV Speakers. You can use the TV's headphone output for listening to audio/video grouping.
Final Verdict
Now that we have elaborated all about Bose TV Speaker, you can decide whether it suits your requirements or not.
In brief, it is one of the best simple and compact sound enhancement devices available out there. It clarifies speech and elevates the vocals to enhance quality. Further, it can be connected through Bluetooth or an optical cable.
It has many pros but some major cons too. So, after comparing your requirements and the features of Bose TV Speaker, you can make a well-informed decision now.